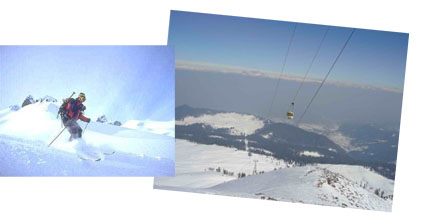 My 3-year-old has been transfixed on the Winter Olympics of late (the ski jump and the luge have been his favourites so far, despite the fact that he's tagged them both as "scary").  I've been pointing out the different countries of the competitors to him, but, sadly, we haven't seen any athletes from India or South Asia.
The Indian Winter Olympic Team, in case you were wondering, has 3 athletes (an alpine skiier, a cross country skiier and a luger).  Pakistan, for the first time in history, has 1 athlete (an alpine skiier) and Nepal has 2 comptetitors. 
If you get past the fantasy "Kashmir" Bollywood snow scenes, it turns out that Gulmarg (a small village 35 miles from Srinagar, Jammu & Kashmir) is becoming one of the world's premier destinations for "adventure skiing" – known for its deep "curry powder" snow.  Gulmarg is covered in snow for 6 months during most years and has the world's highest gondola ski lift.
There are quite a few hotels in Gulmarg:  Hotel Highlands Park  (claims to have hosted Presidents, Prime Ministers and royalty)  and Hotel Pine Ridge are 2 of the best.  You can rent equipment from the Kashmir Alpine Shop and go skiing, snowboarding or ice skating amidst the backdrop of the Himalayas.
Probably not somewhere I'd take the kids (imagine packing snowsuits for international travel!), but if I lived in India, or if I was the adventure-ski type, what a dream destination it would be!