Posts Tagged 'fashion'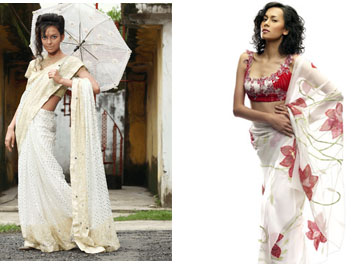 I love them. I love to look at them.  I love to wear them.  I love to shop for them.  And since I only get to wear them but a few times a year, when I do get a chance – that sari better be pretty darn special.
Shown above is a white and gold foil print chiffon saree from designer label kSara by Shradha Saraf, and a gorgeous red floral number from one of my favorites – Ravi Bajaj.
And below are some super stylish and elegant designs from RaiR and its sister site, CBazaar.  Both sites offer you the option of ordering a made to measure blouse, petticoat, or fall and edging work.  You just email them your measurements and desired blouse design, and everything arrives at your doorstep  – a godsend for busy moms if you ask me!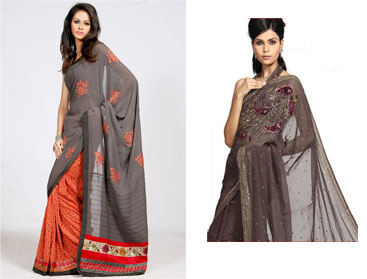 I always wished my family celebrated Easter – just so I could have an excuse to don a pretty spring dress and smile in front of the camera.  Now that I have a daughter of my own, the urge to dress her up is proving irrepressible.  And I can't help but drool at the selection.  Case in point:
Cupcakes & Pastries green polka dot dress is simply stunning.  It features hand-embroidered African style beading around the neckline – creating a "Sweet and Tribal fusion."  Designed by Inshi Khanna, you can see subtle influences of India in the entire collection of fashion forward dresses.  100% cotton.  $72.00
I love Gorgeous Alpine Poppy dress is the perfect shade of pink, with accents of lace in just the right places.  Love the simple flutter sleeves.  100% silk.  $98.00
Busy Bees Oscar dress was inspired by the legendary fashion icon Audrey Hepburn.  A gorgeous combination of heavenly blue and sunset orange with white embroidery.  $94.00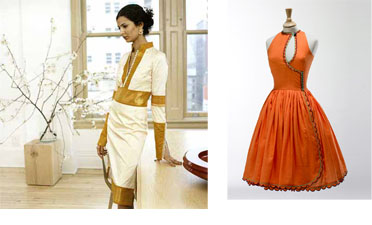 When I was 12, if you had asked me what I wanted to be when I "grew up," I'd have told you I wanted to be a fashion designer.  (A dream that was quickly squashed by practical and hyper-paranoid parents…)
Maybe, just maybe, I would have made it in the design field…but the more plausible scenario is that I would have drowned, especially amongst talent like Swati Argade (an Indian-American designer that marries traditional fabric artistry such as ikkat and khadi  with modern silhouettes) and Nipa Doshi (part of the internationally acclaimed London firm Doshi Levien).
Pictured above is an elegant sari-inspired dress from Argade's Stargazer collection and Doshi's Courtesan Dress  – hand woven in West Bengal with mul mul cotton.  What a dream date night it would be….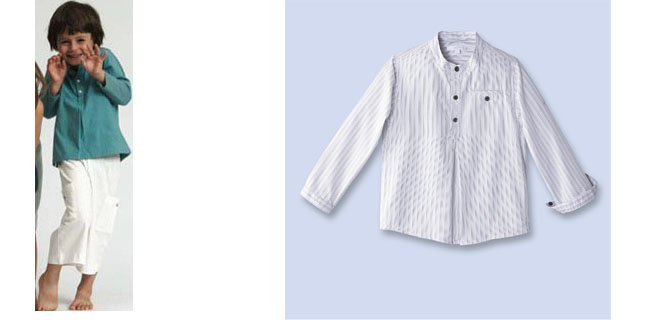 New clothes are synonymous with any holiday in the Indian culture.  I used to love the morning ritual of bathing and getting dressed-up on festival days during the childhood summers I spent in India.  There was something refreshing about starting the day in a new outfit – it was like the human equivalent of moulting.
In that spirit, I always try to have my kids wear new clothes on important days.  Buying clothes for my daughter is easy – girls clothes are just so darn cute whether you buy Target or Tartine.  For my son, however, I'm always disappointed at the offerings – it's always some variation of stripes or plaid or the occasional pop graphic.  So I have to look harder for his clothes.
Here are 2 great tunic tops that combine Indian style with California cool:  Oeuf's Marcel Tunic and Jacadi's dressier style from their Parc Monceau line.
My son will definitely be stylin' this Sankranthi!

Now I'm not one to advertise my political and social views on my kids' clothes and such, but I think I may make an exception for these great finds.
Got a little butter thief?  Yehhailife has these hilarious "I Love Butter" Krishna tees.  Available in infant sizes. They also write an awsome blog about all things Indian ("With An Attitude.") (Which we've been feautured in, thank-you-very-much. See the link in our Buzz page.)
And who can say no to Gandhi?  Tiny Revolutionary offers a great graphical tee featuring Gandhi's famous "Be the change you want to see in the world" quote – available in infant, toddler and youth sizes.
Finally, the cute French boutique Coq en Pate carries a whimsical "Vegetable Power" shirt featuring adorable French illustrations on 100% organic cotton.  Available for purchase online from UK shop The Emperor's New Clothes.
Unique, beautiful and (hopefully) inspiring!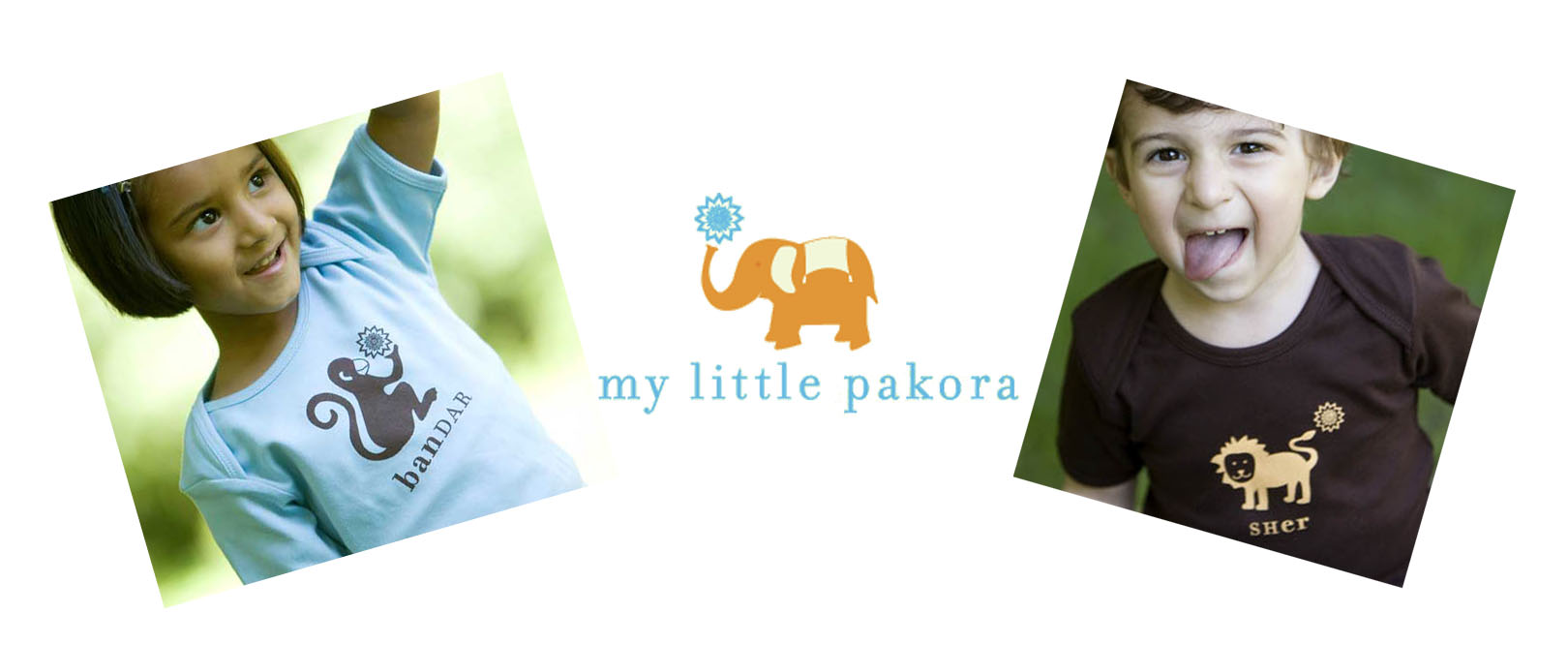 As we say on our site:  Ancient India gave birth to a rich array of ecological ideals.  Of course modernity burried some of these ideals, but one of the movements that is (re)gaining ground in India is the push for organic and sustainable farming.  We sat down with Sonia Gupta, founder of My Little Pakora – a fabulous line of baby wear inspired by South Asia (and produced with organic cotton from India), who enlightened us about what it means to buy organic clothing:
 Your clothing is certified by SKAL – what does that mean?
SKAL is the certification for organic cotton production. What it means to the consumer is that you can be assured that the farms where your organic cotton comes from have been inspected. The inspection includes farm visits, examination of the soil, and review of samples taken from the farm to confirm that pesticides are not being utilized. 

What percentage of the cotton grown in India do you think qualifies as organic?
I would say around 32%.  As the demand for organic cotton grows I do foresee this percentage increasing.

What do think is the most important immediate benefit to Indian farmers of growing cotton organically?
I would say there are multiple benefits but one of the important facets is that the cost of farming is lower for the Indian farmer when growing organic goods. The investment into herbicides and pesticides can be extremely expensive and the use of these chemicals results in a "posioned land" – which not only affects the crops, but also the water and the adjacent land and villages.  On a positive note, the push for organic farming in the Indian community has lead to systems that are more sustainable and profitable.  The best part is they have learnt that you can rely on other methods for great crop production – pesticides are not the only answer. 

What do you love most about dressing your daughter in organic clothes?
I love that I am doing my part in helping Mother Earth. Aside from the sheer softness of organic clothes, by buying organic I know that I am supporting a eco-system that is sustainable! 

 How do you encourage and educate your daughter about organic living?
We do quite a lot, starting with recycling. She is finally at the age where she understands why we do certain things like limiting our water consumption when brushing our teeth and having a bath, turning off the lights when we are not using them, recycling paper for arts and crafts, and ensuring that all paper and plastic is recycled.  Actually, on recycling day she helps me sort items which is a great learning activity.
Thanks, Sonia, for this wealth of information!  And check My Little Pakora's fantastic Thanksgiving sale here.

New York City wasn't the only fashion hot-spot this month. India also just finished hosting a dazzling fashion week in Mumbai. Presented by Lakme cosmetics, India's largest cosmetics brand, the 5-day extravaganza showcased the Spring/Summer 2010 collections of over 50 designers – from Tarun Tahiliani's opulent couture to Mandira Wirk's casual creations. Featured above are a few of the runway looks (from left to right): Aneeth Arora, Vikram Phadnis and Troy Costa.  Makes me want to bypass the mall and book a flight straight to Mumbai instead!
You can read more about the designers and view their collections at www.lakmefashionweek.co.in.
I love French labels for kids like Jacadi and Marese for their exquisite tailoring and whimsical details.  Which is why it was love-at-first-sight when I came across Antik Batik.  Created by globetrotter Gabrielle Cortese, the line is a blissful marriage of handmade multi-cultural design techniques such as Batik printing and Bandhani art with decidedly French craftsmanship.  I love the Boxton Dress, made of cotton and silk and embellished with embroidery, beads and sequins.  Though big in Europe, the label is a well-kept secret here in the US, but sites like Milkshop and 25 Park offer a decent selection.  Antik Batik also has designs for women. Don't even get me started…
9g5ismpyq2