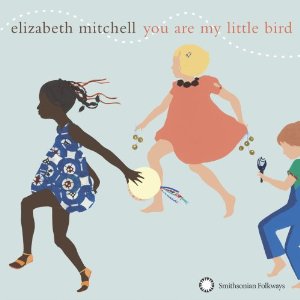 Image: Audio CD Cover –  Elizabeth Mitchell, Smithsonian Folkways Recording Artist
This post is authored by Kavita Bafana, Co-Founder and Director at Little Ustaads.  Little Ustaads offers play-based musical education classes for children ages 0-5 in the New York/New Jersey area and in Mumbai.  The curriculum is designed to encourage children and parents to discover and appreciate the world of Indian classical music through rhythmic tunes, rich vocals, mini instruments and vibrant visuals.
Here are 2 simple games to teach some basic concepts of Indian Classical Music.
Learn the Hindustani Sargam
To teach the Hindustani sargam to children, it is best to make it visual and fun.  We can do this by building a make-believe tower with our fists. Place one fist on top of the other and then take the bottom fist and put it on top.  Keep taking the bottom fist and moving it on top of the other.  Do this 7 times to represent the seven notes.  The sargam consists of the building blocks that make up all of Indian Classical Music; hence we make a visual tower with our fists.  This can be done individually or by holding your child's hands.
1.  Have the children first build building blocks (one fist on top of the other and repeat) and say "lets build blocks with our hands."
2.  Once the child has gotten the hang of building with their fists, then build a pretend tower of putting your fists on top of each other 7 seven times – to represent 7 building blocks of Indian music.  The idea is to associate one fist with one note.
3.  Then say the seven building blocks of our sargam with each hand starting with sa, re, ga, ma, pa, dha and ni.
Peek-a-Boo Basuri
To teach a child what a basuri sounds like, play a game they know – Peek-a-Boo – with a twist.
1.  Play a short piece of basuri music and cover your face with a small piece of cloth.
2.  Then suddenly stop the music and say "peek-a-boo!"
3.  Then repeat this a few times.  The child will be waiting to hear the basuri music and listening hard for the music to stop.  They will naturally absorb what a basuri sounds like!
© 2010 Little Ustaads
www.littleustaads.com
newyork@littleustaads.com
773-744-1662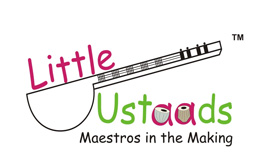 Little Ustaads currently runs programs in NY, NJ and Mumbai, and is seeking partners in other parts of the world. Please contact them if you are interested in setting up a Little Ustaads Franchise or Partnership.