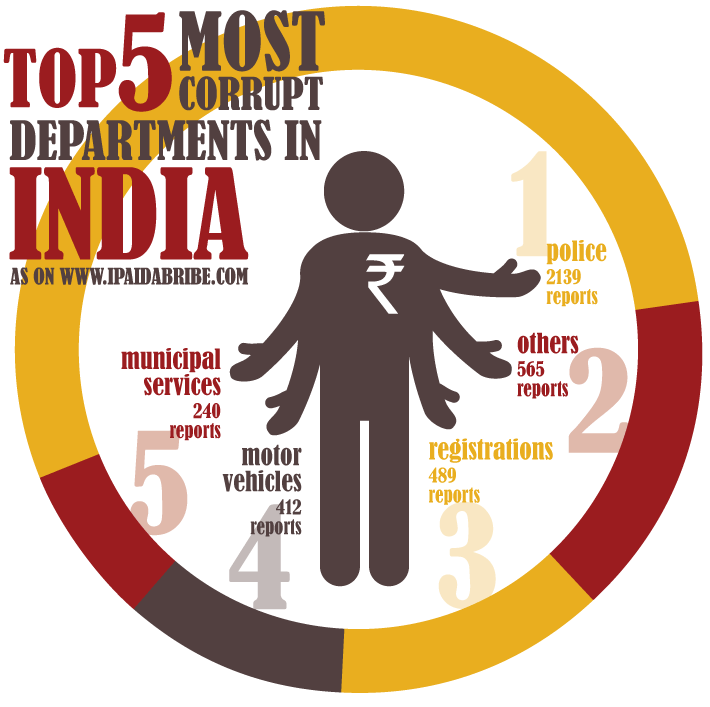 image via I Paid a Bribe
I still feel like there's a shotput in stomach whenever I think back to one of the worst days of my life:  my husband and I had just moved to Bangalore from the US and we had to go to the Bangalore aiport to claim some items we had shipped over.  The nightmare began as soon as we entered customs – you can't bring in this and this, actually you can't bring in any of this.  We only had books and a high resolution computer monitor – but they were medical books that my husband needed for his work – so of course their eyes were bulging rupees.
I don't remember the exact amount of the "facilitation fee" we ended up paying – I think around 50,000 rupees (gulp!).  But I do remember feeling utterly powerless and completely helpless.  I even cried from fear when I was seperated from my husband for a brief moment (these men were obviously "above the law" so you can imagine what I was thinking…).
Corruption in India is the single reason I never felt safe living there.  Because, apparently, you can even get away with murder (see the Jessica Lall Murder Case, as dramatized in this year's critically-acclaimed film No One Killed Jessica).
But there seems to be a new wave of hope sweeping over India – a grassroots movement in favour of empowerment of the people.  The movement is fueled in part by the leadership of Anna Hazare and by social media.  Check out www.ipaidabribe.org – a website where people can anonymously report incidents of corruption and tell the world what department was involved, the circumstances and how much they were forced to pay.  Genius!
Wherever you are in the world, I urge you to take part in this movement:  Join the Facebook pages of India Against Corruption and of I Paid a Bribe and spread the word to your friends and family.  If you live or travel to India and are forced to "pay up" – report it on IPaB.  As members of the Indian diaspora, we can help India be free and independent from corruption.  The web and social media makes it easy for all of us to have our voices heard.  And the strength is in the numbers:  India (finally) ratified the UN Convention against Corruption last month.
Gandhi gave the world Satyagraha.  India is now on the brink of breaking free from another captor – in a novel way that could yet again set an example for the world (Chinese activists have already copied IPaB's model).  So, please, join the Anti-Corruption Movement – it is real, it has a leader and it's gaining speed fast.
We owe our children a corruption-free India!