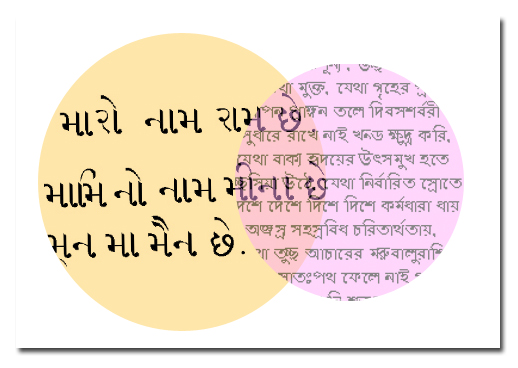 So you speak Gujarati and he speaks Bengali. Or maybe your spouse is not Indian but speaks Spanish, Russian or Japanese.  And let's just assume you don't speak each other's language so you speak English when you're together.  What's your policy with the kids?
In my case, I speak Telugu but my husband speaks Kannada – languages which are eerily similar (I can even read Kannada – no problem) – but which similarity may be even more confusing for the kids (I say dosa, he says dose.  I say kappa, he says kappe (frog)).  So you can imagine the linguistic dissonance when we're spending time as a family!
The most logical approach would be for me to speak Telugu to the kids, and for him to speak Kannada – thereby rendering our kids blissfully trilingual.  But this is complicated by several factors:  (1) I spend more time with the kids – so they naturally end up speaking way more Telugu; (2) my husband and I speak English to each other (resulting in a rather comical switching of languges depending on who-is-addressing-who at that precise point in the sentence); and (3) given the scarcity of time outside of school/work, I find myself "hogging up" most of this time to push the Telugu.
There doesn't seem to be an easy solution.  What's your policy?  We ask the question on our Facebook Page – so let's collaborate with some ideas!