Holi is almost here – and we have a colorful craft to bring in some springtime cheer, as featured in our March Newsletter.  Just tell the kids it involves glue – that will get their attention!
Featured here is an OM suncatcher, along with a window display of a little girl and boy and tissue-paper flowers, but you can use any shape.  Complete the look with pretty craft butterflies and a special holiday placesetting just for the little ones.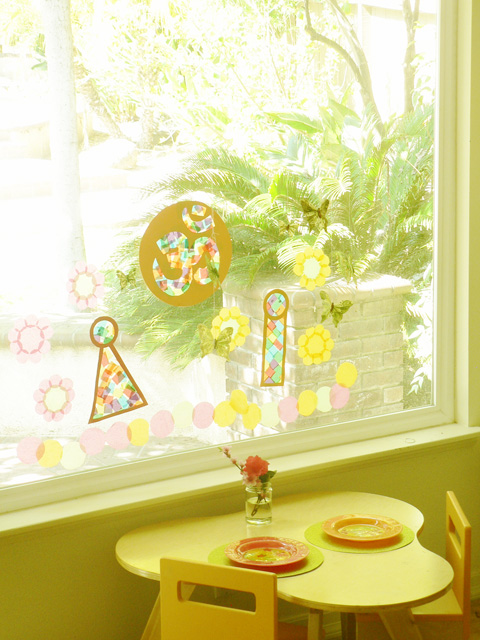 Here's what you'll need:
Colored carsdtock or construction paper
Several sheets of vellum paper
Colored tissue paper, cut into small rectangles or squares
Mod Podge (or other non-toxic, clear adhesive)
Scissors
Clear tape
You'll want to pre-cut the shape(s) for the suncatcher(s) ahead of time.  Simple trace your desired shape onto the colored cardstock and cut away the inside.  When the kids are ready, place the tissue paper squares into a large bowl and give each child a sheet of vellum paper.  Have them brush the vellum with the Mod Podge and create a mosaic with the tissue paper squares.  When dry, tape the vellum mosaic to the back of the cardstock.  Place in a window and let the sun pour in!
You can take it a step further and tape other tissue paper shapes to the window to create a window display – perhaps even a scene to illustrate the story of Prahlad and Holika.
And if you dare, you can let the kids "play Holi" with the remaining tissue paper squares.  Caveat cleaner-upper…