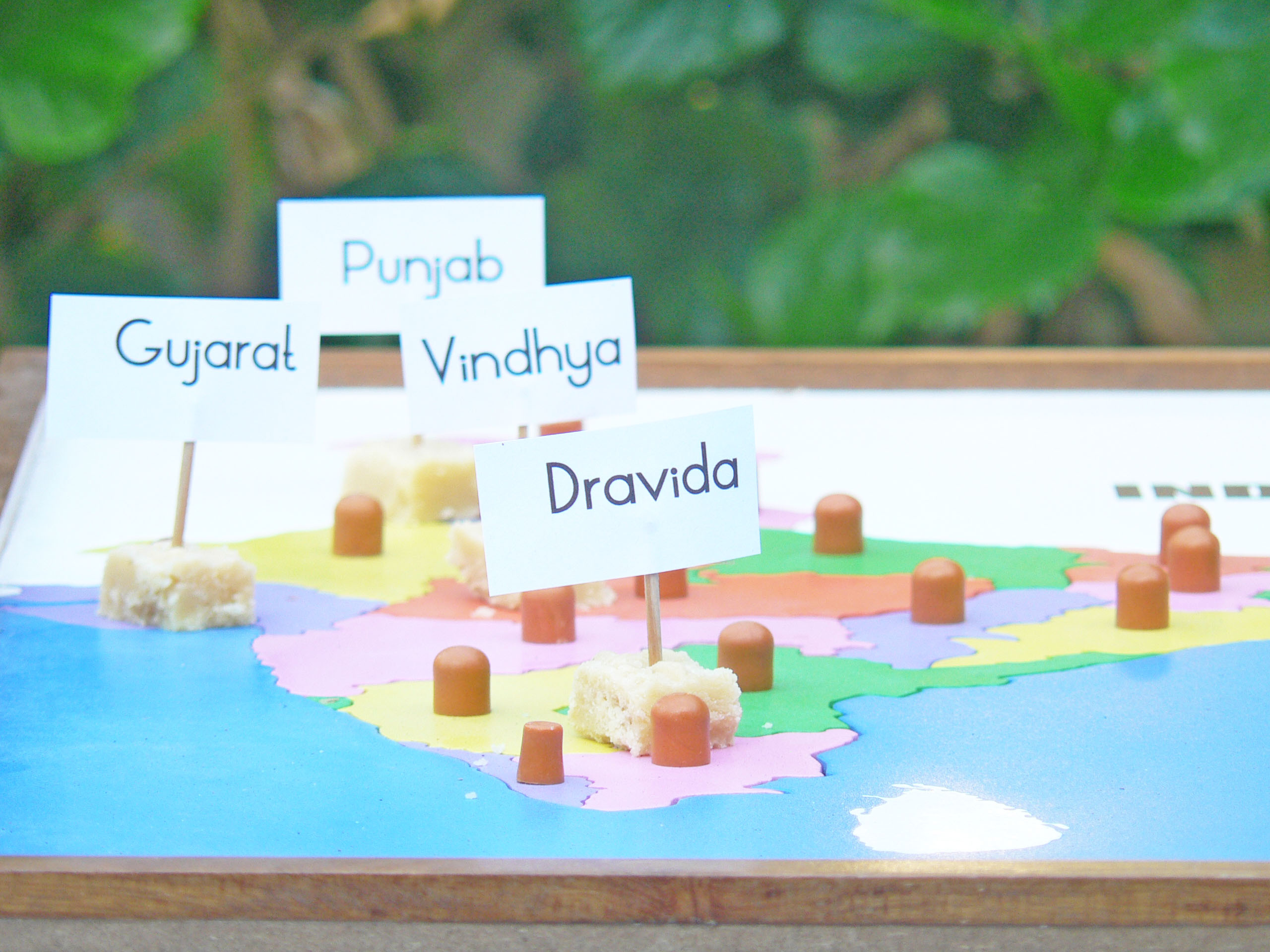 Indian-Americans are lucky to have back-to-back Independence Day celebrations during the summers – 2 countries, 2 flags, 2 festivals of freedom – and 2 moments to feel national pride.  Hopefully our children will grow to feel the same way.
Last year we staged creative food flags of India and Pakistan – a great way to get kids involved.
And how about that inspirational national anthem – Jana Gana Mana?  Here's an activity featured in our August Newsletter – it'll familiarize kids with the anthem and their Indian geography.
If you have our India Map Puzzle, pull it off the shelf.  Otherwise, you'll need a (preferably) large map of India (you can print one from the web if you don't have one handy).  Then, make 11 paper labels for each of the following:  Punjab, Sind, Gujarat, Maratha, Dravida, Orissa, Bengal, Vindhya, Himalaya, Jamuna and Ganga.  We taped ours to toothpicks and set them in Mysore Pak (an Indian sweet – extra incentive if they get it right!), so they could function as pawns.  As you sing and explain the meaning of Jana Gana Mana, help your kids correctly place the labels on the map.  This is a terrific and interactive exercise they're sure to remember.
Here are the lyrics and and a translation of the anthem (translation by Government of India):
Jana Gana Mana
Thou Art the Ruler of the Minds of All People
Jana gaṇa mana adhināyaka jaya he
Bhārata bhāgya vidhātā
Punjāba Sind Gujarāṭa Marāṭhā
Drāviḍa Utkala Banga
Vindhya Himāchala Yamunā Gangā
Ucchala jaladhi taranga
Tava śubha nāme jāge
Tava śubha āśiṣa māge
Gāhe tava jaya gāthā
Jana gaṇa mangala dāyaka jaya he
Bhārata bhāgya vidhāta
Jaya he jaya he jaya he
Jaya jaya jaya jaya he!

Thou art the ruler of the minds of all people,
Dispenser of India's destiny.
Thy name rouses the hearts of Punjab, Sind,
Gujarat and Maratha,
Of the Dravida and Orissa and Bengal;
It echoes in the hills of the Vindhyas and Himalayas,
mingles in the music of Jamuna and Ganges and is
chanted by the waves of the Indian Ocean.
They pray for thy blessings and sing thy praise.
The saving of all people waits in thy hand,
Thou dispenser of India's destiny.
Victory, victory, victory, Victory to thee.