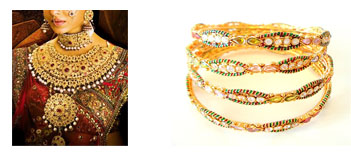 Red and green.  They're the infamous colours of Christmas, of course.  But this colour combination is also widely used in traditional Indian jewelry.  I remember many jewelry-shopping trips in India when I rejected necklaces or bangle sets because they were "too Christmasy" – leaving my relatives perplexed and shopkeepers muttering under their breath.
So all the red and green these days leaves me wondering: why are these colours so celebrated in India?  The answer takes us back to Mughal times and the tradition of Meenakari jewelry-making.
The art of decorating metal with enamel is known as Meenakari (or "Meena work")  – a craft which originated in Persia and was first introduced to India by the Mughals in the city of Jaipur, Rajasthan.  It is used in jewelry-making, as well as crafting gift boxes and other metal furnishings.  The technique requires highly-skilled artisan to engrave intricate designs on metal and then hand-paint liquid enamel within the designs, which then harden when heated.  Talk about attention to detail!
And where did the red and the green come in?  Well, along with white, they're described as "traditional Mughal colours" – colors that integrated the rubies, emeralds diamonds and pearls found in India.  Also, South Indian temple jewelry that was offered to the Gods was made with red and green semi-precious stones – thereby elevating them to the status of auspicious colors.
So this Christmas, as you speed past shimmering hues of red and green, you'll know that even in ancient India these colours were celebrated as being festive, divine and just darn beautiful!