Posts Tagged 'Kannada'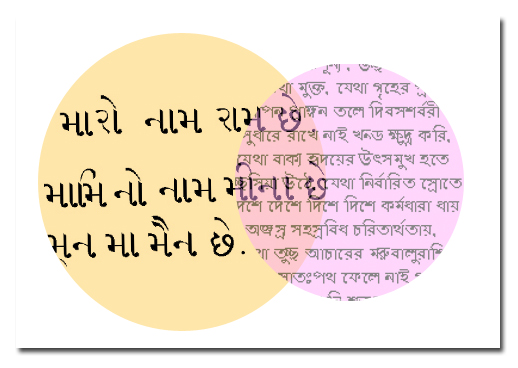 So you speak Gujarati and he speaks Bengali. Or maybe your spouse is not Indian but speaks Spanish, Russian or Japanese.  And let's just assume you don't speak each other's language so you speak English when you're together.  What's your policy with the kids?
In my case, I speak Telugu but my husband speaks Kannada – languages which are eerily similar (I can even read Kannada – no problem) – but which similarity may be even more confusing for the kids (I say dosa, he says dose.  I say kappa, he says kappe (frog)).  So you can imagine the linguistic dissonance when we're spending time as a family!
The most logical approach would be for me to speak Telugu to the kids, and for him to speak Kannada – thereby rendering our kids blissfully trilingual.  But this is complicated by several factors:  (1) I spend more time with the kids – so they naturally end up speaking way more Telugu; (2) my husband and I speak English to each other (resulting in a rather comical switching of languges depending on who-is-addressing-who at that precise point in the sentence); and (3) given the scarcity of time outside of school/work, I find myself "hogging up" most of this time to push the Telugu.
There doesn't seem to be an easy solution.  What's your policy?  We ask the question on our Facebook Page – so let's collaborate with some ideas!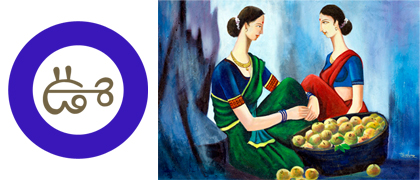 ooTa is the Kannada word for "food" and, in combination with the Telugu word thinu ("eat!"),  it is probably the all-time most used phrase in our household.  The cute-sounding word covers everything from breakfast and lunch to snack and dinner and is even more adorable when uttered sweetly by the kids.  So naturally it's our go-to word for the letter "oo."

On the subject of ooTa, I recently saw The Future of Food – a documentary by Deborah Koons Garcia about genetically modified foods.  It proved to be a brilliantly informative polemic against the dangers of agribusiness and the corporations that seek to profit from GMO crops.  Garcia explains how GMO crops are produced (often by the use of viruses and bacteria), what the international community thinks of them (the EU bans most of them and has strict labeling laws), what the US government is doing about them (not much – not even in terms of requiring labeling) and what's at stake for the future.
Interestingly, the catalyst for all of this was an Indian man by the name of Chakrabarty, who won a U.S. Supreme Court case in 1980 (Diamond v. Chakrabarty) which held that a live man-made micro-organism is patentable – the first time that living matter was afforded patent protection.  This started the race for patenting seeds of crops – with huge profits for corporations and unintended misery for small farmers (who have been sued for patent infringement even for unintended airborne pollination).
You can watch the film for free on the website or Hulu, or you can purchase the DVD.
Top image:  "Fruit Sellers" by Shiva Kumar, available for purchase at All India Arts.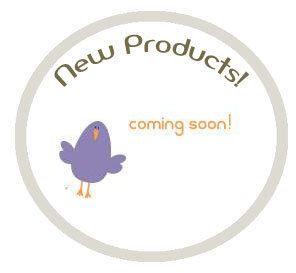 Want a glimpse of our new products?  Take a look at our Coming Soon page for a peek!  We'll be formally introducing the new line up during our New Products Week in September, where you'll be taken behind the scenes to meet the artists and the history behind each project.
Our new line up includes 18 books (3 books offered in Gujarati, Hindi, Tamil, Telugu (and 2 in Kannada), as well 4 precious handmade memory/keepsake books), a fabulous high-style Alphabet Poster, new apron designs and adult-sized aprons, as well as a collection of eco-friendly personalized stationery and prints featuring bold, colourful and (of course) South-Asian-inspired graphics.
So you see, we've been quite busy this summer!  Gnaana is growing…thanks to you, our readers and customers…so keep the fire going by spreading the word!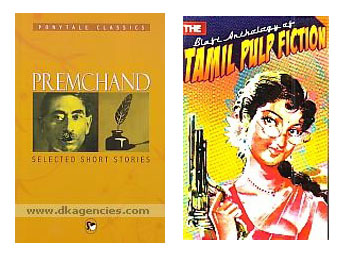 Sure there's Jhumpa Lahiri and Arundhati Roy.  But what of Indian fiction written in native languages?  We in the West are pummeled with the importance of reading translations of War and Peace and Madame Bovary, but what of the Tolstoys and Flauberts of India?
I admit I don't know have a huge knowledgebase of classical Indian fiction writers (meaning, those who write in their native languages).  I picked up few novels while living in Bangalore:  some by Sarat Chandra Chatterji (Devdas (of course), and Parineeta (much better than the movie – and I liked the movie) and Nishkriti (a little disturbing)) and also Tagore (Chokher Bali – absolutely brilliant).
There is certainly something to be said about native Indian fiction.  And I found a goldmine of a website:  DK Agencies – a Delhi-based book supplier which ships worldwide.  They have translated works from writers all over India – both classical and contemporary.  Hindi, Telugu, Punjabi, Tamil, Kannada…and the list goes on.  I can't wait to get my hands on Premchand's Short Stories.  Or maybe The Blaft Anthology of Tamil Pulp Fiction – a little more contemporary(Outlook India calls this "the best produced paperback in the history of Indian publishing.").  And many others that would be great additions to the library
Beach reading, no?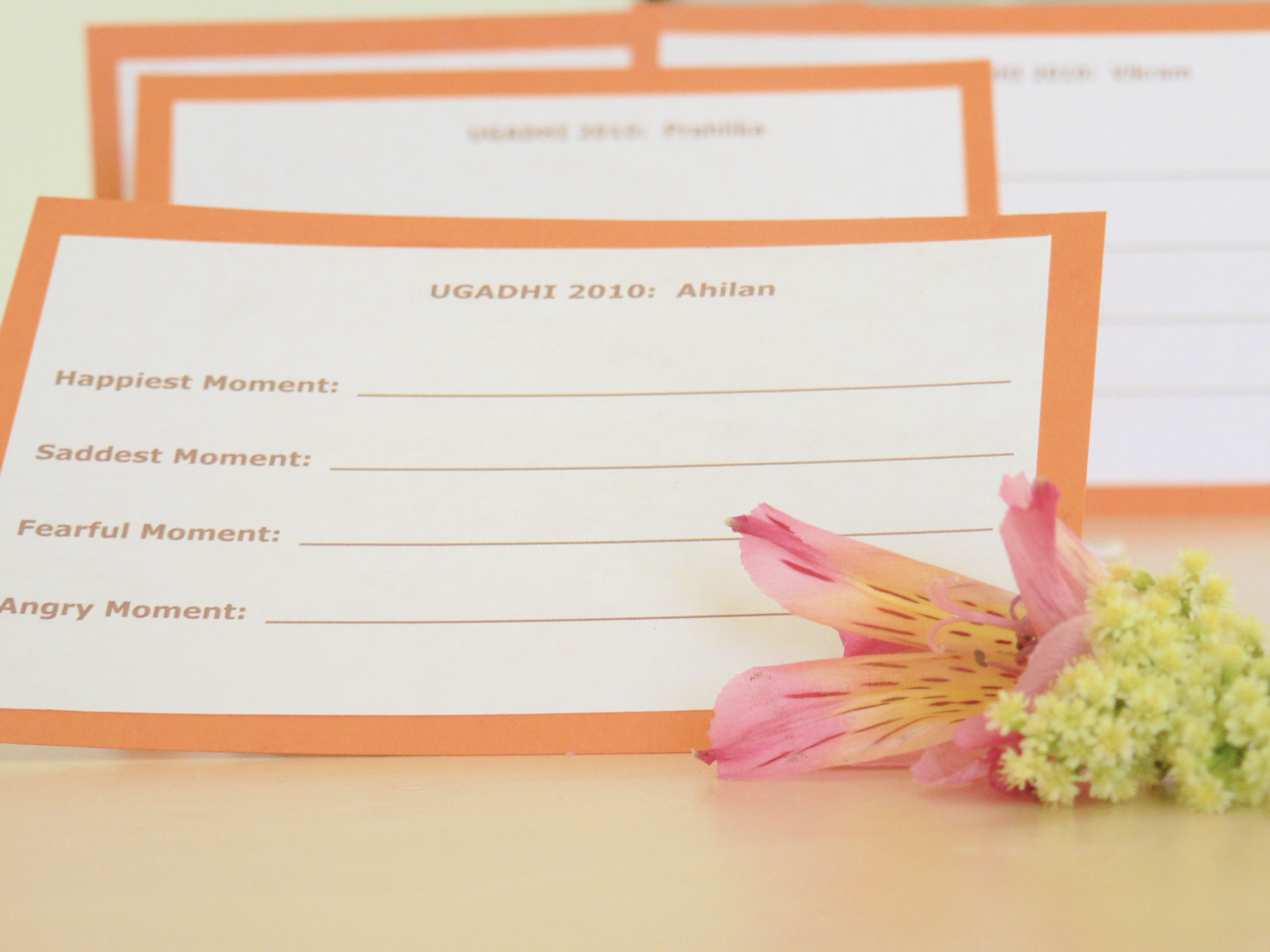 Yes of course there is the Ugadi Chutney – a special mixture of 6 flavors – to mark the Telugu and Kannada New Year.  It's not too difficult to make – you just have to schlep to the Indian grocery store to get the ingredients.  Or, as I've done in the past, you improvise with substitutes (brown sugar for jaggery, methi powder for neem flowers, and lemon for tamarind).  It doesn't taste as good, of course, but still reflects the spirit of Ugadi:  that the year ahead will be a mixture of sweet, sour, bitter, sad, fearful and angry moments and, when all mixed together, give you the sublime experience of LIFE.
The savory symbolism is quite poetic and renders itself to be perfect teachable moment when it comes to kids.  I let my kids taste all the flavors before I mix them together – and they have a ball (though it usually ends up with me having to hide the jaggery…)
So that the kids can relate more to the holiday, we also started the tradition of Ugadi Cards – 1 for each of us – where we talk about 4 special moments from the past year:  the happiest, saddest, most fearful and most angry moments.  I record the "moments" on cards and file them away in a box.
These annual cards are priceless family treasures – a porthole into our private moments – a modern way to incorporate an ancient tradition.  And a terrific way to bond and grow as a family.
Time to get serious here.  Last Saturday, I gave a speech in Los Angeles at the Kannada Cultural Association's Children's Day Festival.  My topic was "Preparing Our Children For The Future."  I didn't talk about academics and such, but about the importance of cultural education.  In sum, I stressed that culture was like a language – and that it needs to be incorporated early in children's life – so that they can internalize and make it a relevant part of their lives as they grow older.  I also urged parents to examine their child's relationship with culture – and to make sure they understand the true meaning behind many cultural practices – so that they'll be inspired to form their own communities in the future and continue traditions.
The response to the speech was terrific!  You can read the full text here.