Posts Tagged 'Montessori'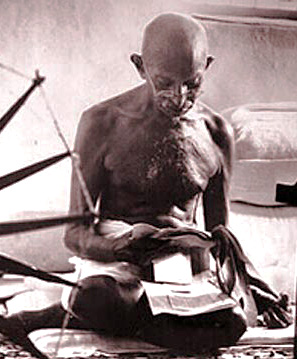 Gandhi Jayanti is tomorrow, October 2nd – so make sure to pay your respects to our Great Father.  We'll be having a little cupcake party with stories, like we did last year (read last year's Gandhi Jayanti post here).  If my kids were a little older, I think creating a timeline of Gandhi's life using a Montessori-style Black Line would be a great weekend activity.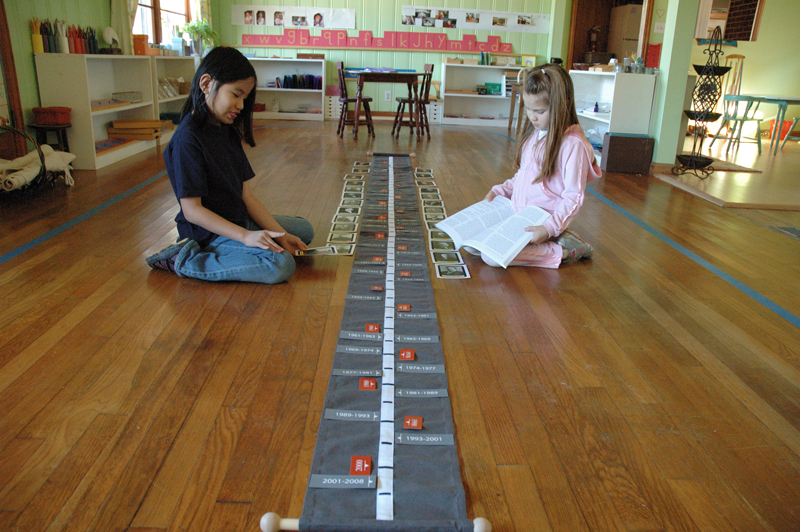 The Montessori Black Line – pictured above –  is a simple black strip marked with tick-marks showing relative scale of time.  It's an interactive, hands-on way for kids to learn about history – they simply place a picture (or a card with a descriptive paragraph) along the line in logical progession.  The Black Line is used to illustrate almost anything – from the evolution of humankind to a timeline of a child's life.
If you are so inclined, you can purchase a Black Line here – it's coveniently pre-marked by decade.  Of course, you can just as easily  make one of your own.  You can use a simple timeline of Gandhi's life – like the one found here – or you can stretch the project over a few weekends with more elaborate detail.
Maybe we'll do this next year.  It's still cupcakes this time around.  Happy Birthday, Gandhiji!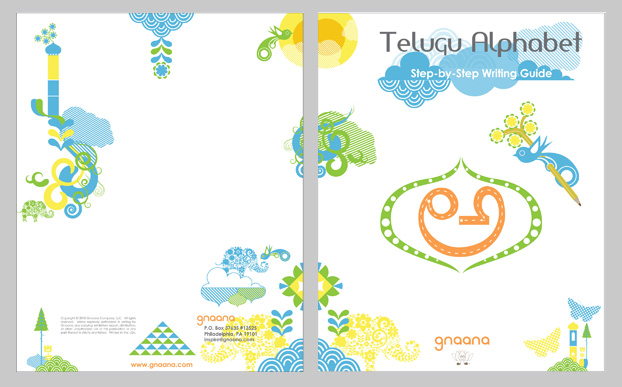 We introduce our Alphabet Writing Books for you today, designed and compiled by Sara Petrous.  Does Sara know how to write all these languages?  Of course not (she admitted that when I sent her instructions for the the first letter – the Telugu letter "a" – pictured on the cover above – she though it was a pretzel!).  But Sara has been working with our linguists in putting the pages together.  She also designed the fabulously fun and graphical covers.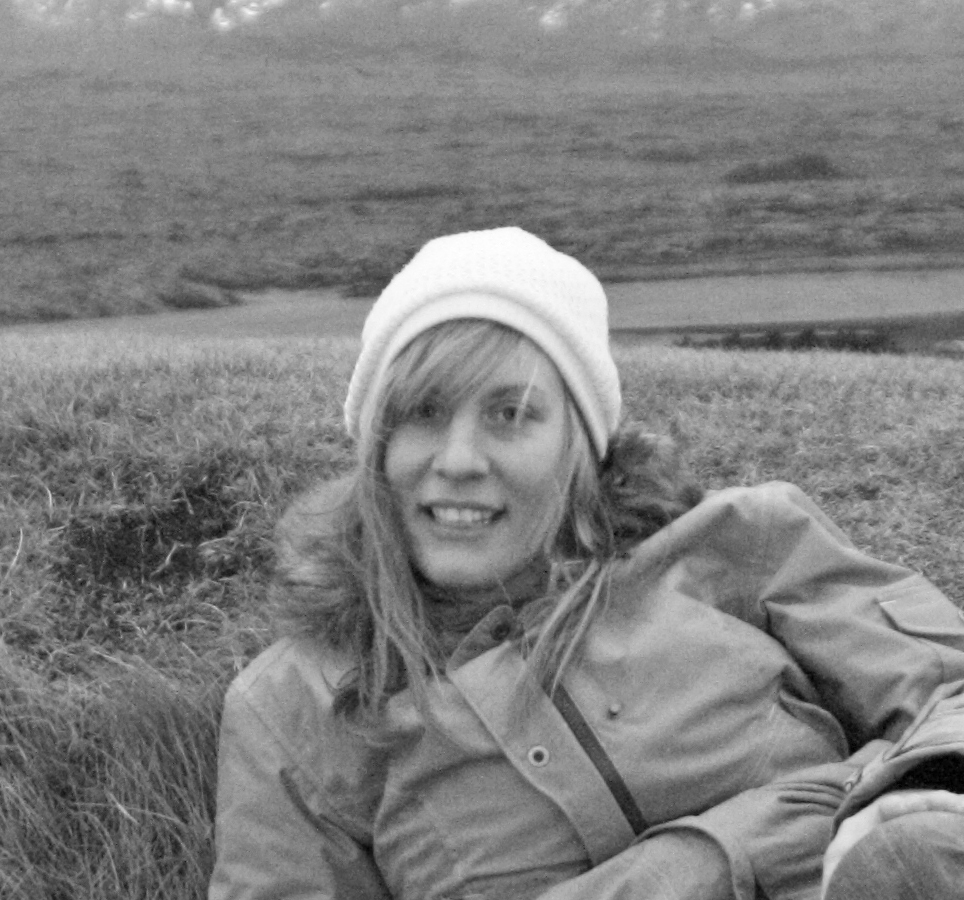 You may recall seeing her name on our Chota Chef Recipe Cards – she was indeed the illustrator on those.  Originally from Detroit, Sara served in the U.S. Army before studying fine art and industrial design.  She recently illustrated a children's book – Anne's Amazing Adventure and is currently writing and illustrating a children's book of her own.  Along with her passion for traveling, foreign culture and food, Sara enjoys writing, jogging and photographing architectural ruins.  She resides in Philadelphia with her two cats, Oliver and Seymour.
Now why haven't writing books like this been published before, you may ask.  Well, they probably have been – but you'd have to trek to India and spend a week trying to find them – if any bookshops or schools even carry them.  But after visual recognition of the Indic alphabet characters, learning to write the script is the logical next-step in languge-learning for kids.  In Montessori education, children trace the shape of alphabet characters by running their fingers along the infamous sandpaper letters (note that traditional Montessorians use cursive letters, rather than print, to allow for more fluid hand movements):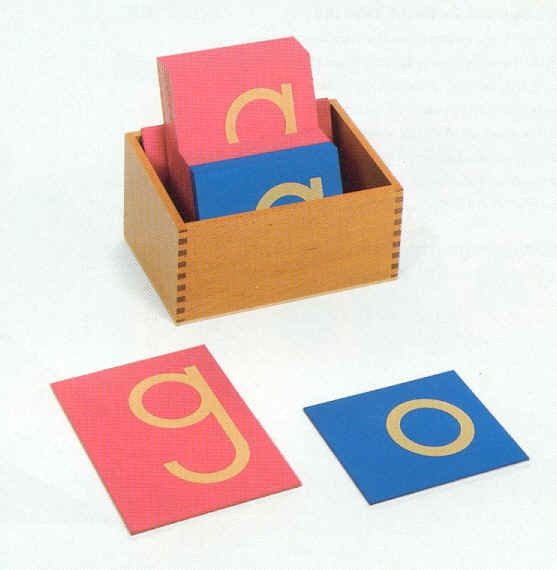 The idea is that through this physical act of the hands, the letters are etched in the brain.  This is why Montessori children learn to write (between the ages of 3-4) before they even master reading.
Our Alphabet Writing Books are set-up to mimic those sandpaper letters – except that kids will use a pencil or crayon instead of their fingers.  It struck me one day when I was having my son practice his English letters on our Kumon Wipeable ABC Flashcards that this exercise was very similar to the sandpaper letters – there were even step-by-step directional arrows to direct the kids: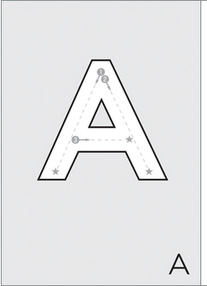 What a fabulous learning tool, I thought!  I had been using self-made computer printouts thus far (which you can see on some of my previous blog posts) – but I knew putting together these books would be a great exercise for many kids – and portable for the park or airplane.
Here is a snap from our Hindi book (you can see the directional arrows, and room for more practice on the back of each page).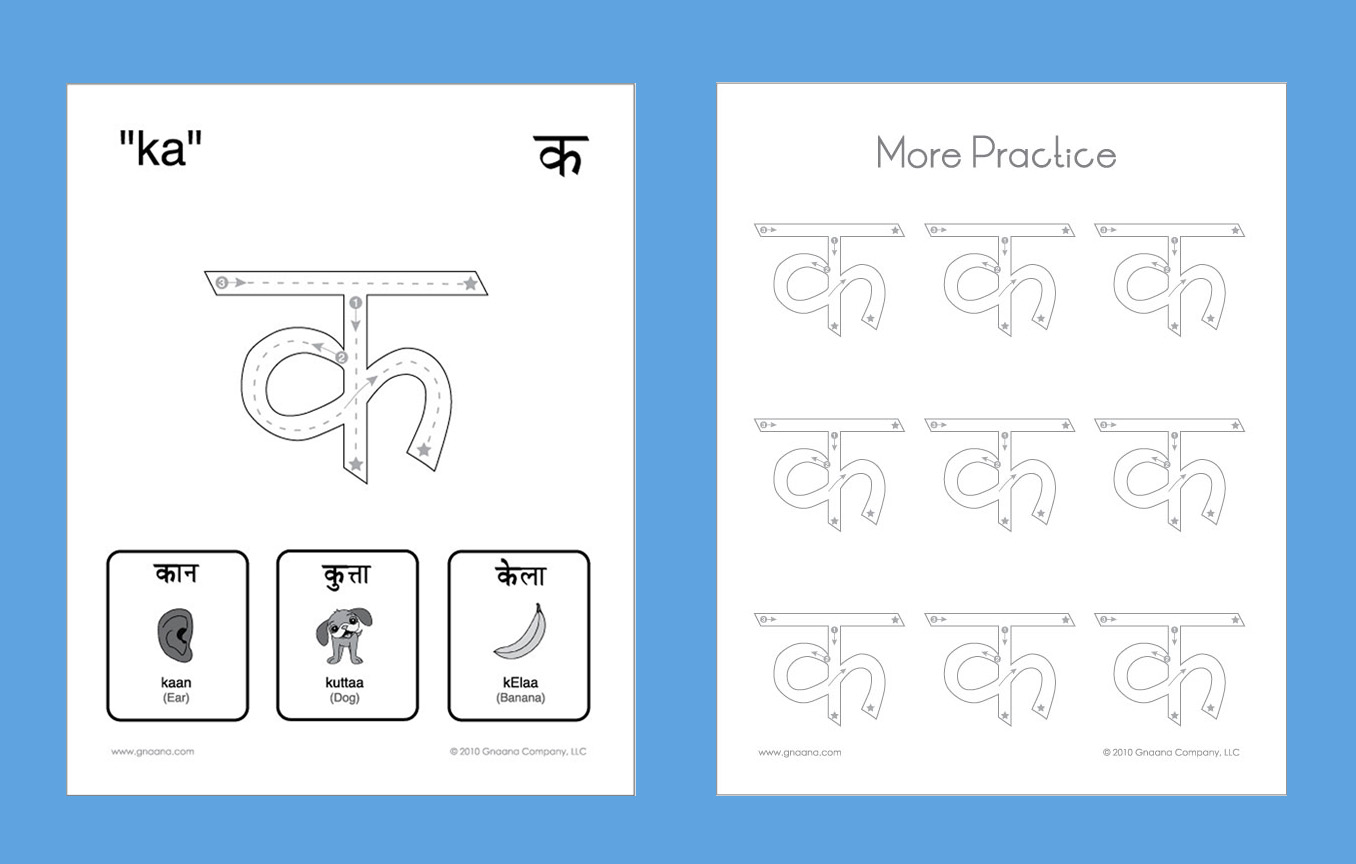 Bear with us, we're still putting these together, so they won't be ready until after Diwali.  They will be available in Gujarati, Hindi, Tamil & Telugu.
Now here's what Sara has to say:
1.  What do you think the artwork on the covers conveys to kids? The cover art is so colorful and playful.  It seems to invite the viewer into this new, more exciting environment for learning. The design is laid out in such a visually flowing manner. The eyes can easily follow the characters around on the front and back cover which seems to be like a snapshot or moment in time taken from a great celebration.
2.  What about the covers makes them attractive to kids? I would like to think that if the cover reveals a moment of celebration, then learning what is in between the covers would be a way to celebrate their culture.   Rather than just another sterile text book, the language books are vibrant and welcoming.
3.  You've been working with our linguists in composing the interior pages – how difficult was it for you to follow their drawings? I am really fascinated by other languages, so this project was quite fun for me.  The drawings weren't very difficult to follow.  It just took a bit of concentration.  Before starting each language and its' set of characters, I reviewed the overall shape, noting the difference in angles or curves from the previous language I had just drawn.  Because the characters are so visually interesting, I see them as images rather than letters.
4.  You did the illustrations for Gnaana's Chota Chef Recipe Cards as well.  What were some of your favourite cards? I love how the food characters are having such a great time in every recipe. Some of my favorite illustrations are Enlightened Eggplant,  Panj Spice Chana Masala (specifically how every chic pea's expression shows their own personality. I like the little one in the back. It's like he's screaming "I'm open. Over here! Over here!"), Kashmiri Kawha, Independence Heros and Thar Des-sert Lassi.
5.  What do you like most about designing for children? Designing for children constantly reminds me of the little joys in life.  I try to remember and keep with me that carefree happiness that we often have as children. It gives me a fresh perspective that I attempt to portray in my work. I am glad to know that my drawings might make someone, especially a child, smile.
Thanks, Sara!  And for some fun, here are some snippets of her work from The Chota Chef – Sara probably knows more about Indian geography as a result of this project than anyone I know!
Recipe #18, from the state of Punjab: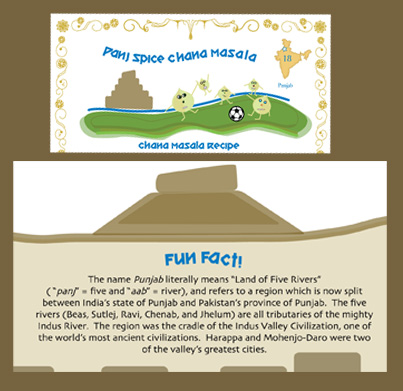 Recipe #13, from Maharashtra ("Bye, Bye, Biti" (British) as my daughter likes to say).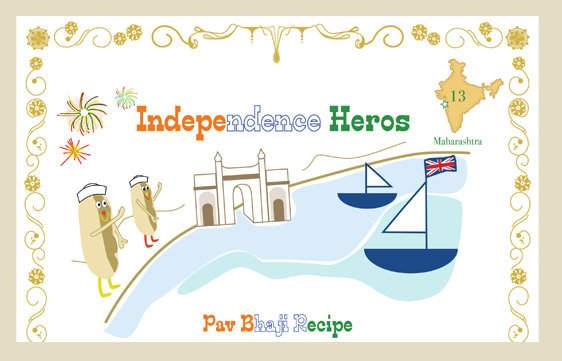 Recipe #16, from Rajasthan (Mango Lassi):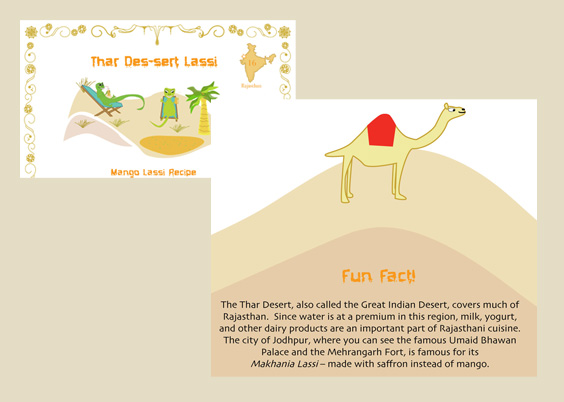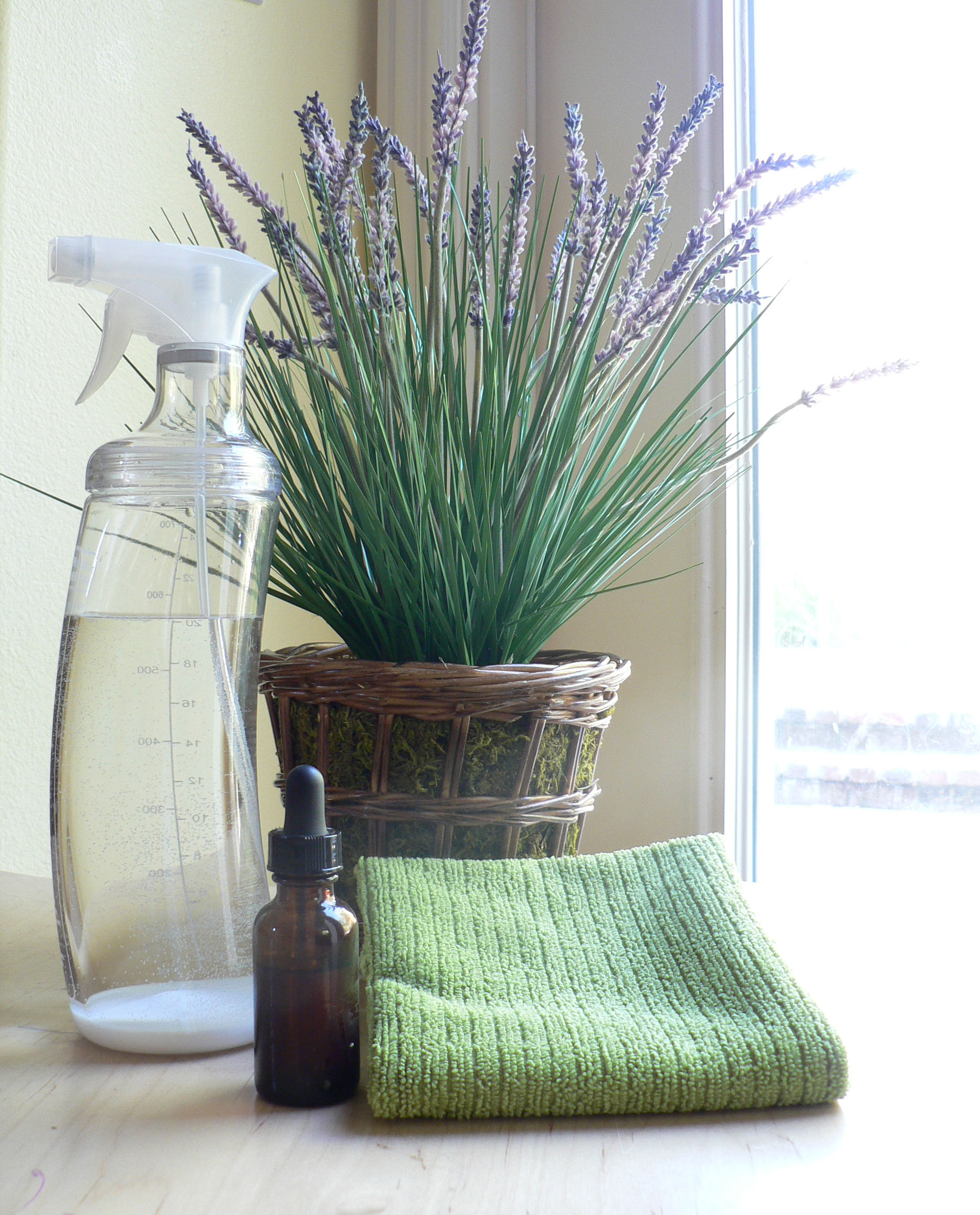 If you have to hold your nose or wear gloves when using something, it really shouldn't be in your house.  We're talking about cleaning products here.  We use a lot of cleaning products in our daily routines – all of which could contain harmful chemicals and toxins which our kids are exposed to.
But before the advent of modern chemical cleaning products, our ancestors in India used completely natural preparations to cleanse and purify.  Such as:
Brushing Teeth:  Instead of synthetic toothbrushes and toothpaste, our ancestors used twigs from the neem tree, which they chewed until the ends became frayed.
Soap and Shampoo:  Also called reetha and kunkudukai, the berries from the soapnut plan contain natural saponins.  When boiled and squeezed, they work up a rich lather when rubbed onto the skin or hair.  Interestingly, "soap nuts" are being resurrected by organic and sustainable living shops as a natural laundry detergent.
Dish Soap:    This may come as a shocker (unless you're an avid camper), but wood ash – when combined with the fats and oils in used pots and dishes – makes lye and crude soap.  So the fuel used for the fire to cook the food was then recycled when cleaning the dishes!
Air Fresheners:  A simple solution, really – a cupful of baking soda or talcum powder placed in a room will absorb the bad odors (it probably took a little longer than modern sprays though).
Antibacterials:  Pluck a lemon off a tree and there you have it!  Lemons have powerful antibacterial qualities as well as a fresh and invigorating smell.  They can also be used as mild bleaching agents.
Here's a simple DIY all-purpose cleaner you can make with a few simple ingredients – safe enough for your kids to go to town with (and a great Montessori Practical Life exercise):
In a squirt bottle, combine 2 cups water, 1 cup vinegar, and a few drops of essential oil for fragrance (we used 100% pure therapeutic grade Pink Grapefruit).  For really messy areas, pretreat by sprinkling some baking soda and wiping off with water (but avoid baking soda on easily-scratched surfaces).
Clean and natural!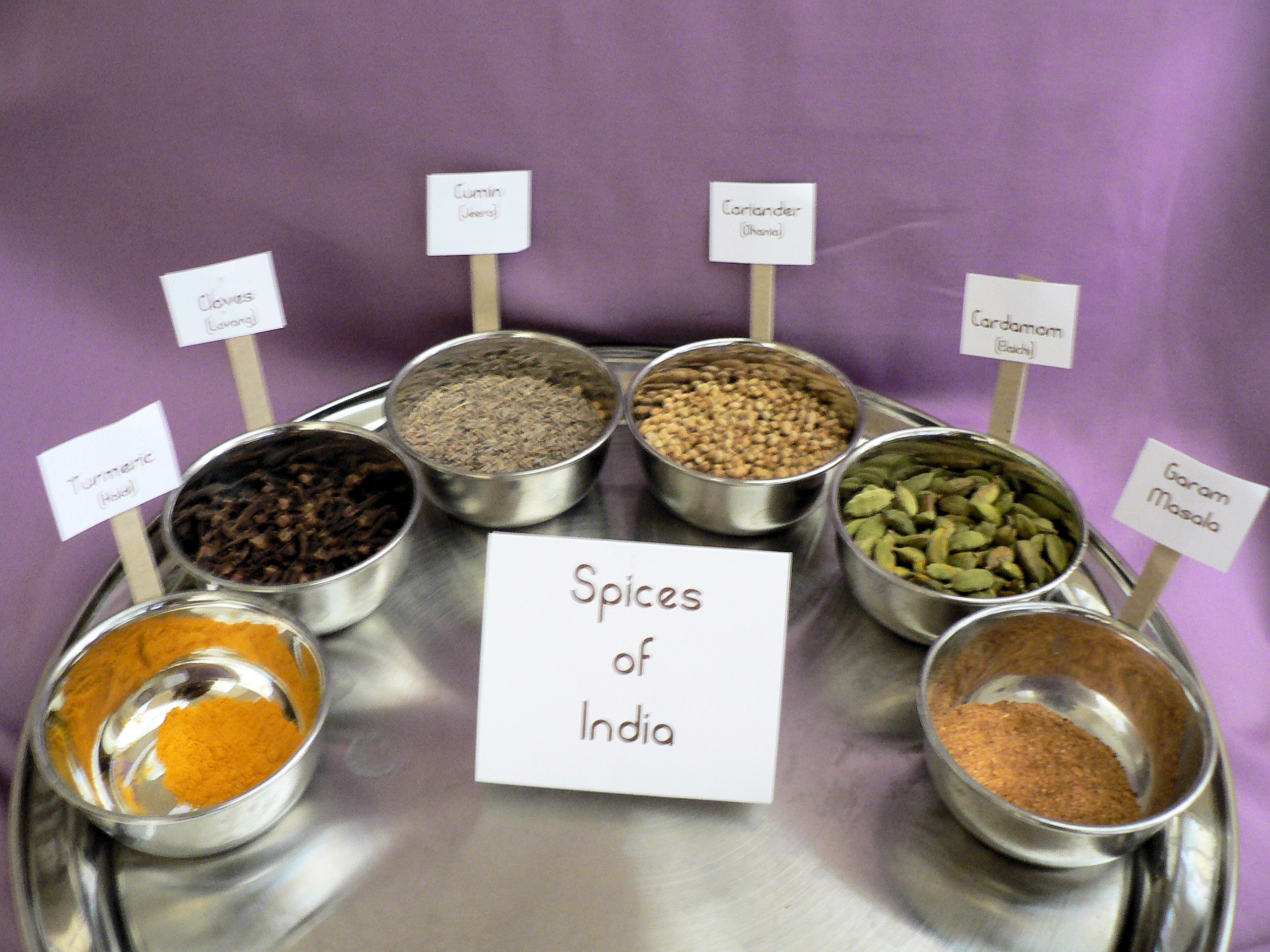 'Tis the season of spices, and all through the house…
Spices are synonymous with India – inseparable, really.  And you'll sure be smelling and consuming a lot of them during the upcoming holiday season:  cookies, cakes and savoury dishes will be infused with ginger, nutmeg, cinnamon and cloves.  Yum!
Spices also have wonderful health benefits and they are widely used in Ayurvedic treatments.  Smelling them, and learning about how they grow, happens to be a wonderful sensorial activity for kids.  So in the spirit of spices, we featured a simple game for kids in our December newsletter.  We call it The Spice Is Nice, and kids as young as 18 months will enjoy it.  Here's how to play (for 1 or more players – the more the merrier!):
 1.  Gather 6-10 aromatic spices (we used turmeric, cloves, coriander seeds, cardamom, cumin, and garam masala).  We don't recommend using red chili powder!
2.  Have your children smell each of the spices while you tell them the name of the spice (use your native language if you can!).  While they are smelling, ask them to describe the smell – i.e., if they like it or not and if it smells like something they are familiar with.  Make suggestions – and be fun and whimsical here – making non-food suggestions – the idea is to get them to think and explore.  You'll be surprised at what they come up with – garam masala may smell like train tracks!  They can also touch and taste if they want (but wash their hands afterwards).
3.  After 2-3 rounds of smelling, blindfold your child.  Present a spice for them to smell and have them identify its name.  Repeat as many times as desired.
4.  For older kids, supplement the activity with information as to how the spice is grown and harvested, and also how each spice is used in cooking and for other purposes.  The Epicentre's Encyclopedia of Spices is a terrific online resource.
For extra fun, we've put together a set of Spice Trivia questions.  Download here.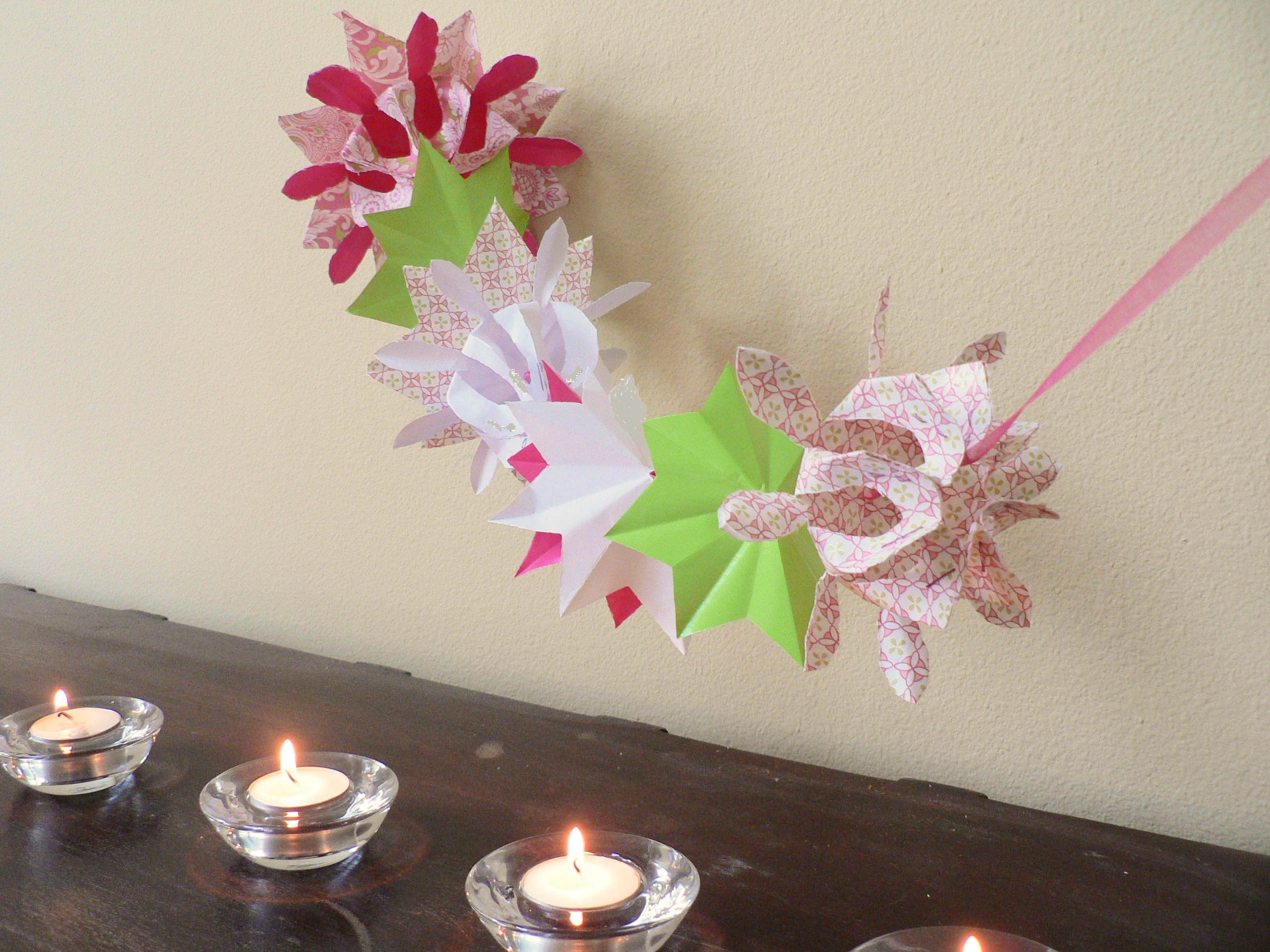 Yes, folks, it's that time of the year again…Deepavali (or Diwali for short)…celebrated by South Asians around the world.  And what's a holiday without decorations?  We're decking the doorways with beautiful origami garlands – a modern and stylized version of phul mala (flower garlands) that adorn Indian homes and shops during festival times.  Threading garlands is also a great activity for kids to develop motor skills – a variation of the Montessori Lacing Beads exercise. 
Here's what you'll need:
8.5″ x 11″ thin paper (text weight or gift wrap works great)
Scissors
Stapler (mini if you have it)
Plastic needle (large, with a round end – available at craft stores)
Yarn or string (we used thin ribbon)
We used a form of origami called kusudama – which uses cutting and gluing/stapling – because you can create beautiful shapes and flowers in 1-2 minutes.  We used portions from these video tutorials to make our stars and flowers (skip the inital ad): (1) paper stars and (2) paper flowers.
If you have young kids, you'll want to create the origami yourself (older kids can of course fold their own).  Also for younger kids, to better simulate the Lacing Beads exercise (and to make it easier on little hands), you'll want to pre-punch holes in the origami with the plastic needle.
That's it!  Let your child dig into a pile of shapes and flowers and start threading!
If you're short on time, or as a variation, you can also use fresh leaves or flowers.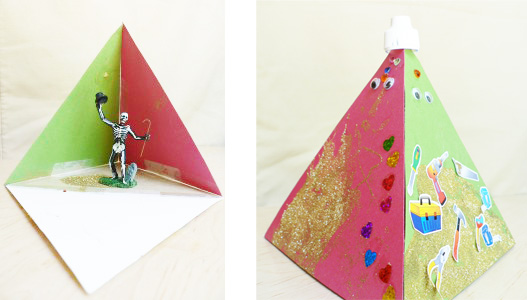 Navratri.  What is it?  Why is it observed?  The most popular legend goes like this: 
Once upon a time, Lord Brahma granted Mahishasura (the buffalo demon) a boon as a reward for his faithful devotion.  The boon protected Mahishasura from being defeated by any man in the universe.  Mahishasura became greedy with his new powers (he was a demon after all) and wreaked havoc.  The male gods were powerless, so they created Goddess Durga and endowed her with shakti (divine power).  Durga, along with with Goddess Lakshmi and Goddess Saraswati, defeated Mahishasura in a fierce battle, which lasted 9 nights (10 days).
As with other important Hindu holidays, Navratri is celebrated in different ways in different parts of India.  In East India, the festival is almost exclusively devoted to Goddess Durga and 9 forms of Durga are worshipped – 1 on each night of the festival.  In some parts of North India, stories from the Ramayana are invoked.  In West India, Durga's triumph is rejoiced with garba and dandiya raas.
In essence, this 9-night (10 day) festival is a celebration of womanhood – a jubilatory articulation of the unwavering powers of the divine feminine to defeat evil in the world.  The powers of each of the 3 main Hindu Goddesses are worshipped for 3 nights each:  Durga's (Parvati's) strength and energy for the first 3 nights, Lakshmi's power to bestow success and fortune on the second 3 nights, and finally Saraswati's powers of knowledge on the last 3 nights.  No single skill or tool is powerful enough to conquer evil; rather, the union of all feminine powers is necessary.  Now, how exactly do you explain this concept to your kids?
We devised a clever art (and math) project to illustrate this popular Navratri legend:  Storybook Pyramids.  This is a 4-sided pyramid –  a base and 3 triangles, where each triangle is a a Goddess (Durga (Parvati), Lakshmi and Saraswati).  Together, they join forces and encapsulate an evil demon.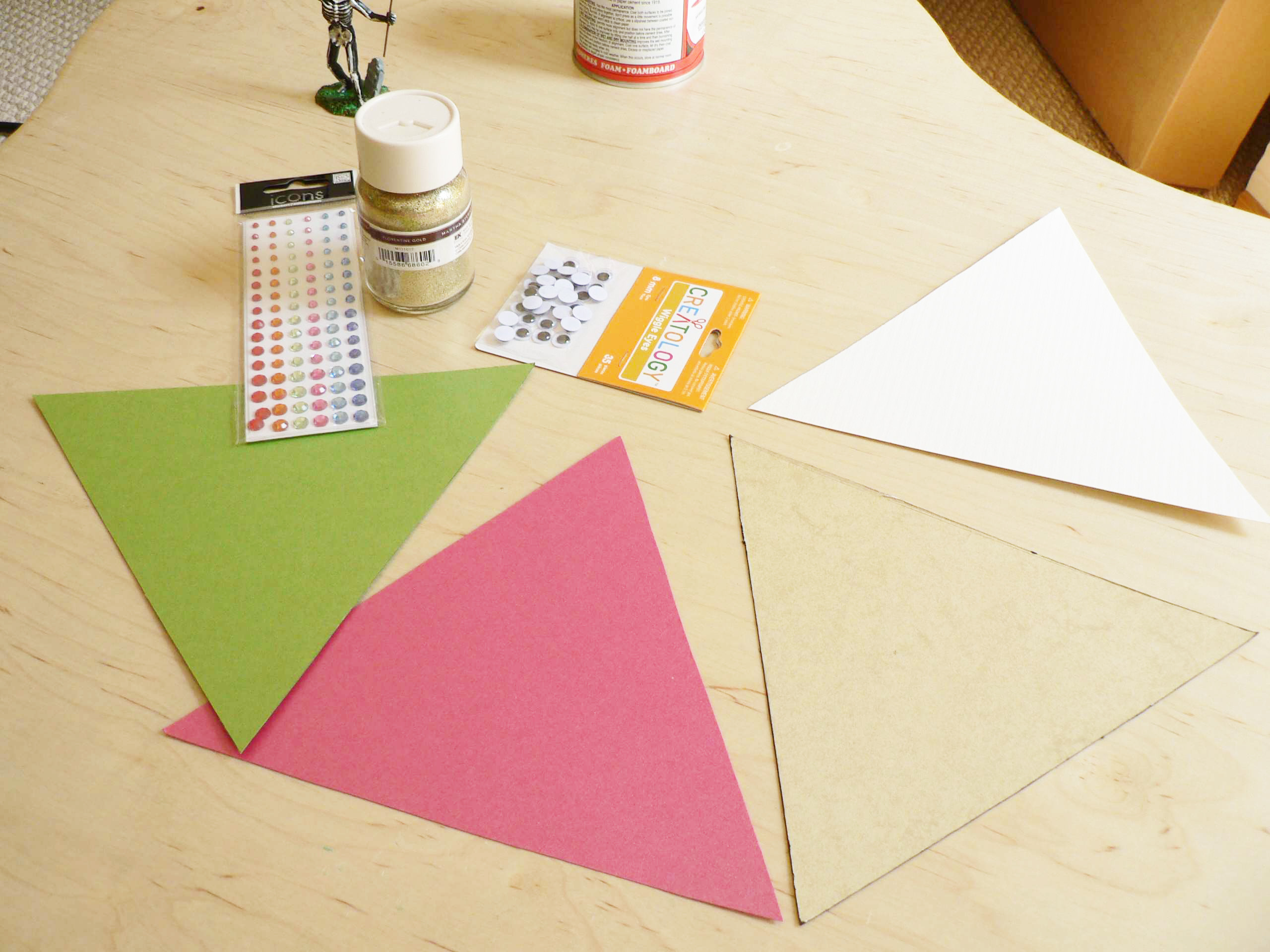 Here's what you'll need:
4 sheets of cardstock (different colors)
A "bad guy" a.k.a Mahishasura (we used a Halloween skeleton) – about 3 inches high
Embelishments (e.g. glitter, wiggle eyes, stickers, markers or paint)
Transparent tape
A small cap or ring (to secure the top of the pyramid)
Using our Triangle Template (available here), cut out 4 triangles.  Decorate 3 triangles as "goddesses," emphasizing the special qualities of each.  We used simple stickers – tool stickers for Durga, shiny heart stickers for Lakshmi and "back to school" stickers for Saraswati.  When finished, tape the triangles to the base (on the inside) and then place your "bad guy" on the base.  Fold-up the triangles to form a pyramid and secure the tip with a cap.
You can do this project in a single afternoon or space it out among the 10 days.  The idea is to narrate the Navratri legend as your child is creating.  Have fun and Happy Navratri!
Some moments in life are so filled with emotion that it's impossible to supress the tears – whether of joy or of sadness.  The birth of a child, a first haircut, a wedding – they are all pivotal events in a person's life.  In Hinduism, we celebrate these pivotal events –  samskaras – with big fanfare.  There are 16 of these samsakaras – the first of which starts with conception and the last of which is the death ritual.  Together, they mark the stages of a complete human life – a truly beautiful concept.
The 10th Samskara is the Vidyarambha – performed to mark the beginning of a child's formal education (vidya means "knowledge" and aarambham means "beginning").  The child traces akshara (letters) in either the sand or a tray of rice grains (or with gold – if you're wealthy!) – meant to invoke Saraswati Devi – the Goddess of Knowledge.
I know each family performs the Vidyarambha differently (some when the child is 2 or 3 years, others when the child is 5, and still others perfom some aspect of this ceremony annually on the Vijaydashami day of the Navratri celebrations), but I thought there was no better time to do this than my son's official First Day of School:  today he starts in his primary class at his wonderful montessori school.
My Vidyarambham "ceremony" was a bit more modern – I had my son trace the word "OM" with Do-a-Dot markers on a template I prepared.  (I got this idea from his Montessori toddler class – where they do this with the English alphabet – it encourages pre-writing skills since children who can't hold a pencil yet are really "writing" with the dots).
So this morning, amidst the tears and the pictures, I spent a quiet moment with my son – where he "wrote" and recited OM, and I blessed him with a kiss.  And so he embarks on the journey of knowledge…
(If you are so inclined, you can download our "OM" template here.)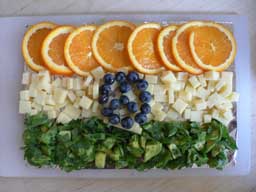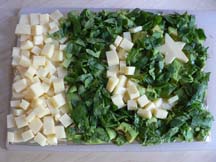 What better way to celebrate Independence Day than with food! We staged a pre-party yesterday afternoon with these tasty Food Flags (we called them jendaalu – one-up on the Telugu vocabulary).
I sliced some oranges and diced up some cheese, avocadoes and spinach, and we got crafty. Luckily, I had a star-shaped cookie cutter on hand (for the Pakistan flag) – which was a big hit with my 3-year-old Ahilan – he ate through many stars before he let me keep one for the picture. We referred to images of the flags I had on my laptop as we assembled the food on cutting boards.
Of course the best part was the de-construction. Even my 9-month-old daughter squealed as she dived into the avocado and spinach mix.
I don't think Ahilan really understood the significance of Independence Day – though now he can at least recognize the flags of India and Pakistan. But more importantly, we had a memorable afternoon of healthy food and fun!

It started as a midnight mommy musing:  how can I get my children to appreciate the richness of my Indian heritage?  My husband and I were both so busy – working late during the weekdays and running errands on the weekends.  In the meantime, our children, like super-sponges, were absorbing everything around them. 
Unfortunately, we didn't have many obje[c]ts d'culture around our house that they could relate to.  A flimsy Rama cartoon book? No, 3-year-olds just don't get the dharma-thing.  A Hanuman cartoon?  Way too violent for his age.  Maybe a visit to a temple?  Yeah, telling a toddler he can't keep ringing the temple ghanta (bell) gets really old after the 30th time.
Enter gnaana – a fresh new way of connecting kids with culture. 
Inspired by Montessori teachings, our products are designed to help busy families incorporate elements of South Asian languages, traditions and histories into their everyday lives.  And these are not your nani's "toys" –  our products are made of eco-friendly recyclable materials like wood and tin and meet international ASTM and European safety standards.
This blog will be an extension of our mission – a place to share and reflect upon the joys and challenges of raising multi-cultural children.  Whatever your background, we hope you will join the conversation and laugh with us.  And pipe up if you'd like to be a writer  –  we'd love to have you share your stories with the Gnaana community.  Just email us at blog@gnaana.com. Happy reading!
Sincerely,
Aruna Hatti