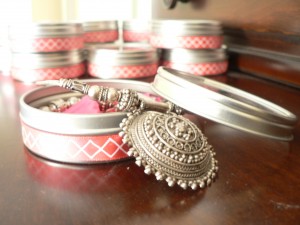 I envy those moms who manage to be perfectly accessorized – a fab necklace and earrings and all – while being out and about with their kids.  For me, it's a struggle to find a matching top and bottom in time before the kids throw my toothbrush in the toilet, so digging through my mess of a jewelry drawer to find a pair of earrings is not an option.
But I resolve that this year will be different.  And first things first – I need to be able to find my jewelry if I'm every going to be able to wear any of it.  So I dreamed-up these clever jewelry tins to organize my coordinating sets.  I ordered several dozen of these 2.8 inch round tins with clear lids and glued some pretty ribbon around them.  I lined the tins with coordinating tissue paper, and now my jewerly rests in their beautiful beds – neatly stacked and visible.
And when I travel, I can just pop the relevant tins into my suitcase and be on my way!