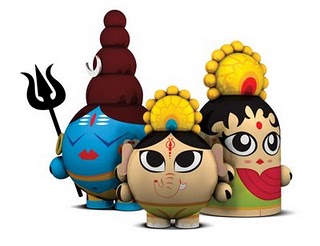 We couldn't have done it better ourselves.  Check out Toy Art da India – concept toys by Brazilian designer Rique C. Pereira.  Pictured above are Shiva, Ganesh and Parvati.  Kali, Lakshmi, Krishna and Hanuman are also part of the collection.
Sadly, Rique (as the designer was known) passed away – er, beaten to death in Sao Paulo actually.  From what we could gather, the toys were to be produced in resin.  Perhaps someone purchased the rights to the artwork, we don't know.  But what lucky boy or girl would not want these in their collection?
Our condolences to the Pereira family.
Page translations from the Portuguese by Google Translate:
Toy Art da India
Mouring: Rique C. Pereira