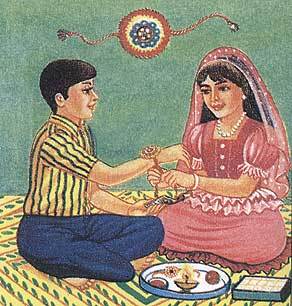 Growing up as a South Indian, we didn't celebrate Raksha Bandhan (or Rakhi for short), even though I had a brother.  I don't think I even knew there was such a holiday until I was in college.
But it's a beautiful holiday that celebrates a beautiful (and irreplaceable) bond – the relationship between brothers and sisters.  A girl ties a rakhi (sacred thread) on the wrist of her brother, and gifts and sweets are exchanged.
I hope you'll take some time today and celebrate Rakhi with your kids – maybe just a simple act of having them feed each other a sweet treat.  Or maybe read alound these special Rakhi Poems.
On a side note, I had a good chuckle when I read somewhere that when girls get older, they would use rakhis as a way to "get out of unwanted crushes" – tying them on boys they were friends with, but didn't necessarily like "in that way."  Oh, if only I had known!
Image by Google Images