Posts Tagged 'ramayana'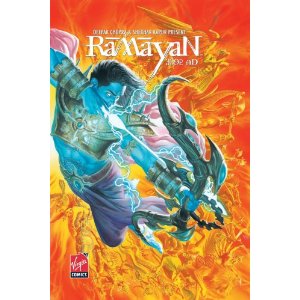 Take a hero with superpowers of the Gods, a beautiful princess, an army of monkeys and a demon-king with 10 heads who rules the 3 worlds – what gamer wouldn't want part of this action?
Seriously – why has no one developed one yet?  (Apparently, 3 computer science majors in Thailand created one in 2000 which won the nation's game software competition – Ramakien, as the Thai version is called – but it doesn't seem that it was ever marketed).
Then we got wind of Ramayan 3392 A.D. – a comic book series published by Virgin Comics in 2007.  Both Volume 1 and Volume 2 of the comic book are available on Amazon and there was much buzz around that time about Sony's plans to turn the comic into a super-duper online video game, but it has been silence since the initial press release.
There is also talk of a Ramayan 3392 A.D. movie – you can see a trailer here – apparently set to release sometime in 2011.
You would think such a film would be a instant success at the boxoffice – are we missing something?
Happy Ram Navami (tomorrow)!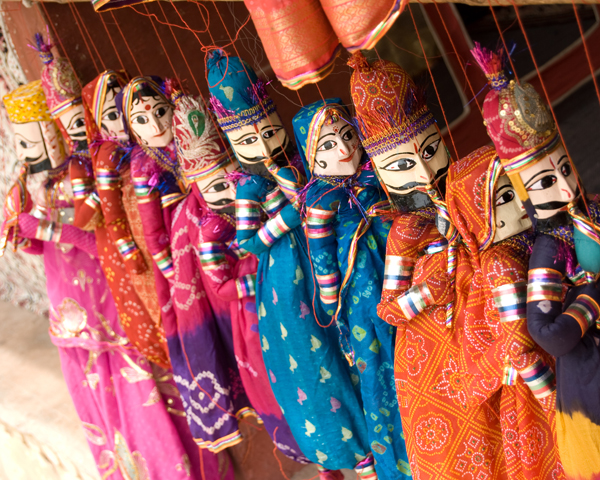 There's something about puppets that puts a smile on my face – whimsical and quirky, I think they are sublime symbols of the sheer delightfulness of childhood.
We went to a fabulous Jim Gamble puppet show over the weekend, featuring tales of the African Ashanti.  Which got me thinking about those beautiful Rajasthani Puppets from India.
Kathputlis, or wooden puppets with strings, are (or more accurately – were – thanks to to the proliferation of television) popular forms of entertainment in Rajasthani villages.  The pupetteer usally illustrates a folk tale, a scene from the Ramayana or the Mahabharatha, and even tackles more serious social issues (such as the dowry system and illiteracy) for older audiences.  Characterized by shrill voices and the incorporation of music, the tradition originated about a thousand years ago with the Bhat community, who staged shows for royal families.  Puppet India has a more detailed explanation of kathputlis and other puppets from all over India.
How cute would a pair of these look hanging in a kids room?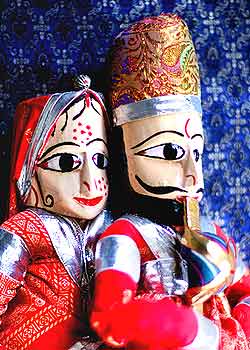 Image by Indialine
And if you can't wait until your next trip to India to score some, you can purchase online at DD Heritage World or Jupiter and Sons (fair trade puppets at One World is Enough).  Be prepared for sticker shock, of course.
Top image by Vineet Bansal, Honorable Mention in MSU Global Focus 2008 Photography Competition.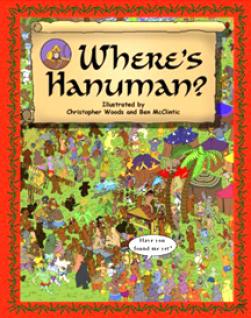 Hanuman, simply put, is remarkable.  I think he's the reason kids love the Ramayana so much.  He has tremendous strength and powers, darts through the sky, moves mountains with a single hand, and carries Rama and Sita in his heart.  But underneath it all he's still a monkey – what a superhero!
Finally we have a book for toddlers (or any age really) that centers around Hanuman.  Where's Hanuman is a seek-and-find book put out by Torchlight Publishing.  We featured it in our March Newsletter, but the awesome-ness of this book is so great that we had to write about it on our blog as well.  And check out the book's official website: www.whereshanuman.com.
So hat's off to you, Hanuman, for rousing the superhero in all of us.  And yes, we know most of India (except Tamil Nadu and Kerala) celebrates your birthday today – so janamdin ki badhai.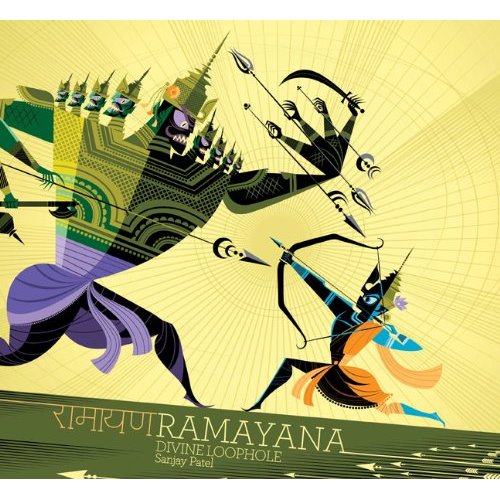 Kinda wierd to say Happy Birthday to a God, but that's what we're doing today:  saying Happy Birthday to Lord Rama.  Ram Navami is big deal for Hindus around the world – sort of feels like Christmas in March.  It's a commemoration of the Ideal Man after all – the protagonist of the epic Ramayana.
So how are we celebrating?  We're digging into Sanjay Patel's just-released Ramayana: Divine Loophole.  (If you don't know already, Patel is an animator for Pixar and has previously published the uber-cute The Little Book of Hindu Deities).  At 186 pages, it's a bit beyond a toddler's attention span – but the visuals are so stunning, you can narrate the Ramayana in brief to your kids just by flipping through the pictures.
Thank you, Mr. Patel, for giving parents a phenomenal way to present the Ramayana to kids.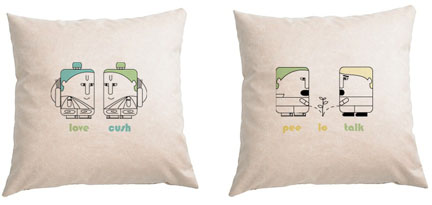 I'll betcha you don't know what a Batoota is.  Well, they're spreading from Mumbai to all over India – soon to infest the U.S.
So what are they?  They're "creatures which infest your daily mundane objects by redefining them and while doing so, passing a social comment, using puns," says Mumbai-based creator Roshnee Desai.
The whimsical characters featured on her pillow covers are intriguing to kids and adults alike – and great for a good chuckle in any room.  Our favourites are the "Love Cush" (a shout out to the Ramayana fans here) and "Pee Lo Talk" (anyone who's visited India will understand the humour here).
You can see more designs at Roshnee's website.  And yes, she can ship the covers to the U.S. and elsewhere – just email her at roshneedesai[at]gmail[dot]com.  Snatch them if you can!

The "Indian Christmas."  The "Festival of Lights."  The most important holiday celebrated in India, by members of the Indian diaspora and by other South Asians.  But what's the meaning behind Diwali?
Well, like most things Indian, the answer to that question is anything but simple. It means different things in different regions and communities – to those from North India and South India, and to Sikhs and Jains – and the length of the celebration varies from 1 to 5 days. One could write a (very long) book about this topic. We're here to de-mystify and simplify the spiel.
Deepavali (or Diwali for short) literally means "a row of lamps" (deepa means an "(oil) lamp" and vali means "row").  The date is decided by the lunar calendar as so varies yearly, but generally falls in October or November.
The colloquial meaning (as manifested by various Diwali legends) varies, but the spiritual meaning is the same:  it is essentially a celebration of the inner light of earthly beings – the Atman – the pure, infinite and eternal Atman – which outshines and transcends the physical realm.  To know and realize Atman is to triumph over darkness, obstacles and ignorance.
Diwali is typically celebrated over the course of several days:
Day 1: Dhanteras: Celebrated mainly in North India as a  day of wealth – an auspicious day for shopping of metal utensils and gold (date in 2009:  October 15).
Day 2: Narak Chaturdasi:  In South India, this day is recognized as the Main Diwali Day – commemorating Lord Krishna's defeat of the demon Narakasura (date in 2009:  October 16).
Day 3: Main Diwali Day:  This is day is celebrated as the actual Diwali Day around the world.  For North Indians, the is the day the people of Ayodhya welcomed back their beloved King Rama after his defeat of the demon king Ravana, as chronicled in the famous Ramayana epic.  Also, South Indians celebrate this day with a Lakshmi puja. (date in 2009:  October 17).
Day 4: Govardhan Puja: In may parts of North India, this day commemorates Lord Krishna's defeat of Indra and lifting of Mt. Govardhan to save villagers from Indra's wrathful flood.  In Karnataka and Tamil Nadu, it is celebrated as Bali-Pratipada – when Vamana (Vishnu's 5th incarnation) defeated demon king Bali. In Gujarat and Nepal, this day is recognized as their New Year Day. (date in 2009:  October 18).
Day 5: Bhai Duj:  Celebrated mainly in North India as a day to celebrate the love between brothers and sisters.  (date in 2009:  October 19).
Bengalis celebrate this day as Kali Puja.
Jains recognize  Diwali as the day Lord Mahavira attained Moksha (Nirvana).
Sikhs celebrate this as Bandi Chhorh Diwas – the day the Muslim Emperor Jahangir released Guru Har Gobind Ji (and 52 other princes) from prison – an important event in the Sikh freedom struggle.
So there you have it – a concise-as-we-can-be cheat sheet!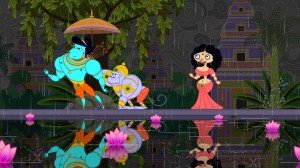 OK, this one is for the adults.  If you haven't seen Nina Paley's brilliant (and modern) rendition of the Ramayana – you definitely should!  This is a hilarious Disney-meets-The Simpsons full length animated film (82 minutes).  Yes, it's a cartoon, but parents will want to pre-screen the cartoon film to see if they are comfortable showing it to their kids.
Don't expect it to be the be-all-end-all authority on the storyline of the epic – just take it for what it is. 
Without further adieu:  www.sitasingstheblues.com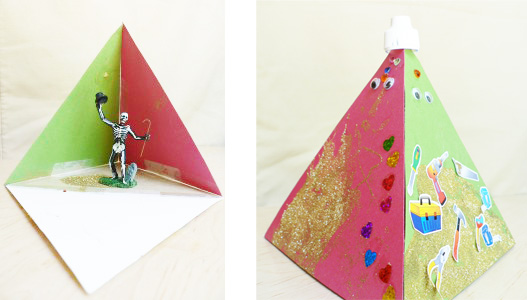 Navratri.  What is it?  Why is it observed?  The most popular legend goes like this: 
Once upon a time, Lord Brahma granted Mahishasura (the buffalo demon) a boon as a reward for his faithful devotion.  The boon protected Mahishasura from being defeated by any man in the universe.  Mahishasura became greedy with his new powers (he was a demon after all) and wreaked havoc.  The male gods were powerless, so they created Goddess Durga and endowed her with shakti (divine power).  Durga, along with with Goddess Lakshmi and Goddess Saraswati, defeated Mahishasura in a fierce battle, which lasted 9 nights (10 days).
As with other important Hindu holidays, Navratri is celebrated in different ways in different parts of India.  In East India, the festival is almost exclusively devoted to Goddess Durga and 9 forms of Durga are worshipped – 1 on each night of the festival.  In some parts of North India, stories from the Ramayana are invoked.  In West India, Durga's triumph is rejoiced with garba and dandiya raas.
In essence, this 9-night (10 day) festival is a celebration of womanhood – a jubilatory articulation of the unwavering powers of the divine feminine to defeat evil in the world.  The powers of each of the 3 main Hindu Goddesses are worshipped for 3 nights each:  Durga's (Parvati's) strength and energy for the first 3 nights, Lakshmi's power to bestow success and fortune on the second 3 nights, and finally Saraswati's powers of knowledge on the last 3 nights.  No single skill or tool is powerful enough to conquer evil; rather, the union of all feminine powers is necessary.  Now, how exactly do you explain this concept to your kids?
We devised a clever art (and math) project to illustrate this popular Navratri legend:  Storybook Pyramids.  This is a 4-sided pyramid –  a base and 3 triangles, where each triangle is a a Goddess (Durga (Parvati), Lakshmi and Saraswati).  Together, they join forces and encapsulate an evil demon.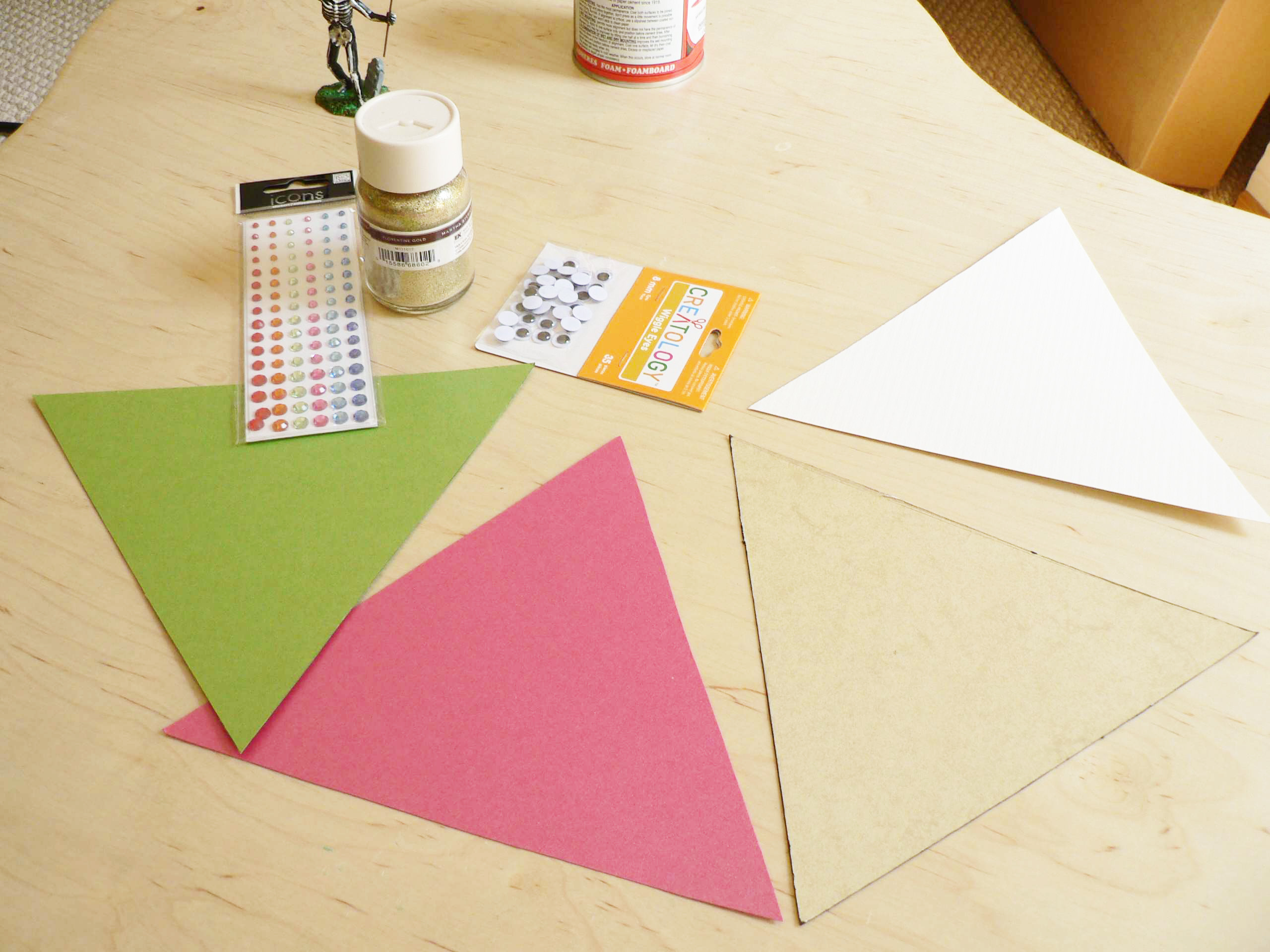 Here's what you'll need:
4 sheets of cardstock (different colors)
A "bad guy" a.k.a Mahishasura (we used a Halloween skeleton) – about 3 inches high
Embelishments (e.g. glitter, wiggle eyes, stickers, markers or paint)
Transparent tape
A small cap or ring (to secure the top of the pyramid)
Using our Triangle Template (available here), cut out 4 triangles.  Decorate 3 triangles as "goddesses," emphasizing the special qualities of each.  We used simple stickers – tool stickers for Durga, shiny heart stickers for Lakshmi and "back to school" stickers for Saraswati.  When finished, tape the triangles to the base (on the inside) and then place your "bad guy" on the base.  Fold-up the triangles to form a pyramid and secure the tip with a cap.
You can do this project in a single afternoon or space it out among the 10 days.  The idea is to narrate the Navratri legend as your child is creating.  Have fun and Happy Navratri!