Posts Tagged 'recipe'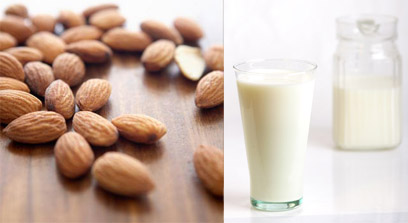 Almonds, or badam in many Indian languages, seem to be one of those superfoods.  They are reportedly heart-healthy, a great source of protein and beneficial for good skin and hair.  Ayurveda recommend eating 5-10 almonds every morning (without the skins) – as it is believed they provide important nutrients to the brain and nervous system.  Almonds, along with salmon, eggs and blueberries, also made Gaiam's list of Top 6 Foods that Boost Brain Power.
I'm trying to incorporate more almonds into our diet.  My mother makes a superb badam halwa, but it's not something we eat every day.  So I'm looking to that Indian comfort drink – badam milk – to add to our daily ritual.
First is to make a badam powder – which can be stored and used when desired.  The powder can be mixed with warm or cold milk.
Badam Milk Powder Recipe
1 cup almonds
1/4 tsp. fresh cardamom
1 Tbs. sugar
pinch of saffron (optional)
Soak the almonds for 2-3 hours, after which the peels will come off easily.  Pat dry and then dry roast them in a pan to remove all moisture.  Let cool  and then grind to a powder in a blender or coffee grinder, along with the remaining ingredients.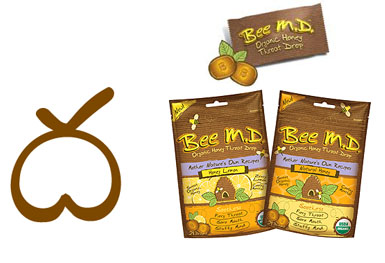 It is the sickly time of year, as sniffles and hackings ring in the rooms and  humidifiers and nebulizers are unearthed from storage.  The kids have been en"gross"ed in  sickly Telugu vocabulary (yes, there is a Telugu word for mucus from the nose), often mixing them with English words like "tissue" and "treatment."  The comedy of our language didn't quite register until one day my son had his ammamma (grandmother) laughing as he was telling her that he had taken a "daggu-drop" (daggu = cough) for his cough.  Comical indeed.  So this month "da" is for "daggu."
At the top of this post, Organic Honey Throat Drops by Bee MD
Below, menthol-free Bella B Little Bee Soothing Chest Rub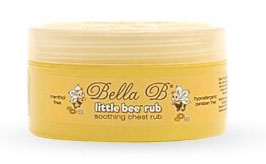 Bound to have some ideas – The PennyWhistle Sick-In-Bed Book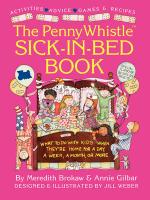 Humidifiers I'd be excited to have in the room: Naoto Fukasawa's Plus-Minus-Zero humidifier (left), available at Japan Trend Shop; and Gizmine's Middle Colors Humidifier (right), with aromatherapy function.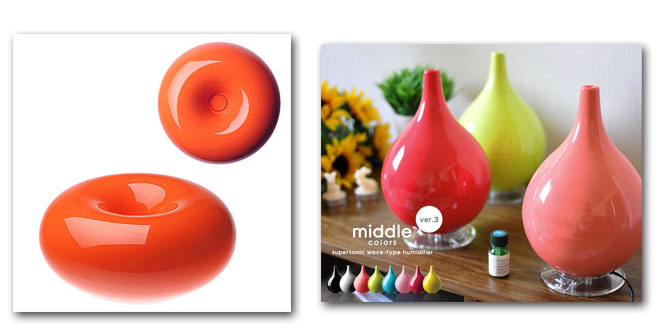 And since we subscribe to the take-medication-only-when-absolutely-necessary philosohpy, we've been sipping this  homemade kashaya (a type of herbal decoction / infusion) for relief.  (Recipe courtesy of my mother-in-law – works better than anything over-the-counter!):
Kashayam Recipe:  In a small pot, combine 4 cups water with small amounts (roughly 1 teaspoon) of each of freshly ground pepper, cardamom, cloves, freshly grated ginger and a cinnamon stick.  Boil and simmer until reduced to roughly 1 1/2 cups.  Strain in cup, add honey and sip.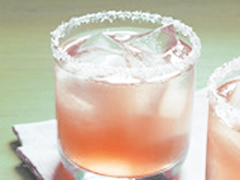 Getting ready for the New Year's festivities…I created this a few years ago as a variation to another gimlet recipe in a cocktails book I have.  It's my go-to hostess drink.
4 oz gin (or vodka – I prefer gin.  You can also substitute ginger ale for a non-alcoholic version.)
4 Tbs. guava nectar or juice (from the Indian store or the Mexican food aisle.  My favourite is the Mazaa stuff.)
2 Tbs. fresh lime juice
A tiny pinch of fresh cardamom powder (optional)
I rim the glasses with raw sugar (just run a lime wedge along the outer rim and dip upside-down in a plate of sugar).
Cheers!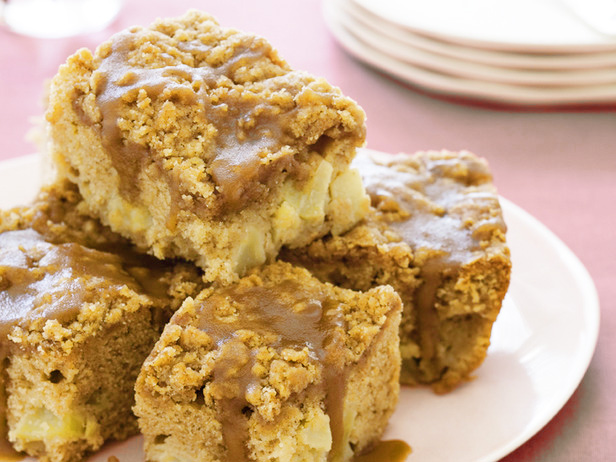 My very own creation this winter break – made for a family gathering.  It's not so "quick-and-easy," but very well worth the extra labour!
For the Chai Concentrate:
(Bring everything to a boil, turn off the heat and let stand for 15 minutes.  Strain.)
1 1/2 cups water
1 1/2 cups skim milk
3 heaping teaspoons loose leaf black tea
1-inch piece of peeled fresh ginger
8 cardamom pods, bruised

3 whole black peppercorns
3 whole cloves
1/2 cinnamon stick
1/8 tsp. star anise, crushed
3 tsp. sugar
For the Cake:
1 1/4 cups flour
1/2 cup sugar
1 tsp. baking powder
1/4 tsp. baking soda
1/4 tsp. salt

1 tsp. ground cinnamon
1/4 cup butter, melted
1/2 cup chai concentrate
1 egg, beaten
1 tsp. vanilla
For the Pear Topping:
2 cups pears – peeled, cored and chopped
2 Tbs. butter

1/4 cup chai concentrate
2 Tbs. brown sugar
For the Streusel:
(In a small bowl, pinch together with your fingers until crumbly.)
1/2 cup crushed oats
1/2 cup brown sugar, packed

3 Tbs. butter
For the Glaze (optional):
1/2 cup brown sugar, packed
1/2 tsp. vanilla extract

2 Tbs. water
Directions
1.  Preheat oven to 350 degrees Farenheit. Grease a 9-inch baking dish, 9-inch cake pan.
2.  In a large bowl, combine dry cake ingredients.  Slowly stir in the wet ingredients and mix well.  Spoon mixture into the cake pan.
3.  Make the pear topping:  sauté pears in the butter for about 2 minutes in a small saucepan.  Add the chai concentrate, cover and continue to cook for 2 more minutes.  Spoon onto the cake.  Sprinkle with streusel.
4.  Bake for about 45 minutes – until golden brown and a knife comes out with moist crumbs.  Let cool.
5.  For the glaze, combine all of the ingredients in a small bowl.  Drizzle on cake and let harden slightly.  Serve warm!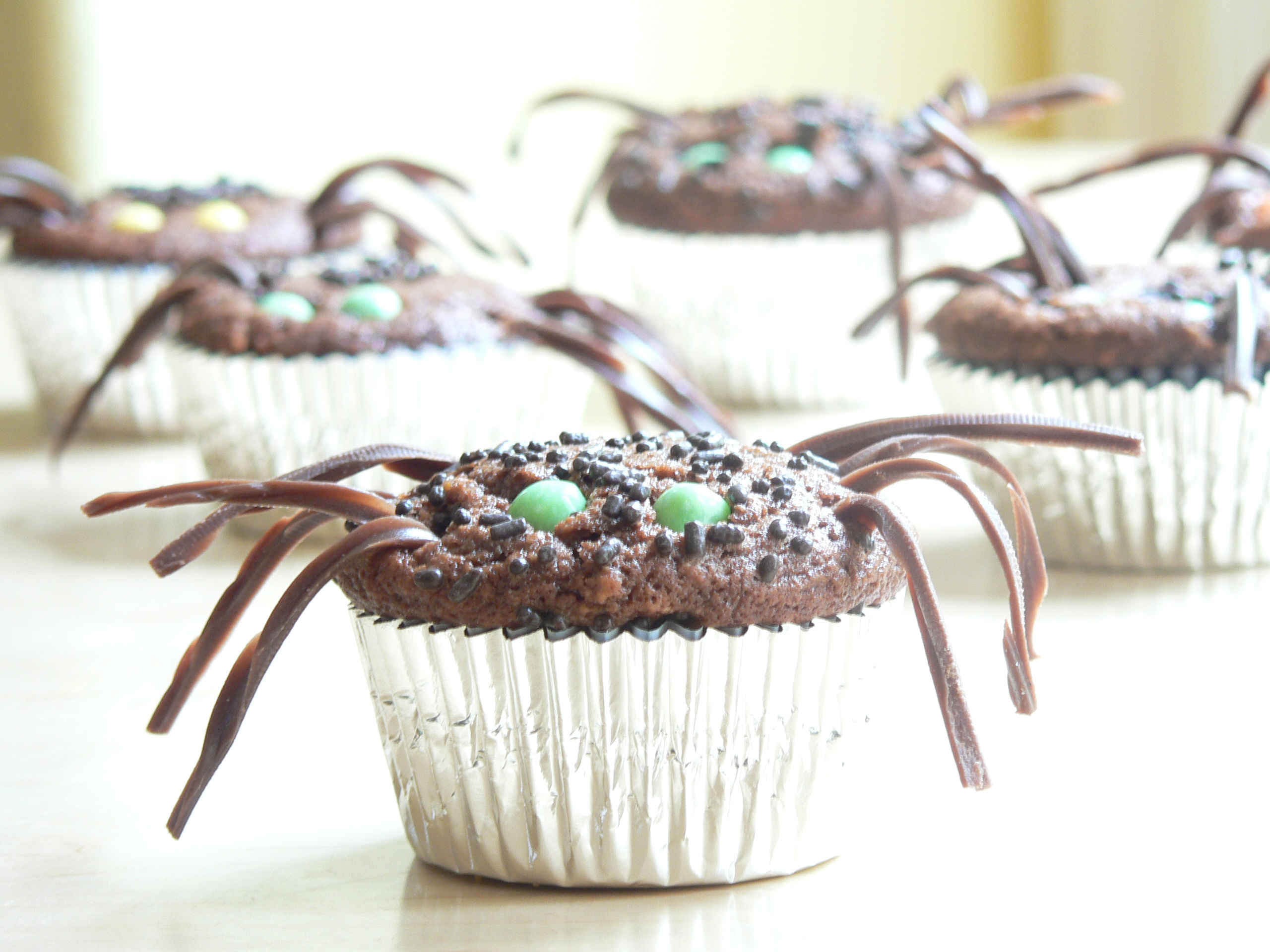 I made these spider cupcakes for my son's birthday back in April (he's been into spiders for over a year now).  One of the little girls in his class was actually too scared to eat hers, poor thing.  We re-made the cupcakes last week, which were a big hit again with the class, and we still managed to scare a few.
So in honour of Halloween, there's been much talk this month about bhayamu (fear, fright), and a whole lot of other ghoulish things we've been labeling with Telugu vocabulary:
ghost = bootham
spider = saale purugu
bones = bomikalu or emukalu
goblin = dayyam
random scary monster = boochi
pumpkin = gummadikaaya
Haven't come up with one for "witch" yet, though my daughter calls them "scary ammai (girl)."  Or vampire.  Anyone?
If you'd like to come up with a word list in your own language, try the truly wonderful Digital Dictionaries of South Asia (by the University of Chicago) or Shabdkosh – very easy to search in English.
And here's the recipe for the spider cupcakes – they seem decadent, but are actually (relatively) healthy.  Instead of frosting, I just sprinkle chocolate jimmies on top of the cupcakes after about 10 minutes of bake time (to let them set in).  I used small candies for the eyeballs and chocolate Twizzlers for the "legs" (you can also use string licorice).  Enjoy!
Ingredients:
1 3/4 cups flour
(I use "white whole wheat flour")
1 1/4 cups organic sugar
2 1/2 tsps. baking powder (aluminum free)
1 tsp. salt

2/3 cup skim milk
2 eggs
2 square unsweetened bakers chocolate
1/3 cup butter
1 Tbs. honey
Mix the dry ingredients in column 1 together.  Melt the butter and the chocolate in a small saucepan. Let cool for 5 minutes, then add to to the dry ingredients, along with the rest of the liquids.  Mix well.  Divide into 12 cupcakes liners and bake at 350 degrees for about 20-25 minutes.
Yields 12 cupcakes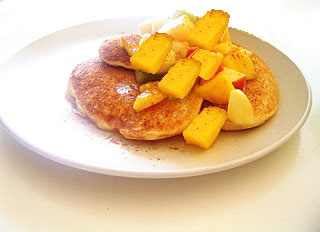 We're savouring the tail end of the mango season.  Here's a yummy way to start your morning and finish off some of those mangoes you may have lying around.  Flavoured with vanilla and just hint of cardamom, they're good enough for tea time also.
If you don't have fresh mangoes (or if you're not really a morning person and don't want to deal with cutting and peeling mangoes) you can substitute canned mango pulp.  Just cut down on the sugar if it is sweetened and also lessen the amount of milk.
For the flour, I use King Arthur's White Whole Wheat Flour – you get the fiber and nutrition of whole wheat without the heavy flavour.
Ingredients:
1 1/4 cups flour
3 Tbs. sugar
3 tsps. baking powder
1/4 tsp. ground cinnamon
1/4 tsp. ground nutmeg
1/4 tsp. ground ginger
1/4 tsp. ground cardamom

3/4 tsp. salt
1 1/4 cups skim milk
3/4 cup peeled, diced and crushed mango
4 large eggs, beaten
1/4 cup (1/2 stick) butter, melted
1 tsp. vanilla extract
fresh mango slices + maple syrup
In a large bowl, combine and mix all the dry ingredients.  Add the wet ingredients and mix well until batter is smooth  – adding more milk if necessary.  Prepare pancakes on skillet or griddle.  Top with fresh mango and maple syrup.
Yields about 12-15 medium-sized pancakes.