Posts Tagged 'sanskrit'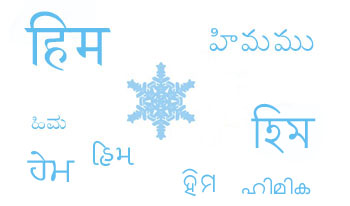 Snow is on everyone's minds these days.  The Winter Olympics are in full swing and our North American customers seem to be covered in it (even those in the balmy state of Texas)!  Snow is beautiful and magical – a stunning sight to behold.
Perhaps no other word better captures the exquisiteness of snow than the Sanskrit hima (pronounced with a short "i" as in "pit").  Merely speaking the word hima ushers in winter's breathtaking serenity. 
In the above graphic, you'll see the word hima as written in 8 Indic languages (Bengali, Gujarati, Hindi/Devanagri, Kannada, Malayalam, Oriya, Punjabi and Telugu).  If you speak one of these languages at home, see if you can get your kids to identify their native script!
Hima is, of course, also the first part of Himalaya (aalaya means "abode") – the mountain range that crowns India and holds many secrets of her past.  If you find yourself hibernating with the kids these days, stage a poetry reading with this stunning work:  The Himalayas by Allama Iqbal (scroll past the Urdu for the English translation).  Lyricism as only Iqbal can deliver…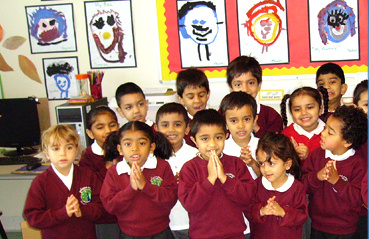 No, it's not a weekend thing – it's an every day thing.  That's right.  Welcome to Krishna Avanti Primary School  – the UK's first state-funded Hindu school.  "Where Vedic values and culture are a part of everyday life," and where "being vegetarian & eco-friendly becomes fun."
Located in the London borough of Harrow, home to over 40,000 Hindus, the school works with ISKON UK as its official faith partner and delivers the UK "National Curriculum."  Students learn Sanskrit, swimming and yoga, as well as music, dance and drama encompassing Indian (along with Western) instruments and styles.  There's also an emphasis on outdoor teaching – reminiscent of ancient India.
And why not?  There are Christian and Catholic Schools, Jewish Schools, Muslim Schools and Sikh Schools.  But critics say such schools only serve to divide communities and thwart efforts towards racial integration.  We say it's only fair to give parents a choice (especially since there exist state schools for 6 other major world religions in the UK).
The Krishna Avanti School is certainly an inspiration to the global Hindu diaspora.  We can dream of a place where kids eat healthy vegetarian meals and learn about a philosophical system that emphasizes freedom of thought, alongside traditional subjects.  A state-funded Hindu school would never happen in the US, or elsewhere for that matter, but that doesn't mean it can't happen privately.  Hmmm, our wheels are turning….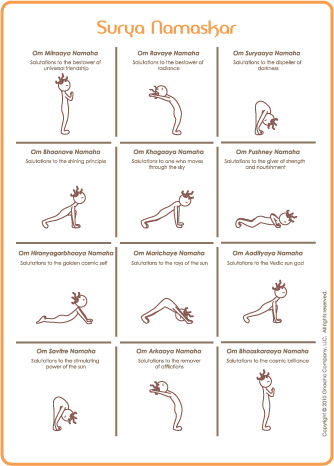 The Surya Namaskar, or Sun Salutation, has been practiced for thousands of years in India. It's a unique prayer-in-motion with alternating forward and backward bending postures that flex and stretch the spinal column and the abdomen. It's an invigorating (and healthy) way to start your morning!
It's also great fun for kids to do: they get to "say hello to the sun" with a compact set of 12 simple yoga positions (called asanas). We've put together a simple "lesson-plan" about the Surya Namaskar that you can use with your kids at home – or with your local playgroup or school if you're inspired to do so.
1. Downloand and print our handy Surya Namaskar graphic here . There are many variations of the Surya Namaskar, but we've featured the classic Ashtanga Vinyasa style. We've also listed the mantra that is recited for each step (a salutation to the 12 names of the sun), as well as an explanation of each mantra.
2. Before you begin any of the yoga, take a few minutes to talk about the importance of the sun (to plants, animals and humans) and it's many qualities (light, heat, how it gives us strength and energy and makes things really shiny, etc.).
3. If you are Hindu and celebrate Sankranthi/Pongal/Lohri and your kids are older, you can talk to them about the Winter Solstice and why Hindus celebrate this holiday on January 14 every year (viz. to mark the start of the sun's northward journey).
4. Tell your kids that they're going to learn a special way to say hello to the sun, and that you'll be doing 12 poses – each pose greeting a different quality of the sun that you named in Step #2.
5. Show your kids the graphic you printed out and go through each of the steps together. Go slowly the first time. You can recite the mantra for each step if you want (i.e. "Om Mitraaya Namaha" for Step 1), or you can simply give them the explanation (i.e. "Here we're saying 'hello' to our friend the sun, who is a friend to all in the universe."), or both – whatever you are comfortable with.
6. Note that the Surya Namaskar should be performed at least twice – switching the leg that you put forward in Steps 4 & 9 the second time around.
That's it! Have fun and try to do it on a regular basis.
Almost every ancient civilization has worshipped the sun – for obvious reasons, of course. In our modern times, we are indoors most of the time and buy most of our food from stores, so the importance of the sun can be marginalized. The Surya Namaskar is an excellent way to connect with nature and the lifeline of our universe!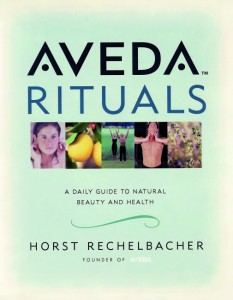 I love Aveda – they're the only salons I go to for my beauty needs.  I'd much rather have plant-based products used on my hair and skin than chemicals. 
It just so happens that the Aveda philosophy – a holistic approach to beauty and health "that works in harmony with the greater web of life" is eerily similar to elements of the Hindu philosophy.  It's also ironic that "Aveda" in literal Sanskrit translates to "against the Veda (knowledge)."  Any student of Sanskrit will tell you that if you put an "A" in front of a word, it will mean the opposite of the root word.
So Horst Rechelbacher, the founder of Aveda, obviously wasn't a Sanskrit scholar.  But he founded a global powerhouse of a company clearly rooted in the ancient Indian system of Ayurveda.  And his book Aveda Rituals is an intelligent and refreshingly concise prescription for incorpating simple Aveda (errr…Ayurveda) style rituals into your daily life.  Rituals like the "Aroma Energizer" and the "Good-Morning Movement" stretching exercises – that awaken your senses and your spirit, connecting you with nature and your surroundings to inspire you to lead a healthier and more fulfilling life.
If an American company can research, re-package and superbly brand ancient Indian wisdom into a format that we can all understand – I'll take more of those.  Now its off to my evening Meditation Moment.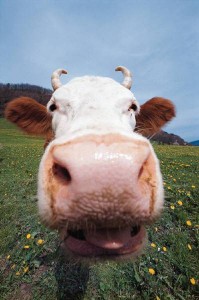 If you are Hindu and are off to a temple this New Year's for an archana or puja or such, you'll likely be asked what your gotra is by the priest.  But did you know that the word "gotra" is the Sanskrit term for "cow shelter?" 
Before they formed their great civilizations, the ancient Aryans were originally nomadic people.  Being nomads, their cows were critical to their livelihood.  During harsh weather they needed to protect their "pets," so several families would collaborate and house their cows in the same gotra.  And of course, disputes would inevitably arise as to whose cow was whose.  To resolve these disputes, a judge or supervisor – called Gotra-pati (meaning Master of the Gotra) – was appointed.  Gotra-pati were very well respected, and ancient Aryans introduced themselves by using the name of their Gotra-pati.
Hindus today continue this tradition of using thier gotra to identify their family lineage.
So now you know – when you tell the priest your gotra you're actually linking-back thousands of years to an ancient Aryan tradition!  Mooooooooo!
**A note about this post:  "Gotra" is often confused with the term "caste," which is incorrect.  We at Gnaana do not condone any type of promotion, justification, or even discussion of the caste system – particularly with young children.  By publishing this post about the meaning of the "gotra," we wish only to point out the historical relevance of this link with our ancestors.
Some moments in life are so filled with emotion that it's impossible to supress the tears – whether of joy or of sadness.  The birth of a child, a first haircut, a wedding – they are all pivotal events in a person's life.  In Hinduism, we celebrate these pivotal events –  samskaras – with big fanfare.  There are 16 of these samsakaras – the first of which starts with conception and the last of which is the death ritual.  Together, they mark the stages of a complete human life – a truly beautiful concept.
The 10th Samskara is the Vidyarambha – performed to mark the beginning of a child's formal education (vidya means "knowledge" and aarambham means "beginning").  The child traces akshara (letters) in either the sand or a tray of rice grains (or with gold – if you're wealthy!) – meant to invoke Saraswati Devi – the Goddess of Knowledge.
I know each family performs the Vidyarambha differently (some when the child is 2 or 3 years, others when the child is 5, and still others perfom some aspect of this ceremony annually on the Vijaydashami day of the Navratri celebrations), but I thought there was no better time to do this than my son's official First Day of School:  today he starts in his primary class at his wonderful montessori school.
My Vidyarambham "ceremony" was a bit more modern – I had my son trace the word "OM" with Do-a-Dot markers on a template I prepared.  (I got this idea from his Montessori toddler class – where they do this with the English alphabet – it encourages pre-writing skills since children who can't hold a pencil yet are really "writing" with the dots).
So this morning, amidst the tears and the pictures, I spent a quiet moment with my son – where he "wrote" and recited OM, and I blessed him with a kiss.  And so he embarks on the journey of knowledge…
(If you are so inclined, you can download our "OM" template here.)