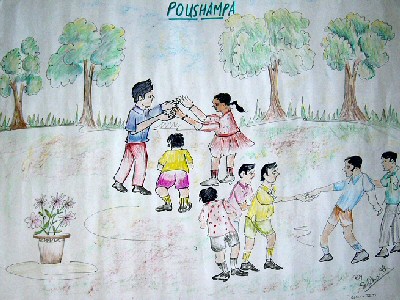 Image by Delhi Public School Indirapuram
Our June Newsletter is out – and this month we're featuring some traditional games played by children in Indian villages.  We did some investigation, emphasizing games which required little or no equipment (so games like Caroms, Chess (Shatranj), etc. were excluded).  Here's a list of what we came up with – so you'll have plenty of tube-free activities for the kids this summer: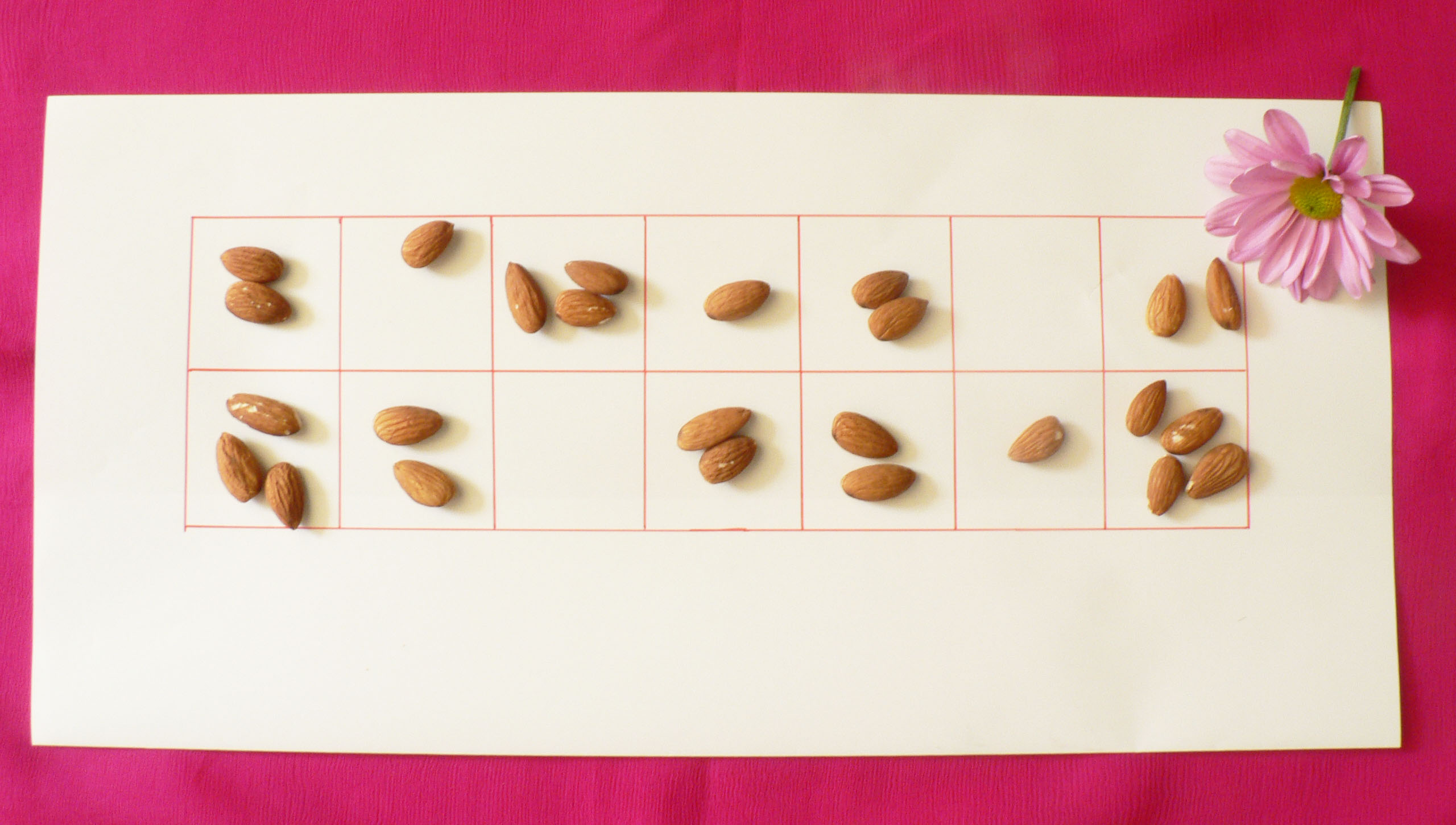 Indoor Games
Pallankuzhi (also called Pallanguli) – Many claim this game to be a South Indian game from Tamil Nadu, but we found that it's been played for centuries all over the world!  It's similar to mancala – with 2 players shifting and capturing coins in 14 crevices.  Although you can buy a wooden Pallankuzhi board (and tamarind seeds were originally used as the coins), we made our own "board" with paper and a marker and used almonds for the coins – see picture above.  This is a great counting exercise for kids.  Rules of the game are here (but note there are many variations).
Kanche (marbles) – Infinite possibilities!  Here are a few possible games to play.
Lattoo (tops) – See who's top can survive the longest OR try to get your top to travel to a particular spot.
Outdoor Games
Gilli Danda – Probably the most well-known traditional game, it's similar to cricket (and featured in the Bollywood move Lagaan).  Rules of the game here.
Pitthoo – All you need is a soft rubber ball and 5-6 flat stones.  This is a team game for 4-20 players – perfect for a family reunion.  Rules here.
Poshampa – Kind of a variation of musical chairs – 2 people make a gate-like structure with their arms, and other kids form a line and pass through the gate.  When the song ends (you can sing a song or use a CD player/radio), the "gate" closes, and the person trapped inside must answer a question.  Depending on the answer, he/she joins 1 of the 2 teams.  A tug of war (rassa-kashi) between the teams serves as the finale.  More here.
Gucci Garam – A player draws a circle and stands inside of it with a stick.  Other players throw a ball at him, which he tries to deflect.  If the ball touches him, or if he steps outside the circle, he is out of the game.
Giti Phod – Another team game, members of one team have to try to arrange rocks in a pre-selected configuration, while avoiding getting hit by a ball thrown by the other team.