Posts Tagged 'Telugu'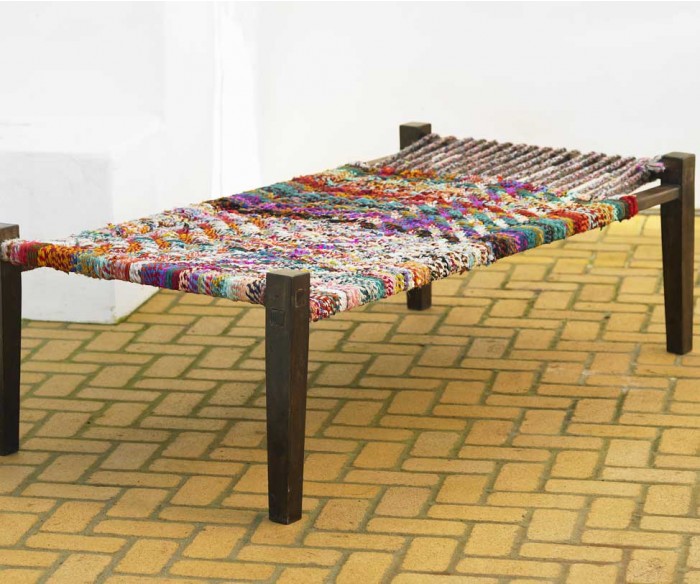 The inspiration for this post I will have to credit to Designwali's Village Decor post.  She came across VivaTerra's Charpoiye Daybed – and when I read her post, I was flush with memories of my Ammamma's (grandmother) village.  Charpoys are woven beds, with cotton ropes interlaced around a wood bed frame.  They are found all over India and the rest of the subcontinent – especially in the villages.  In Telugu, we call them nawaar mancham and at my Ammamma's house, she would store several on the verandah.  We'd carry them into the front yard at dusk – and sleep on them under the comfort of the stars.  No mattress is necessary – each mancham naturally takes on the shape of the person sleeping on it, creating a cupping effect much like a hammock.
So now I am determined to have a charpoy (or 2) in my house!  Although, at the prices they are going for, I'm tempted to call my uncle in Andhra and have him do some packing!
Above and below, VivaTerra's Charpoiye Daybed.  $475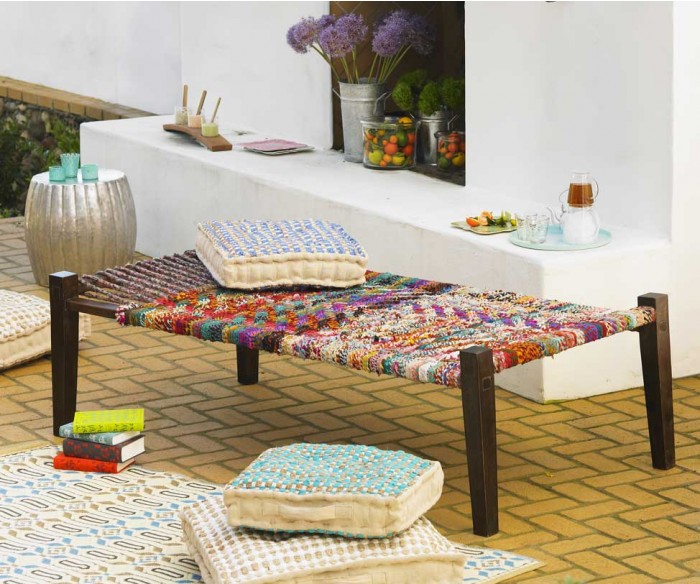 Charpoys in the UK:  Ashoka Charpoy by Jagamanja.  £560.00
Charpoys in France:  Custom by Ouma Productions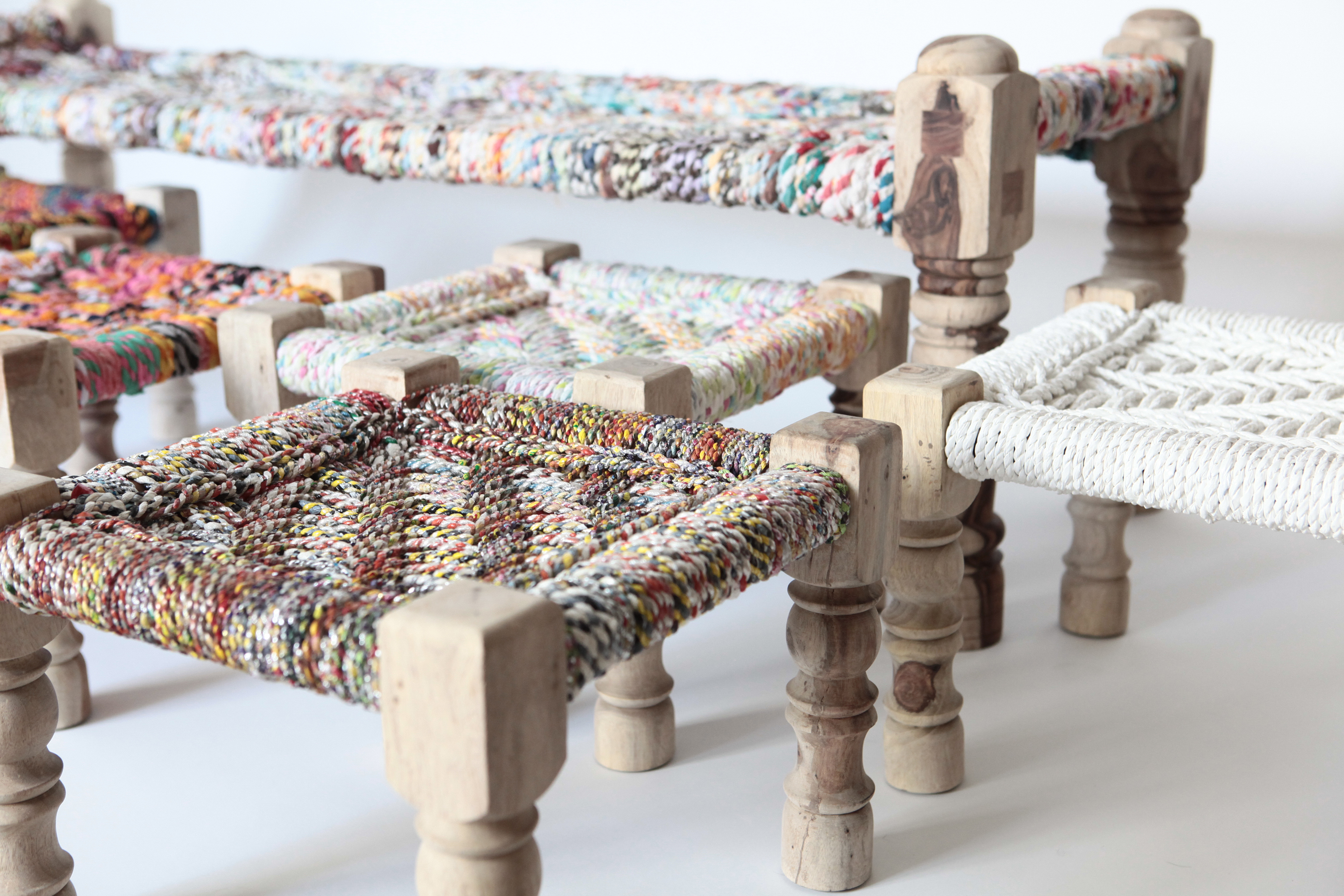 Love this concept for the backyard.  Beautiful charpoys from Stringbedco (they're in Malaysia though!).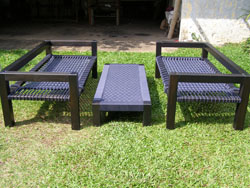 More from Stringbedco: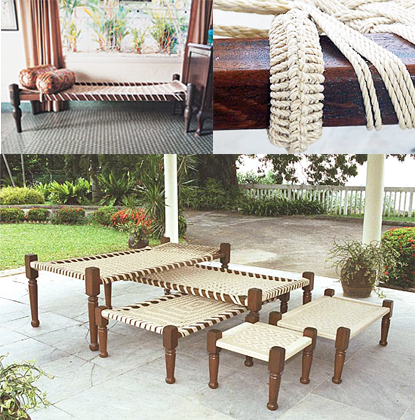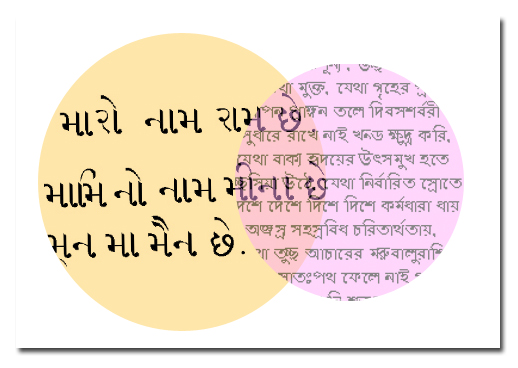 So you speak Gujarati and he speaks Bengali. Or maybe your spouse is not Indian but speaks Spanish, Russian or Japanese.  And let's just assume you don't speak each other's language so you speak English when you're together.  What's your policy with the kids?
In my case, I speak Telugu but my husband speaks Kannada – languages which are eerily similar (I can even read Kannada – no problem) – but which similarity may be even more confusing for the kids (I say dosa, he says dose.  I say kappa, he says kappe (frog)).  So you can imagine the linguistic dissonance when we're spending time as a family!
The most logical approach would be for me to speak Telugu to the kids, and for him to speak Kannada – thereby rendering our kids blissfully trilingual.  But this is complicated by several factors:  (1) I spend more time with the kids – so they naturally end up speaking way more Telugu; (2) my husband and I speak English to each other (resulting in a rather comical switching of languges depending on who-is-addressing-who at that precise point in the sentence); and (3) given the scarcity of time outside of school/work, I find myself "hogging up" most of this time to push the Telugu.
There doesn't seem to be an easy solution.  What's your policy?  We ask the question on our Facebook Page – so let's collaborate with some ideas!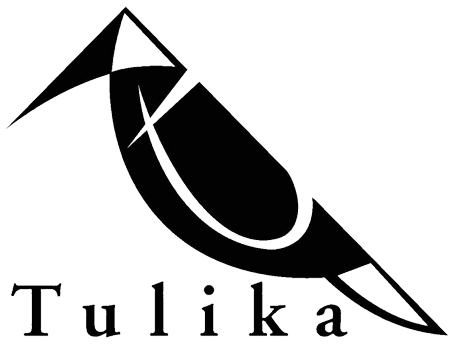 We received quite a few emails about my post a few weeks ago recommending Brahma's Butterfly.  It seems that many had not heard of Tulika Books!  Tulika Books is a Chennai-based publishing house which puts out terrific Indian-themed books for kids.  You'll find books about Indian history, folktales and also original stories which  present cultural concepts to kids.  And – best of all – they publish simple, bilingual books in several Indian languages (not transliterated, but then again, you get to practice reading your language…)
You'll find a dizzying array of books on the Tulika website – all of which sound like fantastic reads.  But many of you wanted recommendations for a few good ones.  So here are my picks:
1.  Grandma's Eyes.  I have the Telugu version and my kids never get bored of the simple text and pictures.  The loveable Ammama or Pati wears a sari and a bun in her hair, tells stories and pats her grandson to sleep.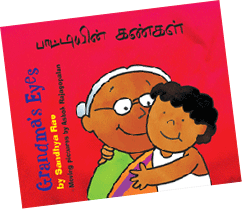 2.  What Shall I Make? Chapati-making has never been the same in our since since we started reading this book.  Neeraj's mom gives him some chapati dough to play with, and he shapes it into all sorts of animals.  Of course he gets to eat his tasty chapatis at the end.  This book is so adorable, I even read it in my son's Montessori class – after which we all did some "chapati art" and had a chapati snack!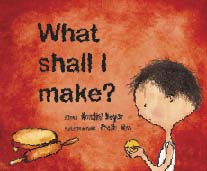 3.  Ekki Dokki.  Based on a folktale from Maharashtra, Ekki has one hair on her head and her sister Dokki has two hairs.  Dokki is vain and bullies her sister, who is a generous and kind little girl.  However, good deeds are rewarded and bad ones are punished – Hindu karma for kids?  My kids love the triangle-shaped characters.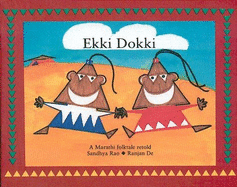 4.  Up Down.  Another book we have in Telugu.  We've read this so many times, my son surprised me the other day when he recited the whole book by heart – in Telugu!  I was so proud of him!  It's a simple story about a little boy who wants to play on a see-saw, but all his animal playmates are either too light or heavy for him – until a little girl comes along.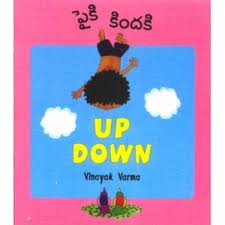 5.  The Rooster and the Sun.  Another folktale – this one is from the Ao tribe in Nagaland.  A farmer gets angry with the Sun for being too hot – so the Sun pouts and goes away.  A clever rooster tricks it back into place.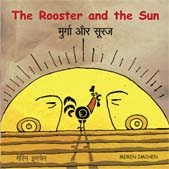 And another gem – for the older math buffs – All About Nothing – about India's contribution of "zero" to the principles of mathematics.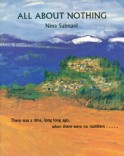 Of course, Tulika consistently publishes new books.  On my wishlist are:  Dosa, the Panchatantra series, Picture Gandhi, The Veena Player and Out of the Way! Out of the Way!
Thank you, Tulika, for your wonderful contribution to children's literature!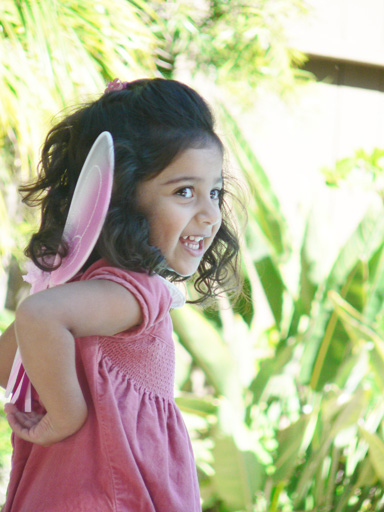 We were in a Target the other day when my daughter spied a pair of fairy wings – which she immediately HAD to put on.  "Me butterfly," she declared as she fluttered about the store, eliciting many "aaawww's" from other shoppers and many secret smiles on her part.  So when we came back home, I had the chance to capture the moment as she continued the role-playing in our backyard.
She has butterfly everything:  butterfly rainboots, butterfly umbrella, a butterfly hoodie, butterfly pajamas and (most recently) butterfly bedsheets, which are worth their weight in gold for keeping her in her bed.  But, sadly, we don't use the Telugu word for butterfly – an unfairly complicated 7-syllable behemoth of a word:  seeta-koka-chilaka.  So I find myself cheating a little and borrowing the Hindi word for butterfly – titlee (which is short and fun to say) when reading books and such.  Sorry, Telugu, but I draw the line at 5 syllables.  Is this wrong of me?  It's not the first time I've borrowed – many Hindi words are shorter and easier to say.  Besides, it's a Hyderabad thing (where you can't survive in some parts unless you speak Hindi/Urdu).  "Butterfly" is still the reining word, but at least we have a less onerous alternative during our no-English hours.
So this month, "ta" is for "titlee."
Origami Butterfly Mobile by RoundHouseDesigns. $45.00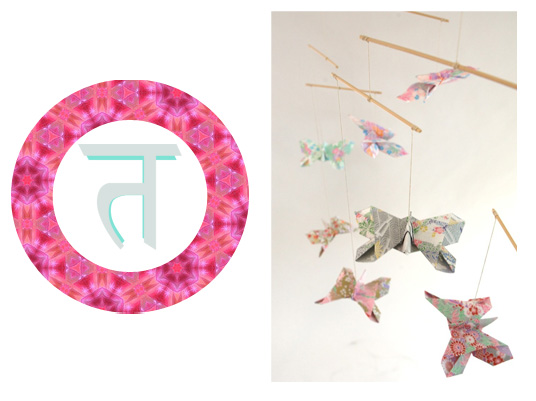 Two's Company Silhouettes Jute Bags ($40.80) and Butterfly Pillows ($89.00), available at Madison Ave Gifts.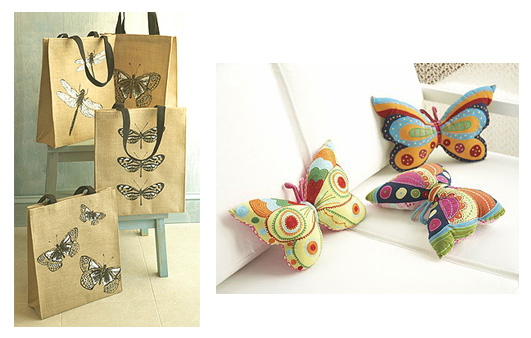 Brahma's Butterfly, a delightful tale from Tulika Books – think of it as The Very Hungry Caterpillar meets Indian folktale. Rs. 120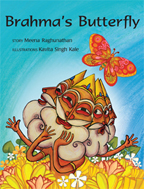 Outdoor whimsy:  DIY Butterfly Straws by Good Housekeeping and a dreamy Butterfly Bench.  $2,500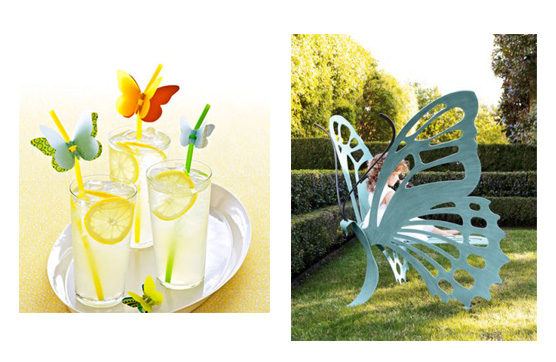 Cheerful Butterfly Pendant Light ($80.00) and Delight Table Light by The French Bedroom Company (£145)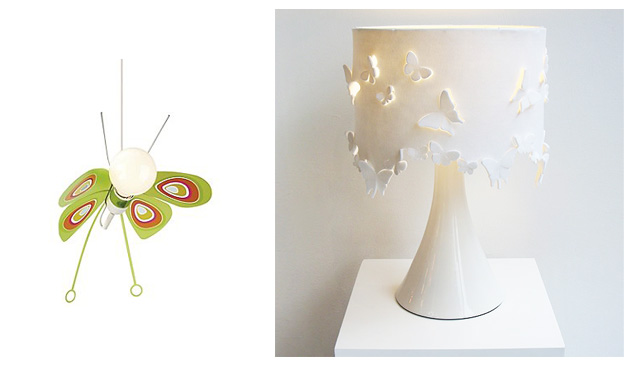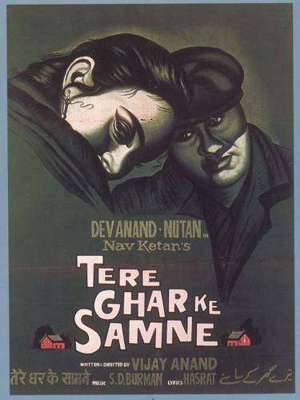 They don't make them like they used to…this Valentine's Day, we're taking you back in time with some recommendations for romantic classics in Indian cinema.  Here are our picks:
Hindi
Tere Ghar Ke Samne (1963:  Dev Anand & Nutan Behl).  Dev Anand's classic film about a young architect who falls in love with the daughter of his father's business rival.  Lighthearted, fun and with some memorable tunes.
Padosan (1968:  Sunil Dutt & Saira Banu).  A spirited comedy about falling in love with the girl next door.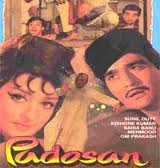 Telugu
Malliswari (1951:  N.T. Rama Rao & Bhanumathi).  A story set in the days of the Vijayanagara Empire involving a woman whose fate had it written that she live in the royal palace but is in love with a sculptor.  Don't worry, it's a happy ending.
Missamma (1955:  N.T. Rama Rao & Savitri).  How can 2 teachers not fall in love when they have to feign marriage to be hired?  Especially when it's NTR and Savitri.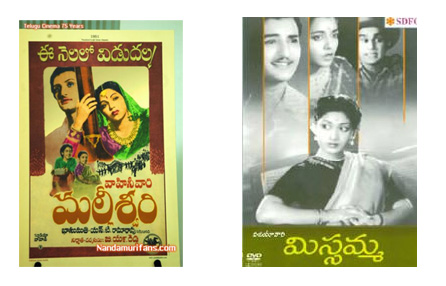 Bengali
Harano Sur (1957:  Uttam Kumar & Suchitra Sen).  Alok, an amnesiac after a train accident, falls in love with Roma, his doctor, only to forget her when he regains his memory.  Can Roma woo him back?  Kumar and Sen are one of the most magnetic duets in Bengali cinema.
Baksa Badal (1970:  Soumitra Chatterjee & Aparna Sen).  A lighthearted romantic-comedy about two people who have their luggage exchanged during a train journey.  A very cute story.  Screenplay by Satyajit Ray.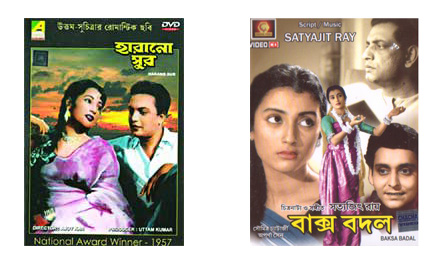 Tamil
Thillana Mohanambal (1968:  Shivaji Ganesan & Padmini).  A classical bharathanatyam dancer and a nadaswaram player fall in love.  How artistic is that?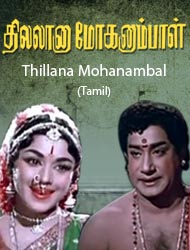 And no list of romantic movies would be complete without one starring Audrey Hepburn.  Love in the Afternoon, starring Audrey and Gary Cooper is as good it can get.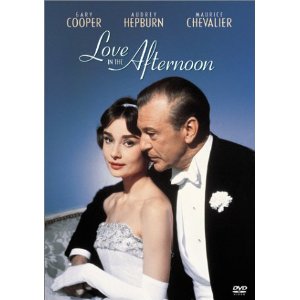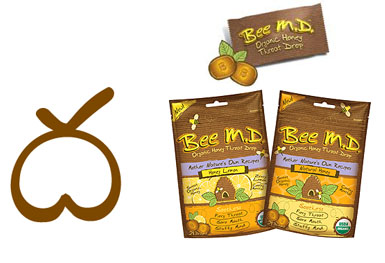 It is the sickly time of year, as sniffles and hackings ring in the rooms and  humidifiers and nebulizers are unearthed from storage.  The kids have been en"gross"ed in  sickly Telugu vocabulary (yes, there is a Telugu word for mucus from the nose), often mixing them with English words like "tissue" and "treatment."  The comedy of our language didn't quite register until one day my son had his ammamma (grandmother) laughing as he was telling her that he had taken a "daggu-drop" (daggu = cough) for his cough.  Comical indeed.  So this month "da" is for "daggu."
At the top of this post, Organic Honey Throat Drops by Bee MD
Below, menthol-free Bella B Little Bee Soothing Chest Rub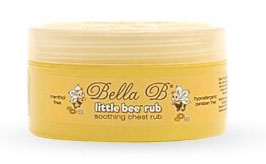 Bound to have some ideas – The PennyWhistle Sick-In-Bed Book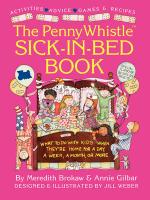 Humidifiers I'd be excited to have in the room: Naoto Fukasawa's Plus-Minus-Zero humidifier (left), available at Japan Trend Shop; and Gizmine's Middle Colors Humidifier (right), with aromatherapy function.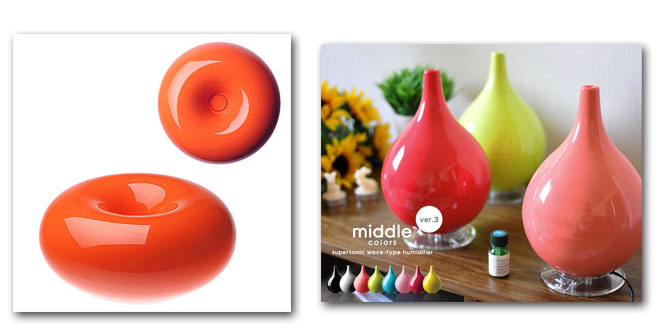 And since we subscribe to the take-medication-only-when-absolutely-necessary philosohpy, we've been sipping this  homemade kashaya (a type of herbal decoction / infusion) for relief.  (Recipe courtesy of my mother-in-law – works better than anything over-the-counter!):
Kashayam Recipe:  In a small pot, combine 4 cups water with small amounts (roughly 1 teaspoon) of each of freshly ground pepper, cardamom, cloves, freshly grated ginger and a cinnamon stick.  Boil and simmer until reduced to roughly 1 1/2 cups.  Strain in cup, add honey and sip.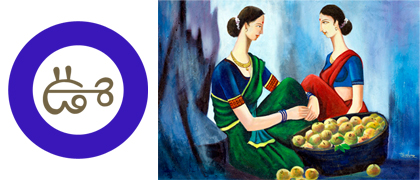 ooTa is the Kannada word for "food" and, in combination with the Telugu word thinu ("eat!"),  it is probably the all-time most used phrase in our household.  The cute-sounding word covers everything from breakfast and lunch to snack and dinner and is even more adorable when uttered sweetly by the kids.  So naturally it's our go-to word for the letter "oo."

On the subject of ooTa, I recently saw The Future of Food – a documentary by Deborah Koons Garcia about genetically modified foods.  It proved to be a brilliantly informative polemic against the dangers of agribusiness and the corporations that seek to profit from GMO crops.  Garcia explains how GMO crops are produced (often by the use of viruses and bacteria), what the international community thinks of them (the EU bans most of them and has strict labeling laws), what the US government is doing about them (not much – not even in terms of requiring labeling) and what's at stake for the future.
Interestingly, the catalyst for all of this was an Indian man by the name of Chakrabarty, who won a U.S. Supreme Court case in 1980 (Diamond v. Chakrabarty) which held that a live man-made micro-organism is patentable – the first time that living matter was afforded patent protection.  This started the race for patenting seeds of crops – with huge profits for corporations and unintended misery for small farmers (who have been sued for patent infringement even for unintended airborne pollination).
You can watch the film for free on the website or Hulu, or you can purchase the DVD.
Top image:  "Fruit Sellers" by Shiva Kumar, available for purchase at All India Arts.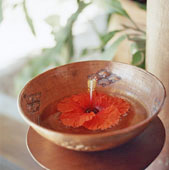 I was told that having a red hibiscus plant growing on your property is considered a sign of good luck in parts of North India and in the Bengal region.  So imagine my disappointment when, a month after we moved into our new house, our very own red hibiscus plant suffered from a severe attack of white flies and looked like it was on its way to the graveyard.
The kids also seemed rattled by our very, very sick mandaara-mokka (Telugu for "hibiscus plant").  My 4-year-old kept asking about it, and I told him that the mokka-doctor ("plant doctor" –  a.k.a. our gardener) would be coming and giving it some mondu ("medicine") – yes, lot's of "ma" words this month.  In fact, the "doctor" had to spray the plant and its neighbors 3 times (with an organic biological fungus – we don't use chemical sprays).  Daddy even spent an entire Sunday afternoon painstakingly wiping off each leaf with soapy water (thanks, Dad!).  After a month of suspense, our mandaara-mokka sprouted its first flower last week – Hooray!
Here is our recovering plant, along with my son's favourite swim trunks – also featuring our beloved flower – a keepsake photo for my son: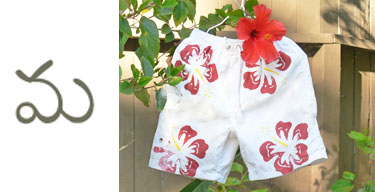 (Swim trunks by 3 Pommes)
I am on the hunt for a beautiful bowl, like the one pictured at the top of the post.  Wouldn't this be fabulous in an entryway?
Some more hibiscus finds:  Red Silk Hibiscus Hair Clip by LiD Designs ($22.00) and Organic Hibiscus Tea ($6.49).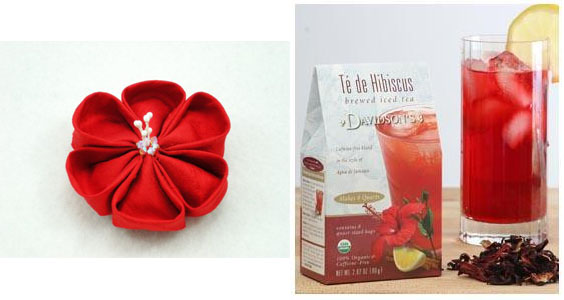 And I found this recipe for Hibiscus Salad with Poppy Seed Dressing – that calls for the use of Wild Hibiscus Flowers in Syrup.  I never knew there was such a thing, but the most popular product seems to come from Australia.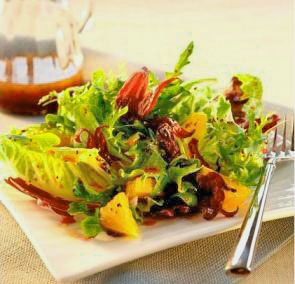 **Note:  The Telugu "mandaara(mu)" has the same spelling as the Hindi "mandara," as in the mythic Mount Mandara – that was used to churn the ocean of milk in the Puranic account of Lord Vishnu's Kurma Avatar.  It is unclear if there is any link between these 2 terms.
Top image by Google Images.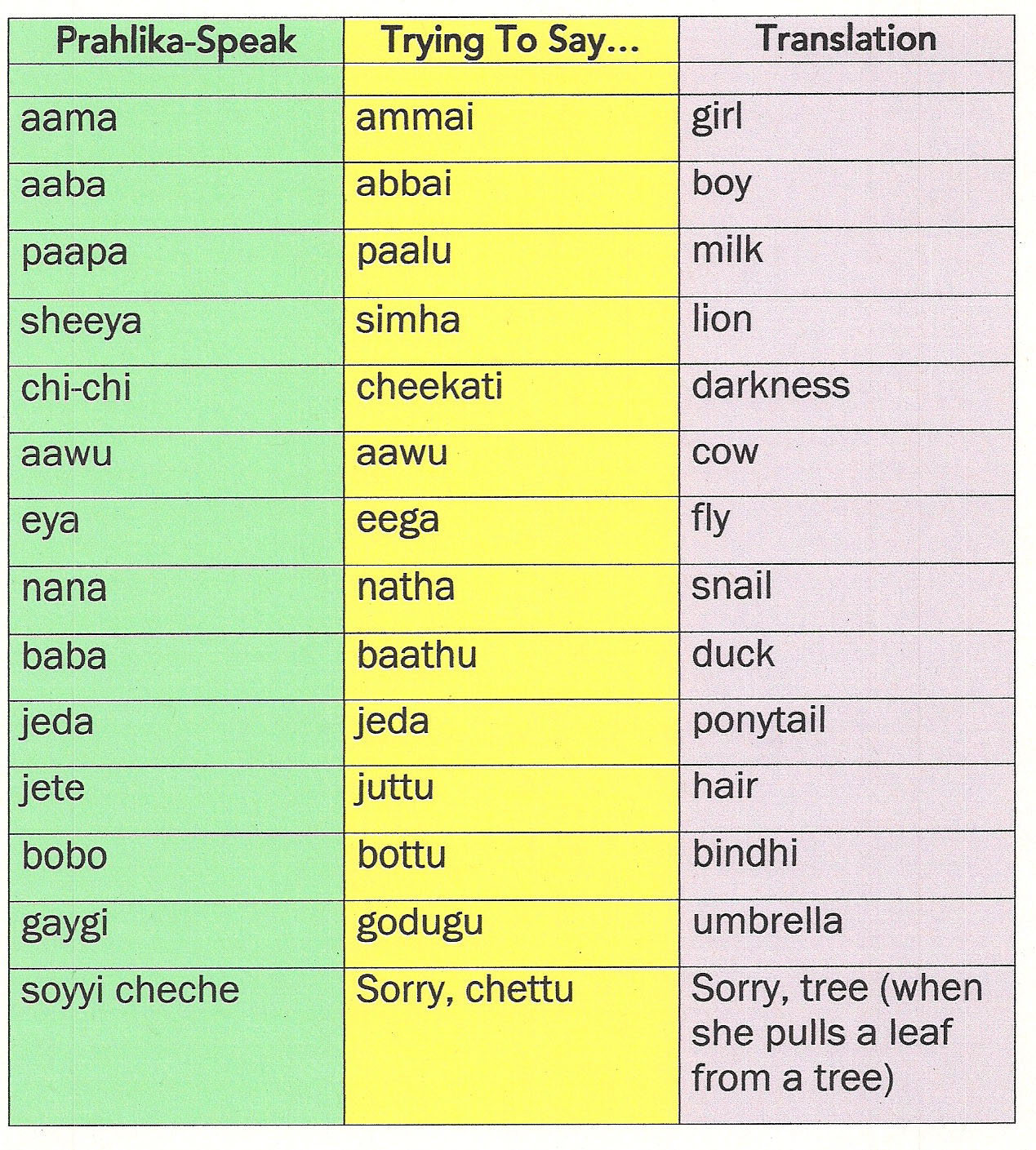 I know all the experts say that there are tremendous benefits to having kids learn more than one language (see our previous post on this topic), but as a parent it's really difficult watching your kids try to sort through the language mess.  Particularly between the ages of 18 months and 3 years – when they're just learning to talk.  I mean, it's hard enough for them to say a word, let alone getting adults to understand what they're saying.  And imagine the child's frustration when 95% of the folks around her don't speak the language her mother speaks to her in!
Well, our wonderful nanny has been on (a well-deserved) vacation this past week.  It just so coincided with a week of explosive language development in my daughter (21 months).  All of a sudden, her babble turned into beautiful and adorable words and phrases (that I've been relentlessly trying to capture on video – yes, I am that kind of mom).  The problem, of course, is that our nanny (who doesn't speak Telugu) won't be able to understand her.  So I drafted a cheat sheet for her to study (a portion of which is pictured above).  A "welcome back present" of sorts.
So as the work week starts, I am nervous about my daughter's ability to communicate with her nanny.  I've been down this road before (I gave my son's 1st pre-school teacher a similar 2-page cheat sheet), so I know it'll all be "OK."  But that doesn't keep me from worrying…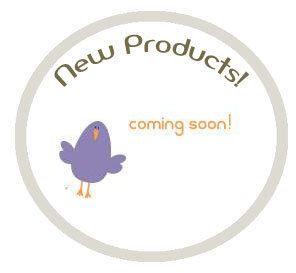 Want a glimpse of our new products?  Take a look at our Coming Soon page for a peek!  We'll be formally introducing the new line up during our New Products Week in September, where you'll be taken behind the scenes to meet the artists and the history behind each project.
Our new line up includes 18 books (3 books offered in Gujarati, Hindi, Tamil, Telugu (and 2 in Kannada), as well 4 precious handmade memory/keepsake books), a fabulous high-style Alphabet Poster, new apron designs and adult-sized aprons, as well as a collection of eco-friendly personalized stationery and prints featuring bold, colourful and (of course) South-Asian-inspired graphics.
So you see, we've been quite busy this summer!  Gnaana is growing…thanks to you, our readers and customers…so keep the fire going by spreading the word!