Posts Tagged 'Telugu'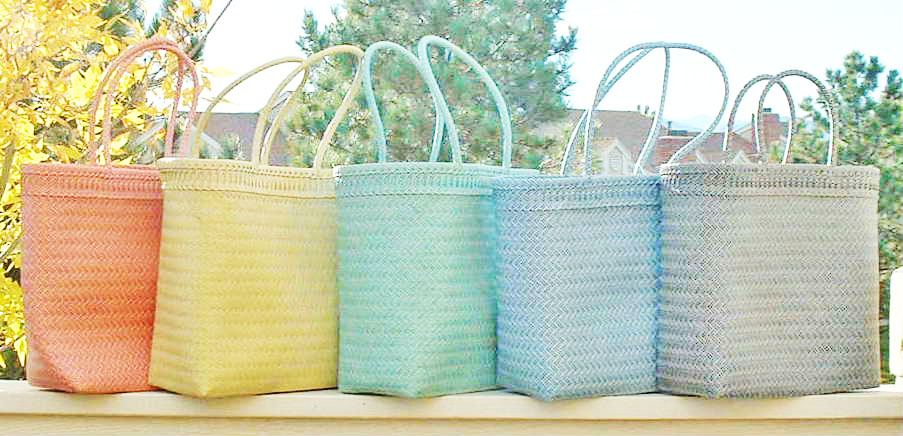 My ammama (grandmother) had this bright pink plastic tote (or butta in Telugu) that she'd carry with her everywhere.  To the market, to the cinema, or as an overnight bag when visiting family, this tote travelled with her on rickshaws, buses and on trains.  It could carry 15 kgs of dhals without sagging and got stepped and stomped on.  It was truly indestructable.  I actualy think it's still alive somewhere in my uncle's house.
So as my $0.99 reusable grocery bags keep ripping on me, I am reminiscing about my ammama's plastic tote and found a few replacements.  They're not bright pink, but hopefully they'll last me a good portion of my lifetime just the same.
Featured above, Java Totes hand woven in Indonesia from recycled plastic strapping from A Mark on the World.
Below (left to right), Tote Bags made from recycled plastic toothpaste tubes (you'd have never known, right?) from Banyan Tree Gallery; and the Keen Irving White Tote bag, made from recycling those super sturdy paper rice sacks, from Sport Sandal Beach.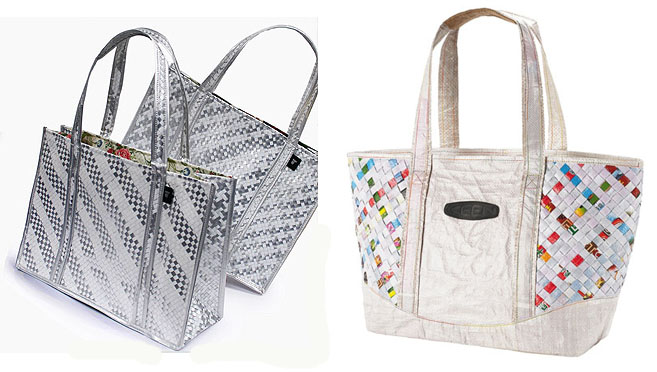 Here's to you, ammama, for (unwittingly) being my first role model on living green…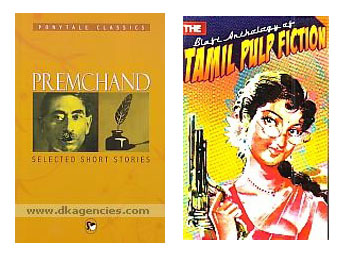 Sure there's Jhumpa Lahiri and Arundhati Roy.  But what of Indian fiction written in native languages?  We in the West are pummeled with the importance of reading translations of War and Peace and Madame Bovary, but what of the Tolstoys and Flauberts of India?
I admit I don't know have a huge knowledgebase of classical Indian fiction writers (meaning, those who write in their native languages).  I picked up few novels while living in Bangalore:  some by Sarat Chandra Chatterji (Devdas (of course), and Parineeta (much better than the movie – and I liked the movie) and Nishkriti (a little disturbing)) and also Tagore (Chokher Bali – absolutely brilliant).
There is certainly something to be said about native Indian fiction.  And I found a goldmine of a website:  DK Agencies – a Delhi-based book supplier which ships worldwide.  They have translated works from writers all over India – both classical and contemporary.  Hindi, Telugu, Punjabi, Tamil, Kannada…and the list goes on.  I can't wait to get my hands on Premchand's Short Stories.  Or maybe The Blaft Anthology of Tamil Pulp Fiction – a little more contemporary(Outlook India calls this "the best produced paperback in the history of Indian publishing.").  And many others that would be great additions to the library
Beach reading, no?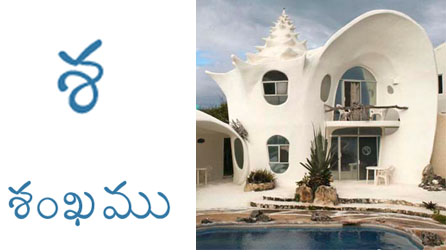 We're seeing seashells everywhere lately, given that we spend most weekends at the California beaches.  The ritual for my son is that if we don't find an A-grade seashell of acceptable quality by the shore, we must stop by one of those gift shacks and buy one.  But it can't just be any seashell – it has to be a "shankha" (abbreviated from the formal Telugu word shankhamu).  A shankha (or shankh in Hind) is the word for "conch shell" – a ritual object that has special significance in Hinduism:  it is a sacred emblem of Lord Vishnu and when blown, is said to emanate the primordial sound "om." Interestingly, the word is derived from 2 Sanskrit words – shum (auspicious or good) and kham (water).  How poetic.
My son has a very apparent special relationship with his "shankha" du jour – he eats with it, bathes with it and sleeps with it.  And according to him the Telugu letter sha "looks like a shankha." And so it does, my dear.  How I love seeing new things through your eyes.
Pictured at the top of the post is the Conch Shell House from Isla Mujeres, Mexico (available for private rental).
Below, Lord Vishnu with Shankha and the Hindi letter "sha."  Image by Exotic India Art, available for purchase.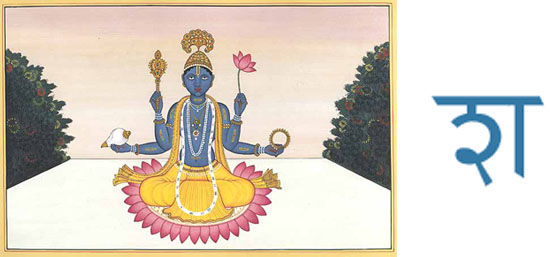 Edible sugar seashells by Olde Naples Chocolate: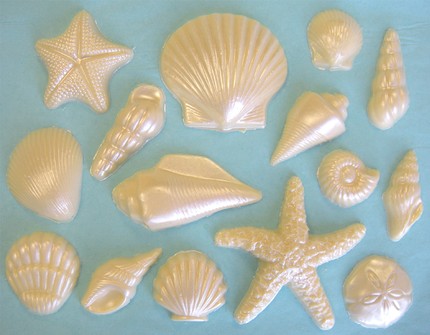 Shankha colouring pages (click on image to print):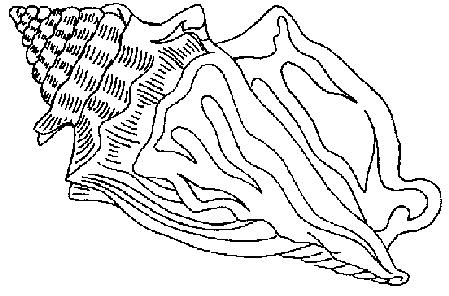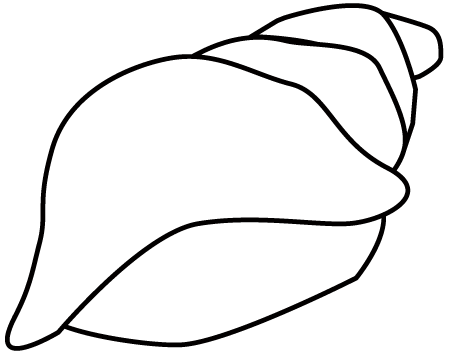 And if you're curious as to how to blow on a shankha, here's a video demo by a little boy: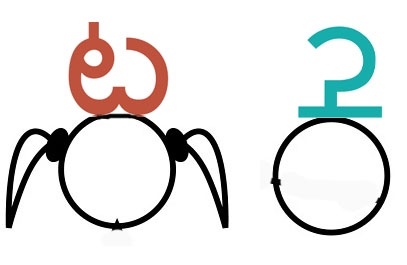 The word "Topi" (Telugu for "hat") is a funny word – we love saying it!  And with the summer sun blazing high, we're seeing "topeelu" on everyone these days.  Here's a selection for everyone in the family:

Above for women, left to right:  Dawning Dusk Hat by Anthropologie, Japanese Sun Hat by Etsy seller PascalineNY and Wide Brimmed Refashioned Denim Hat by Glorious Hats.
Below for girls, left to right:  Urban Hat by Catimini and Jean Bourget's White Beach Hat.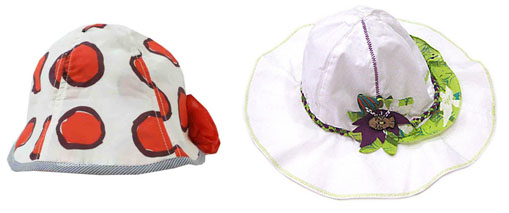 Below for boys, left to right:  Organic Elephant Hat by Tammachat Natural Textile (from last year, but super cute!), Oobi Baby's Denim Hat with Whale Underlay and Patchwork Toddler Sun Hat by Etsy seller Petite Legume.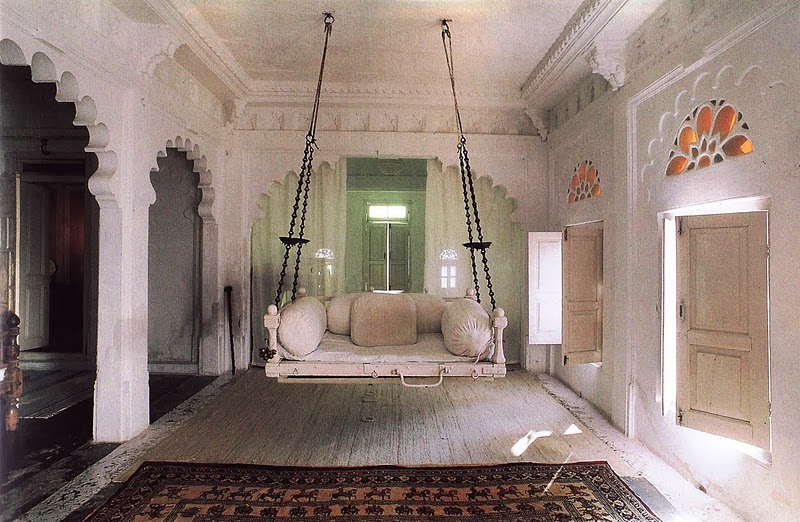 source:  unknown haveli

So I've been pouring through design magazines and websites for inspiration as we build our new home.  We're contemplating putting in a jhoola (swing), and I found so many lovely images that I'm now wanting to put one in every room of the house!  Seeing these jhoolas takes me back to the summers I spent in India –  I'd nap or read on them or just play games with my cousins.

source:  Naureen Bokhari
A jhoola is a common element in many traditional Indian homes.  I particularly love the symbolism behind them:  it's as though the chains of the jhoola are links with the heavens above.  (Now I'll confess the Telugu word for swing is ooyala but since we don't have very many common household words that start with the letter "jha," we've adopted the Hindi word.  Plus, jhoola is just a beautiful word!)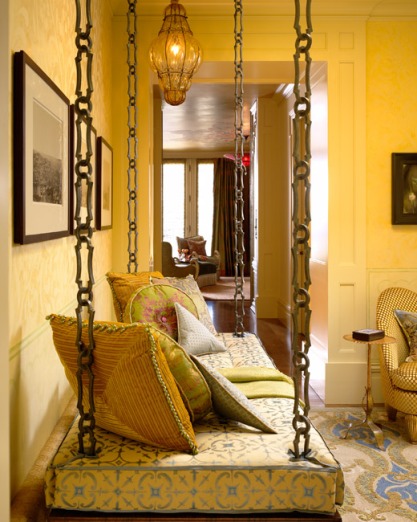 Pictured above is a custom-designed jhoola by Jay Jeffers (my absolute favourite).  Below are 2 playroom-ready jhoolas: by Modern Convenience and the infamous Eero Aarnio hanging Bubble Chair .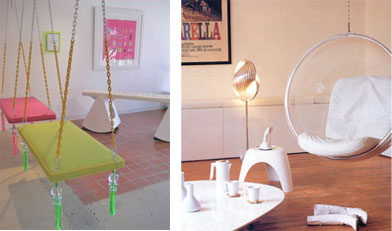 And jhoolas can be modern too!  Check out the Wabi Lawn Swing by Italian-designer Francesco Rota.  (Source of image on the right is unknown).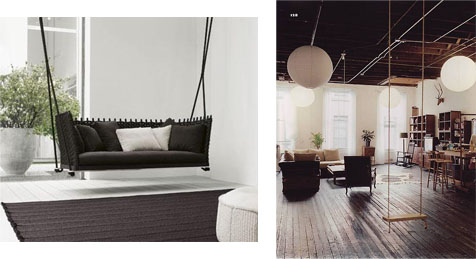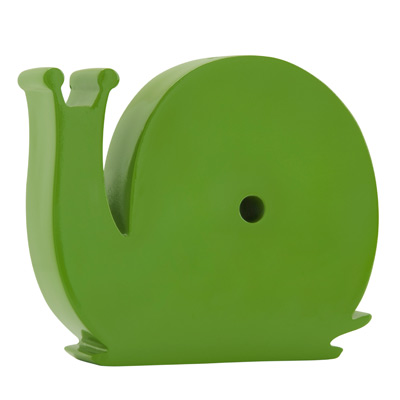 It's springtime and the snails are coming out.  I can't recall how my son's love for snails (or natha (pl. nathalu) as he calls them in Telugu) evolved – but sometime after his owl phase he declared snails "are really cute."  He'd spend countless hours "natha-hunting" in our yard, our neighbor's yard or anywhere with dirt for that matter.  So he's super excited that his pets are emerging once again.  He did this Telugu Alphabet "na" last year: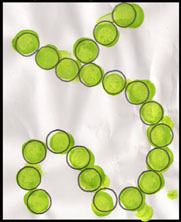 Pictured above is a very cool Resin Snail Bank by Dwell Studio.  And here are some of our favourite snail finds:  Escargot pillow from Petite Miette ($32.00), Snail Canvas Print from Bouji and Nouna ($144.00 (part of a set)) and Ravensburger's Snail's Pace Race game ($15.00).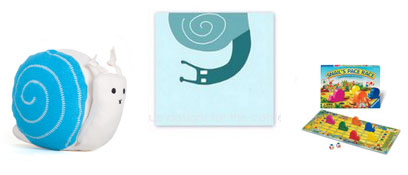 And some more (can you tell – we love all things snail):  cute personalized snail stationery by Minted and Plan Toy's Pull-A-Long Snail.  We'll definitely be re-visting letter "na"!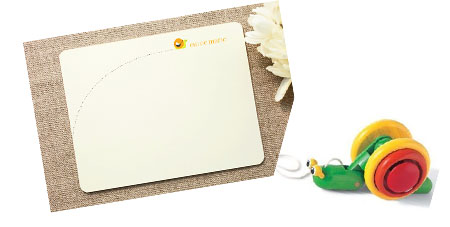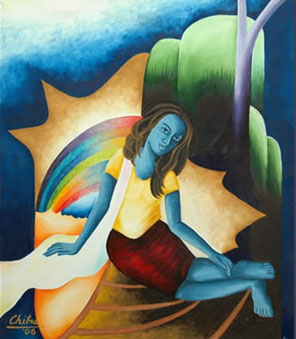 painting by Chittra Singh
We've been seeing a lot of rainbows lately.  With the official start of spring and last week's St. Patrick's Day celebration at school, suddenly rainbows are everywhere.  (We also featured them in our March Newsletter as part of our Holi special).
So our latest Telugu letter is i for indradhanussu (or indradhanush in Hindi and Gujarati).  It's a mouthful to say, but its derivation is simply divine:  dhanussu or dhanush means "bow" – so the word literally translates to "Lord Indra's bow."  How perfect:  as we stated in our newsletter, the word is a "linguistic affirmation of a rainbow's ethereal link between the heavens and the Earth."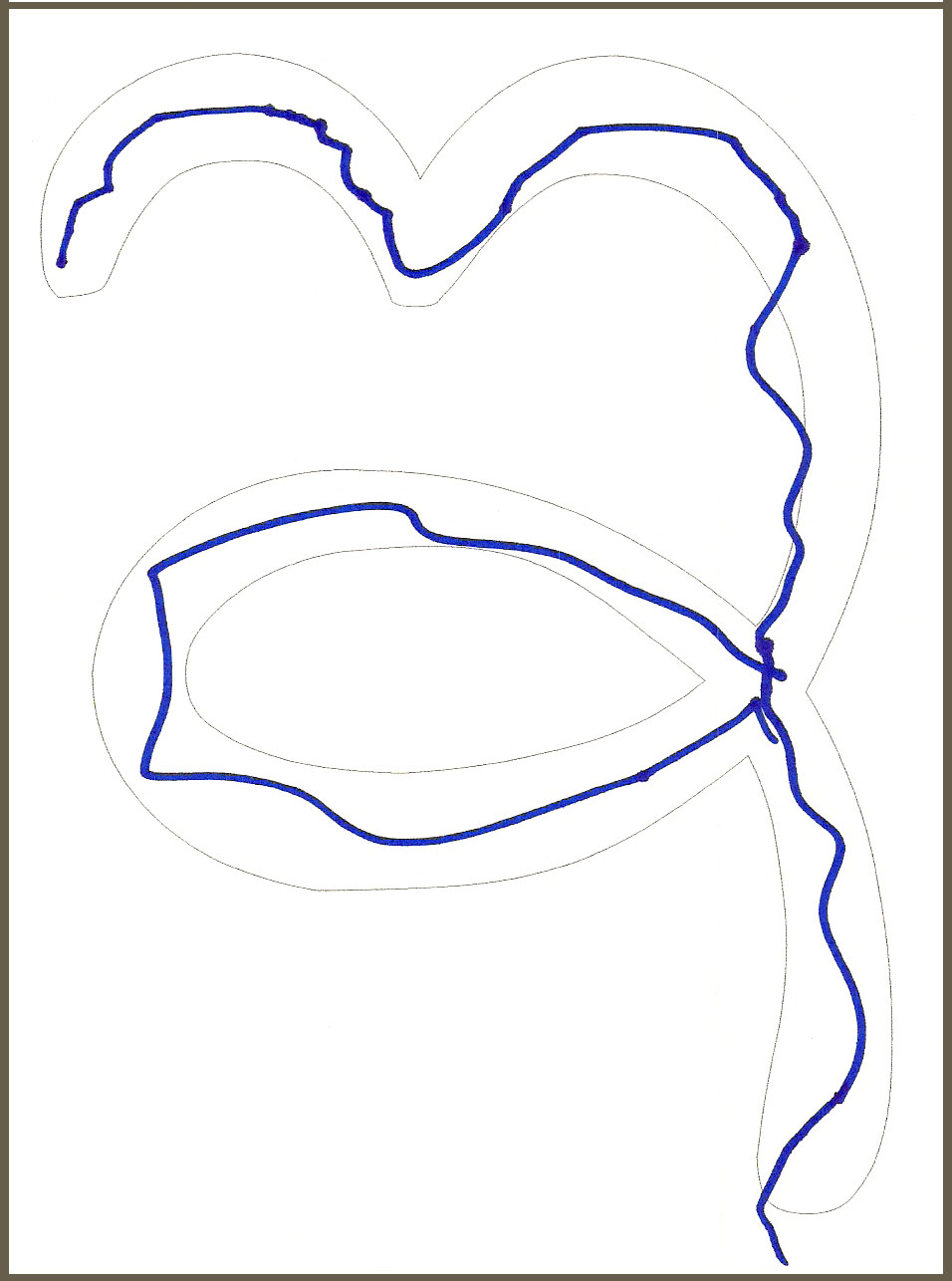 Featured above is a gorgeous painting entitled Rainbow Dream by UP artist Chittra Singh (you can see more of her works at www.chittraarts.com – she ships worldwide).  And here are a few more examples of rainbows-done-right (from the left):  rainbow animal alphabet by Katy Holmes, sophisticated rainbow girl's room featured at ohdeedoh, and Nova Natural's Four Elements Blocks.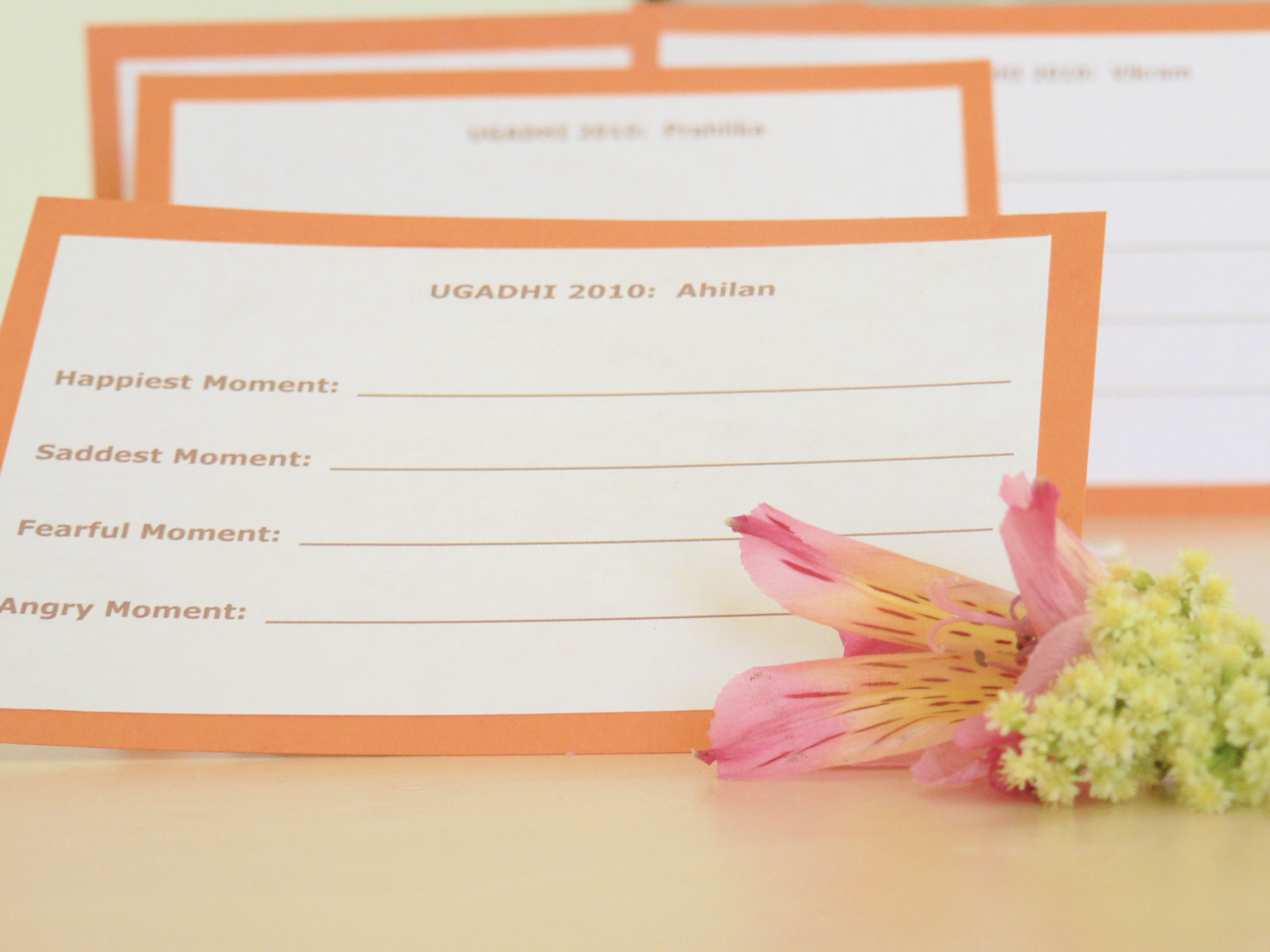 Yes of course there is the Ugadi Chutney – a special mixture of 6 flavors – to mark the Telugu and Kannada New Year.  It's not too difficult to make – you just have to schlep to the Indian grocery store to get the ingredients.  Or, as I've done in the past, you improvise with substitutes (brown sugar for jaggery, methi powder for neem flowers, and lemon for tamarind).  It doesn't taste as good, of course, but still reflects the spirit of Ugadi:  that the year ahead will be a mixture of sweet, sour, bitter, sad, fearful and angry moments and, when all mixed together, give you the sublime experience of LIFE.
The savory symbolism is quite poetic and renders itself to be perfect teachable moment when it comes to kids.  I let my kids taste all the flavors before I mix them together – and they have a ball (though it usually ends up with me having to hide the jaggery…)
So that the kids can relate more to the holiday, we also started the tradition of Ugadi Cards – 1 for each of us – where we talk about 4 special moments from the past year:  the happiest, saddest, most fearful and most angry moments.  I record the "moments" on cards and file them away in a box.
These annual cards are priceless family treasures – a porthole into our private moments – a modern way to incorporate an ancient tradition.  And a terrific way to bond and grow as a family.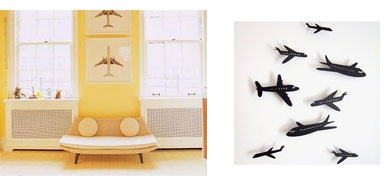 My kids have been really into airplanes lately – probably due to all the flying we've been doing.  So our Telugu letter of the week is Va for vimanamu (or viman in Hindi) – the word for "airplane".  We've been using our Telugu Alphabet Blocks of course, and the display in our play area includes other "va" obects – vankaya ("eggplant"), velugu ("light"), and vishnu (as in "Lord Vishnu").  And since my 3-year-old is working on his writing technique at preschool, I made an outline of the letter Va so he could practice – a great way to keep him occupied on the…yes… airplane.  The outlines have been such a big hit with him, we may just decide to offer a complete set as a future gnaana product!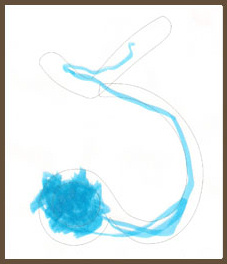 And I found some fabulous modern kids airplane decor for a bedroom or playroom.  Picture above is a stunning room featured in House Beautiful and laser cut paper airlpanes from Etsy seller owlyshadowpuppets ($20 for a set of eight and loads of possibilities).  Other cool kids airplane gear:  Hape International's eco bamboo airplane and Fred and Friends Air Fork One.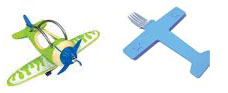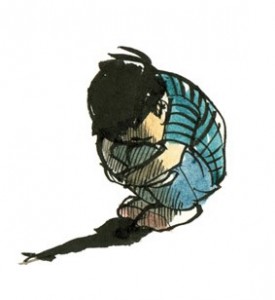 Remember Seinfeld's Bizarro World episode?  Sometimes it feels like India and the U.S. are each other's "bizarro worlds."  You know – in one world, people actually stop at stop lights, don't litter on the streets, and patiently wait in lines.  In the other…it's something you have to see for yourself.  I also noted other cultural contradictions while I was living in Bangalore a few years ago – like how wearing a sari is not seen as "fashion forward" and how people in Karnataka don't even expect you to speak Kannada (try explaining that to a Frenchman).
But punishing a child for speaking a language other than English?  Yup – last week 2 students at a private English-medium school in Andhra Pradesh were punished for speaking in Telugu at school.  The young boy and girl were forced to walk around school with placards around their neck which read "I will not speak in Telugu."  Then, a couple days later, several students were punished at another Andhra school for a similar "crime."  Their punishment:  to write "I don't talk in Telugu" over and over for 10 pages (obviously they weren't punished for poor English grammer!).
Yeah, OK, so your kid needs to learn English to get ahead in India.  But if the message coming from parents/school admministrators/government officials is that regional languages are "useless" – that's bilingual gone wrong – and it's the kids that suffer.
Bizarro indeed.