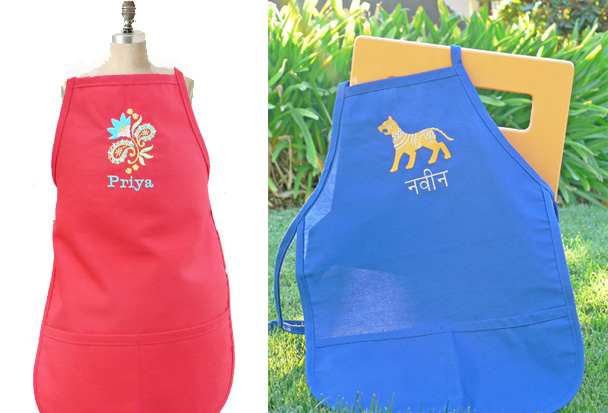 We're closing out New Products Week with our new apron designs – 1 for the girls and 1 for the boys:
Phool (Flower): A red apron  featuring an East-Indian flower, embroidered with vibrant turquoise and accents of apple green, gold and blush.  Quite stunning, no?
Baagh (Tiger):  A blue apron embroidered with a tangerine and silver Bidri tiger.  Grrrrr!
AND due to many emails and requests, we're also now offering aprons in Larger Sizes!  Yes folks, our Titlee (Butterfly) and the new Phool (Flower) aprons are made to match the chota ones.  They are sized at 28″L x 24″W (71cm x 61cm) and feature an adjustable neck – so they are perfect for older kids and adults.  A memorable gift for sisters, moms and grandmas!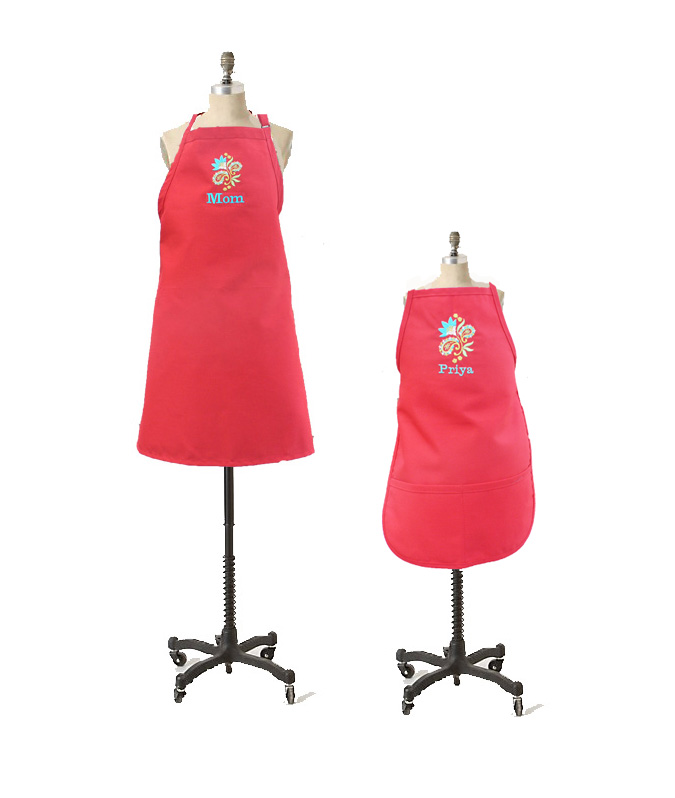 All the aprons are available now – you can view and order on our aprons page.
To celebrate our new aprons, from now until Diwali, gnaana is running a special:  order any apron and receive 20% off The Chota Chef Recipe Cards – just enter code NEWAPRONS at checkout. A wonderful pairing for the holidays!
But remember, our aprons take about 2-3 weeks to be personalized, so make sure to order yours well before Diwali on November 5th.