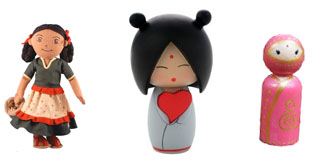 My poor daughter has been engulfed in her older brother's world of trains and spaceships since her birth.  So I decided it was high time that I girl-ify our toy chest.  And I'm starting with the fundamentals:  dolls! 
Here are a few uber-cute – and eco-friendly – finds (for ages 3+):
Global Green Pal's Pani Rani spreads the message that conserving water can make you feel like a queen!  Made with certified organic cotton and stuffed with 100% post-consumer recycled material, this Indian girl hob-nobs with the likes of Clean Air Kate, Recycle Kyle and Carbon Offset Chet.  $29.95
Momiji's gorgeous Love doll is almost too chic to take off the shelf.  Part of a collection of 3″ handpainted resin dolls, each one has a slot on the underside for a tiny folded card with secret message.  $15.00
Isas7ada's Amrita doll is also a hand-painted beauty.  Her tea party would include Jewish Jacob, Captain Pirate Looney and Artist Annette.  $5.00
And for some serious role-playing, check out play food India style:  Pewter Goblet's Mini Jalebi's, Laddoos and Masala Meals!  $5.00 – $15.00.