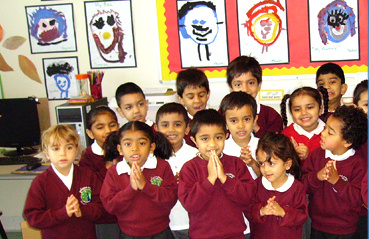 No, it's not a weekend thing – it's an every day thing.  That's right.  Welcome to Krishna Avanti Primary School  – the UK's first state-funded Hindu school.  "Where Vedic values and culture are a part of everyday life," and where "being vegetarian & eco-friendly becomes fun."
Located in the London borough of Harrow, home to over 40,000 Hindus, the school works with ISKON UK as its official faith partner and delivers the UK "National Curriculum."  Students learn Sanskrit, swimming and yoga, as well as music, dance and drama encompassing Indian (along with Western) instruments and styles.  There's also an emphasis on outdoor teaching – reminiscent of ancient India.
And why not?  There are Christian and Catholic Schools, Jewish Schools, Muslim Schools and Sikh Schools.  But critics say such schools only serve to divide communities and thwart efforts towards racial integration.  We say it's only fair to give parents a choice (especially since there exist state schools for 6 other major world religions in the UK).
The Krishna Avanti School is certainly an inspiration to the global Hindu diaspora.  We can dream of a place where kids eat healthy vegetarian meals and learn about a philosophical system that emphasizes freedom of thought, alongside traditional subjects.  A state-funded Hindu school would never happen in the US, or elsewhere for that matter, but that doesn't mean it can't happen privately.  Hmmm, our wheels are turning….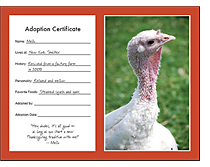 I'm kind of on the fence when it comes to Thanksgiving – if you live in the U.S., it's such a wonderful time to spend with family, friends and food.  But that poor turkey that the holiday revolves around – as a vegetarian it doesn't sit well with me.
This year, we're going to Adopt-A-Turkey!  Farm Sanctuary's Adopt-A-Turkey program has been around since 1986, and the organization has helped to save thousands of turkeys from slaughter.  They also stage an annual Celebration FOR the Turkeys in NYC, Watkins Glen, NY and Orland, CA, where "turkeys are the guests of honor, not the main course."   For $25 you can sponsor a turkey that lives at either their New York or California shelter, and in return you'll receive an Adopt-A-Turkey certificate with a color photo and fun facts about your new farm friend.  The kids are still deciding between Gideon and Rhonda – cute, eh?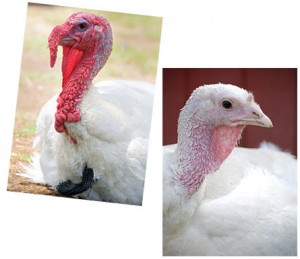 Farm Sanctuary also has a Turkey Express Adoption program, where you bring the turkey home with you – but I don't think I'll tell the kids about that…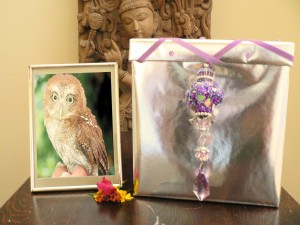 There is something about watching a child give away a possession (whether it be a toy, a hand-made card or a muffin) that makes your heart melt.  It's a raw affirmation of the goodness of humans – unadulterated and oh-so-sweetly innocent.
And it makes me think – how often do my children observe me giving to others (not counting the daily sacrifices I make for them, of course…)?  They don't see me handling a legal matter for a family member in need.  They don't see me writing those checks to chosen charities.  And they certainly aren't privy to all of those altuistic intentions swimming in my head – those that will have to be saved for post-kids liesure days.
Of course cultivating the spirit of giving – to family, to friends, to your community, or to those in need – is vital to raising compassionate children.  So what's a good way to resurrect the act of giving from the rare to the routine?
Taking our inspiration from hundis (offering boxes) found in Hindu temples, we created our very own Home Hundi.  After all, in the Eastern cultures, our home is our temple.  It's a simple activity:  take a box, embellish to your taste, and place in a central location. Then, help your child select a "cause" – something he is passionate about (my son is obsessed with owls, so his cause is to help save the Northern Spotted Owl (via Defenders of Wildlife)).  Throughout the year, encourage everyone in the family to give to the hundi.  It doesn't necessarily have to be money – it could be a toy,  a piece of food (I advise periodically checking and removing perishables…), an article of clothing, etc. – the objective is to encourage selfless thoughts of kindness.
At the end of the month/season/year, have your child empty the hundi into an envelope and "mail it off" to the chosen recipient.  Your child can then experience the intoxicating joy of giving….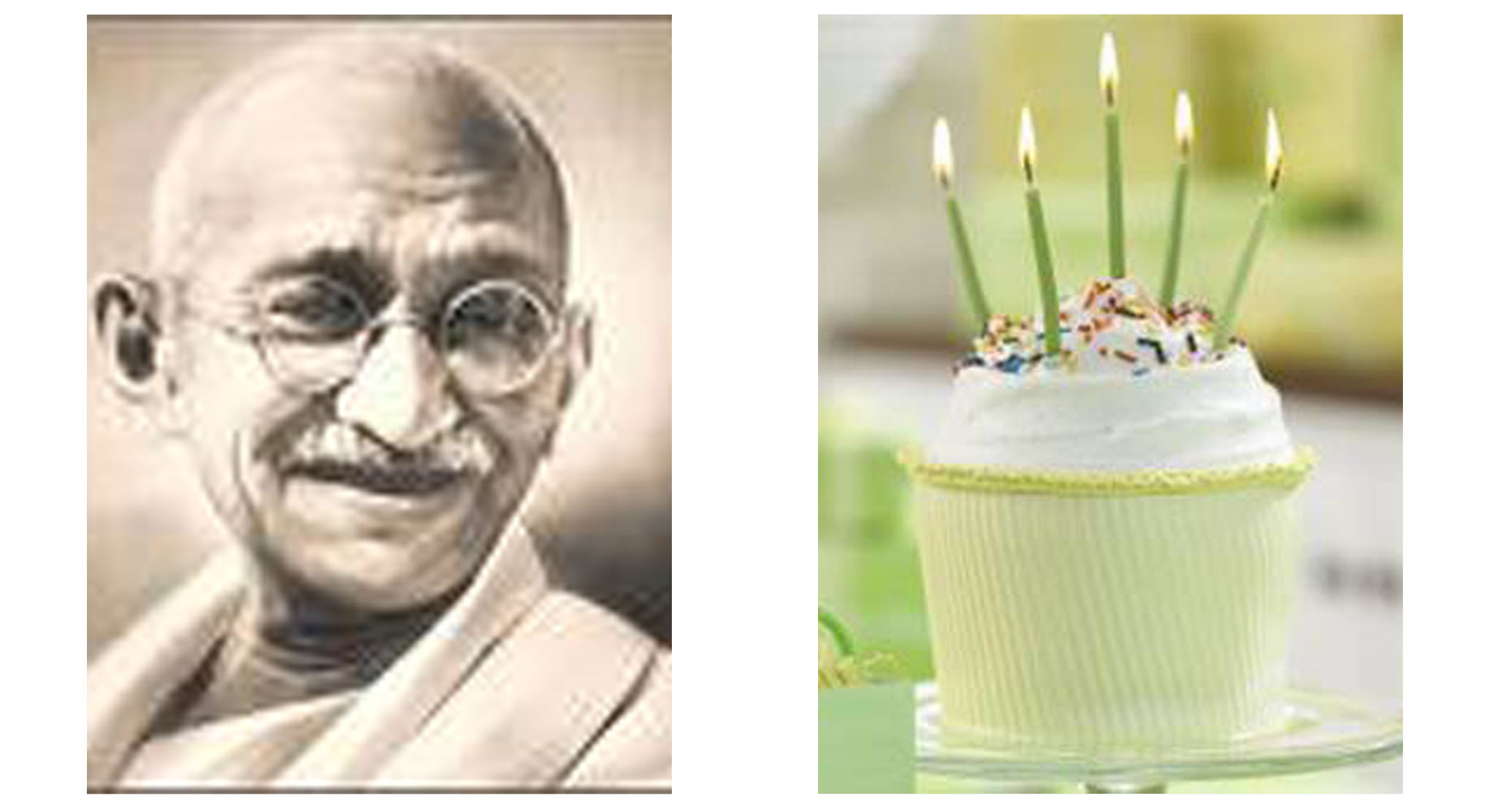 I remember when my son saw Gandhi-ji's picture for the first time several months ago – I had a large copy of the above picture (the portrait, not the cupcake) lying around at home for a future Gnaana product.  When I noticed he was staring at the picture, I told him that it was Gandhi, and that he was "a very good man."  I guess Gandhi's photograph was amusing to him because he smiled (his cute, shy smile) and repeated "Gandhi."  I guess if you think about it, Gandhi does look funny (especially when he's enlarged) – with the bald head, ears sticking out, bushy mustache and the round spectacles – like a jovial grandfather ready to get silly with the kids.
Images are so powerful.
This Gandhi Jayanti, I propped up that picture on our cookbook stand and announced that it was Gandhi's birthday.  Later this evening, we're celebrating with a quiet party at home – with cupcakes and candles (since, in the world according to toddlers, one simply cannot have a birthday without cake), and a simplified oral story (my son's latest craze) about the man who defeated an empire by being calm and patient.
And here is a great poem, written from a kid's perspective, from an unknown author:
A Poem On Gandhiji
by: anonymous
It was vacation, and I had nothing to do;
I was at home and mummy daddy too;
My glance caught a sketch, of an old person;
He appeared to be the gentlest under the sun;
Strikingly, different was the expression in his Eyes;
Suddenly I felt guilty of all my lies;
His lips parted in a smile, so pure
He left me spellbound that's for sure
"Who is he dad?" was my question
"Come on, don't you know?" was his reaction
He is the one who has set us free;
He is the one who has planted the tree;
He is the one, who was bold enough;
Firm and stubborn but never rough;
Truth and non-violence is what he taught
Same were the principles for which he fought
Preaching and practices for once were the same
His deed were worth name and fame
I have never seen a soul, so tall;
Oh dad; he appears to be the father of all
"You said it, child" said my dad
'Bapu' is the name he always had
I saw the sketch again and again,
His returning smile was my greatest gain,
October 2nd was the day my friends
That certainly changed my life's trends.