Posts Tagged 'vegetarian'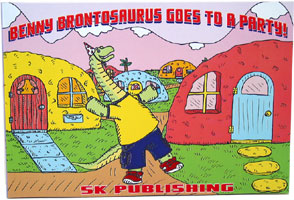 There's been a lot of press lately about Forks Over Knives – the new food movie claiming that a vegetarian/vegan diet is the answer to better health.  As expected, it's being lauded by vegan camps and dismissed by others as propoganda.
I'm happy that there is more education and awareness about vegetarianism these days – although I still meet plenty of people my age who hold their nose at the mention of veggie burgers.  Really, there's no need to attack the food I eat.
I'm old enough now to defend myself – but what about my kids?  Although my son has company in a handful of other vegetarians in his preschool class, I'm sure he will encounter veg-ignorance at some point (if he hasn't already).  To arm him with defenses, I naturally turned to books.  It was actually very difficult to find a quality book on the topic – most were either too gruesome or too preachy, with a message that killing animals is wrong and no one should eat them – NOT what I teach my kids.  I want them to know that different people believe different things, just like religions, and that people who eat meat are not "wrong."
The best I found was Benny Brontosaurus Goes to a Party! – a story about Benny (an herbivore dino) who gets invited to a T-Rex birthday party.  The text is very simple, but the message really hits home:  there are all kinds of dinosaurs (herbivores, carnivores and omnivores) and all of their food is delicious just the same.  Ty the T-Rex even joins Benny in eating a nut burger.
Slightly utopian, yes, but a good starting point.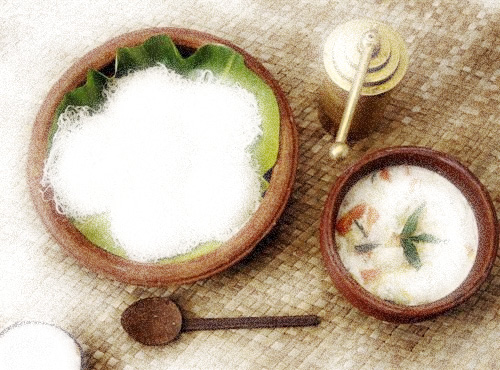 This post is authored by Sheena Patel – founder of wellness boutique Savsani.  Sheena has taught classes in positive psychology at Massachusetts Institute of Technology, yogic principals at Harvard Business School and stress management at Massachusetts General Hospital.  Savsani offers comprehensive wellness programs for individual and corporate clients.
Growing up in the United States, most kids eat hamburgers, hot dogs and meatballs without thinking twice.  My sister and I grew up the same way, but at home we ate mainly a vegetarian diet, as my mother cooked with lentils, grains, vegetables and fruits.  My sister soon became a full-fledged vegetarian because she couldn't handle the thought of how the animals were killed in the slaughterhouses.  However, I continued to eat meat.
As a passionate foodie I couldn't bear the thought of having limited options at restaurants or when I cooked.  Soon enough though I too became a vegetarian, but it was purely because of my burgeoning interest in yoga.  I switched to cooking only vegetarian meals in the kitchen – combining techniques my grandmother and mother taught me with many of my favorite global cuisines of the world:  French, Chinese, Italian and Mediterranean.
Through my study of yoga and Ayurveda, I began to realize by trial, error and experimentation that the food that you eat can have an enormous impact on your health and the way that you feel.  I'm so thankful that India not only gave us yoga, but also the philosophy that food is a science that affects the whole of the body, mind and spirit.
Now many of my yoga clients are blessed to have a seasonal cleanse where SavSani delivers food for them to enhance the state of their body, mind and sprit.  After going through many cleanses I've noticed that the clients have changed the way they think about food.  Many clients entertain the thought of switching to a strict vegetarian diet while others go ahead and make the full transition.  It's an interesting journey that they all embark upon according to their own timing and according to what feels right for them.
At this stage of my life and according to my current body type I feel wonderful eating a purely vegetarian diet.  I eat what Ayurveda call a pure sattvic diet – vegetarian fare consisting of local organic produce that's cooked fresh everyday.  The ingredients in this type of diet are vegetables, whole grains, raw honey or turbino, nuts, oils, seeds, mild cooking spices, and organic dairy.  I feel very lucky that I'm now able to go back to the diet that my grandmother was raised on and still thrives on to this very day.  Food is a way I connect with her and with SavSani that makes me feel more whole.
Disclaimer: As with any physical activity, please consult with your primary care physician before practicing.

© 2011 SavSani
www.savsani.com
sheena@savsani.com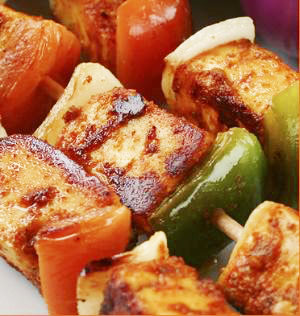 The Fourth of July is around the corner here in the States, and barbecues are on my mind.  It's usually BYOVB (Bring Your Own Veggie Burger) for us if we're grilling at a friend's house.  (Or, if I can't make it to the grocery store, we're stuck with eating buns and veggies.)  But as we're discovering with our new outdoor grill, there's much more we can do beyond Gardenburgers, soy dogs and corn-on-the-cob!
* Tandoori tofu?  I say yes!  Tandoori anything is great on the grill.  (We have a very tasty tandoori paneer and veggies kabobs recipe from Haryana state as part of our Chota Chef collection – always fun for my son to help me with.)  Just make sure you have a drip tray to catch the sauce if it spills.
* Zucchini, peppers, mushrooms, onions and the like can be grilled and tossed with some pre-cooked high-protein pasta.  Just drizzle some olive oil and sprinkle some parmesan cheese for a tasty lunch.
* Some other favourites are grilled bread (for bruschetta), grilled "homemade" pizza (I use pre-made wheat pizza dough from Trader Joes) and quesadillas.
* I haven't tried fruits yets, but I've hear apples and pineapples work well on the grill.  I can't wait to try grilled mango.
* If you are doing veggie burgers, soy dogs or portabello mushroom burgers, make sure to spray the grill with a non-stick cooking spray.  Veg versions don't have the natural juices and fats, so if you don't oil,  you'll end up with large chunks that stick to the grates.
* Though I haven't bought any yet, there are several books on vegetarian griling and barbecues.  Andrea Chesman's book seems most promising – I'm curious about those Brie, Cranberry and Pistachio Quesadillas.
Happy Grilling!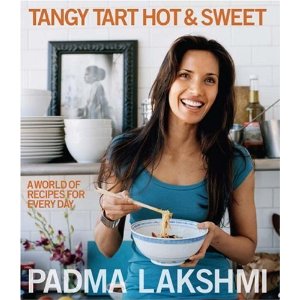 Now that the gorgeous Top Chef host and international model Padma Lakshmi has a daughter of her own (Krishna Thea Laksmi, born in February), I wonder what she'll be feeding her.
I had a hankering for singapore noodles the other day and I found her recipe for Singapore Noodles with Shrimp and Shiitake Mushrooms (from her Tangy Tart Hot & Sweet cookbook).   You can find a copy of the recipe here (and her comments about the dish).
I substituted Morningstar Farms vegetarian Chik'n Strips for the shrimp and added more soy sauce in lieu of the fish sauce.  I also added some thinly-sliced green beans  for more nutrition and flavour.  And being a true Indian cook, I don't have "curry powder" so I used 1/2 teaspoon each of ground cumin and ground coriander, and then added a pinch of turmeric.
Yummy, yummy!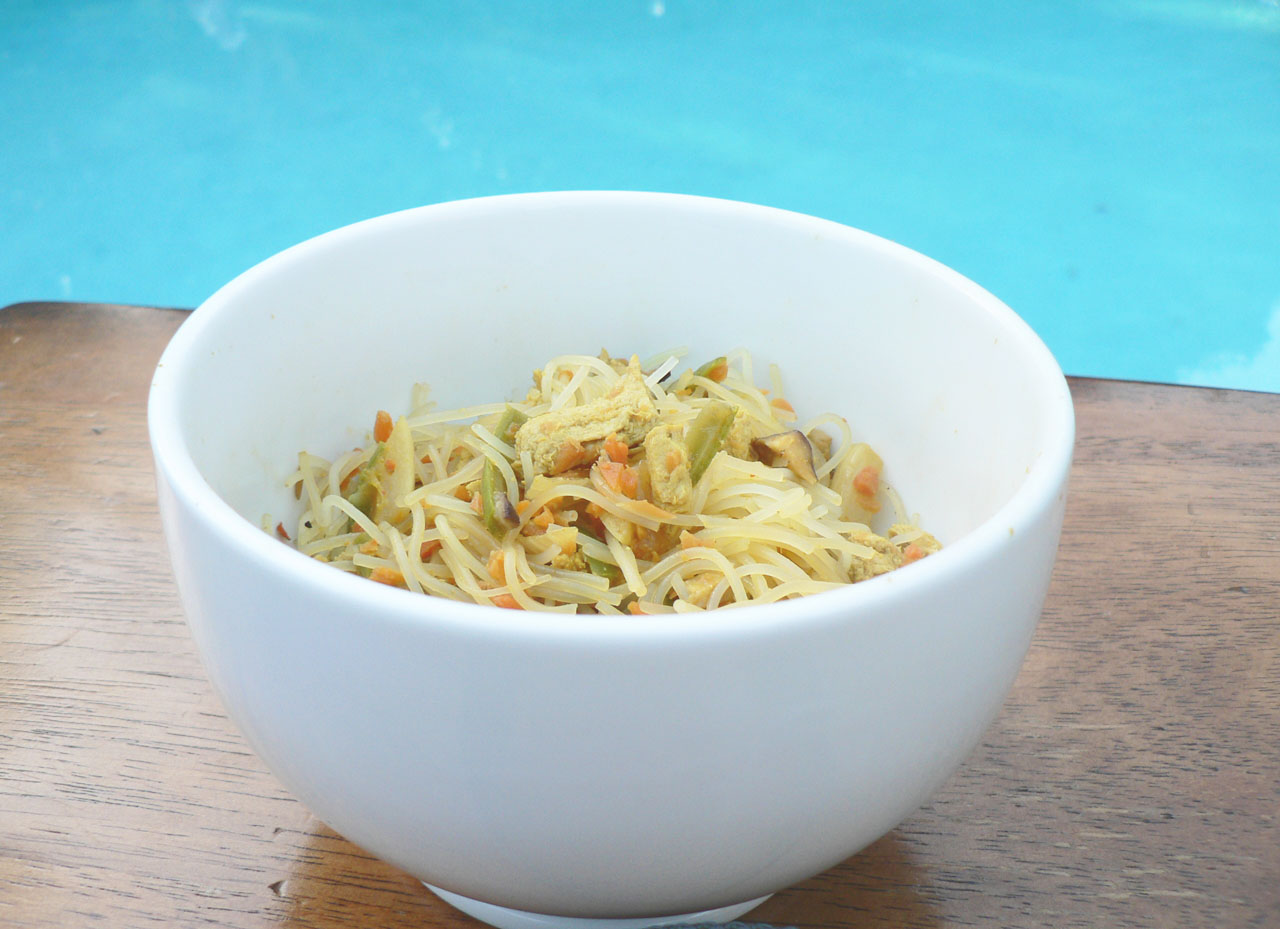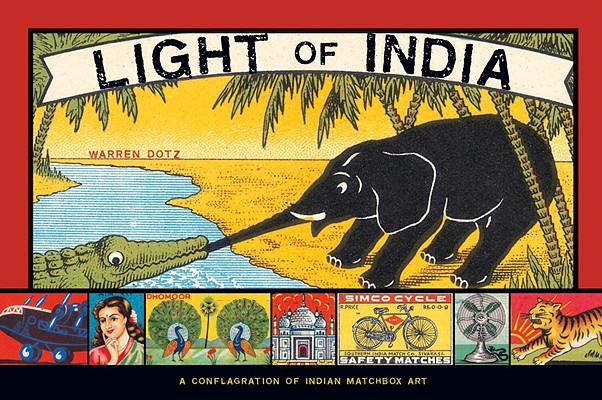 We actually don't have any coffee tables in our house (it's a vaastu thing), so we'd call these "end table books."  I like to display books around the house – so the kids can browse through them when they want.  I rotate the books (like I do with our toys) every now and then to keep things fresh – but these 3 are my absolute favourites – and are always story-starters for the kids:
Light of India: A Conflagration of Indian Matchbox Art by Warren Dotz :  This is much more than a book of pretty matchbox visuals – think of it as a concise distillation of Indian history, culture and iconography.  From images of India's historical heroes, architecture, religious and political symbols – it's great learning for the kids.  It really is "India in a matchbox."
Around the Word in 80 Plates by Rashmi Uday Singh:  From Asia to Europe and Africa and Australia, this book is a collection of recipes from 80 celebrated chefs around the world.  AND all the dishes are vegetarian!  I fail to understand why this book hasn't received more press – it's a must-have in any gastronome's library.
Beasts of India by Gita Wolf and Kanchana Arni:  This is an amazing compilation of Indian folk and tribal art that kids can really relate to.  There are pictures of lions, tigers and other "beasts" in various regional art – even my 4-year-old can distinguish between Madhubani and Gond styles.  And the book is actually "handmade" – it's screenprinted on handmade paper.  Talk about art!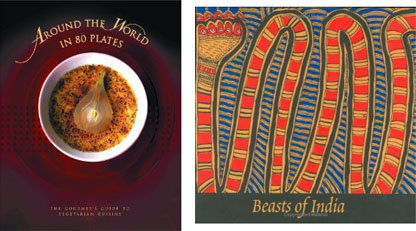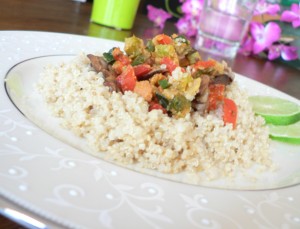 Quinoa (pronouced "keen-wah" or, as my toddler likes to say, "keen-i-wah") is simply a super-grain.  (Well, ok, technically it's not a grain – it's a seed – but it's prepared and eaten just like rice.)  Cultivated in the South American Andes since at least 3,000 B.C., the Incas revered this "mother grain" as sacred.  And weighing in at 12%-18% protein (about 6 grams per serving), quinoa can certainly be a "sacred" source of protein in vegetarian households.
Quinoa can have a slight bitter taste, so it should be combined with flavours that counteract this bitterness.  Here's one of my favourite quinoa recipes – with Indian flavours.  The secret ingredient here is sesame powder, made by grinding lightly toasted sesame seeds in a coffee grinder, which gives the stirfry subtle hints of nutty yumminess your children will love.
Ingredients: 
1 cup quinoa
2 cups water
2 Tbs. olive oil
2 cloves garlic, minced 
2 medium red bell peppers, diced
3/4 cup dice carrots 
3/4 cup diced celery

1/2 cup shiitake mushrooms 
1/2 cup green onion, diced 
1/2 Tbs. sesame powder
1 tsp. oregano
Salt, to taste
Pepper, to taste
Red chili powder, to taste 
Cook the quinoa in a rice cooker like rice.
Heat the oil, and add the garlic.
Add the vegetables and spices and cook until all are soft.
Serve over quinoa.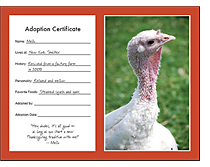 I'm kind of on the fence when it comes to Thanksgiving – if you live in the U.S., it's such a wonderful time to spend with family, friends and food.  But that poor turkey that the holiday revolves around – as a vegetarian it doesn't sit well with me.
This year, we're going to Adopt-A-Turkey!  Farm Sanctuary's Adopt-A-Turkey program has been around since 1986, and the organization has helped to save thousands of turkeys from slaughter.  They also stage an annual Celebration FOR the Turkeys in NYC, Watkins Glen, NY and Orland, CA, where "turkeys are the guests of honor, not the main course."   For $25 you can sponsor a turkey that lives at either their New York or California shelter, and in return you'll receive an Adopt-A-Turkey certificate with a color photo and fun facts about your new farm friend.  The kids are still deciding between Gideon and Rhonda – cute, eh?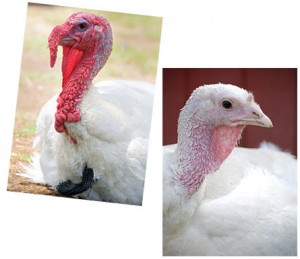 Farm Sanctuary also has a Turkey Express Adoption program, where you bring the turkey home with you – but I don't think I'll tell the kids about that…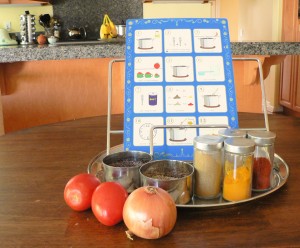 Just because The Chota Chef Recipe Cards are illustrated doesn't mean they're just for kids.  They're great for anyone (eh hem: spouses, significant others, friends…) who is "challenged" ( to be politically correct) in the cooking department.  Or in my case, to outsource dinner prep to our wonderful nanny, Meredith, who hails from Ohio and has never in her life made Indian food.
I had her make Recipe #18 – Gnaana's "Panj Spice Chana Masala" (the featured recipe for Punjab (in which kids learn to count to 5 in Punjabi!)).  I left the recipe card and assembled the ingredients on the kitchen counter in the morning – without any further notes or explanation – and left her to the test.  The result?  Fabulous – if she does say so herself!
Not to mention the serendipity of coming home to aromas of jeera and dhania…Need I say more?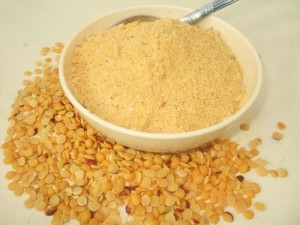 We eat a lot of dhal in our family. Dhal and rice. Dhal and spinach. Dhal and rasam.  And on lazy nights, just dhal and and my mom's Andhra mango pickle. Yum.
When my kids were just starting on solids around 5 months, we fed them dhal and rice almost daily.  We gave it to them plain with some ghee or mixed it in with a vegetable puree (jarred or made in the Beaba).   But for young babies, it's difficult to have fresh cooked rice on hand (or have the patience to wash the blender) each time you want to feed them the protein-rich dhal-and-rice.  So what do you do? 
You pre-make a large jar of dhal-and-rice powder.  When you're ready to feed, you mix 2 tablespoons of the powder with about 2/3 cup of water and heat it up on the stove (stirring constantly) until the water is absorbed. Cover and let stand for about 1 minute.  And there you have it – a fresh meal in 2 minutes flat.
So here's the recipe for the dhal powder:
1/2 cup dry dhal (moong dhal is best for starters – later, you can also use toor dhal or other types of dhal)
1 cup dry rice (start with white, graduate to brown)
1 tablespoon jeera (cumin seeds)  (you can substitute 1 teaspoon of cumin powder if you don't have the seeds)
Mix and grind in a coffee grinder until you get a very fine powder.
When you cook and serve, add some ghee  and a dash of salt.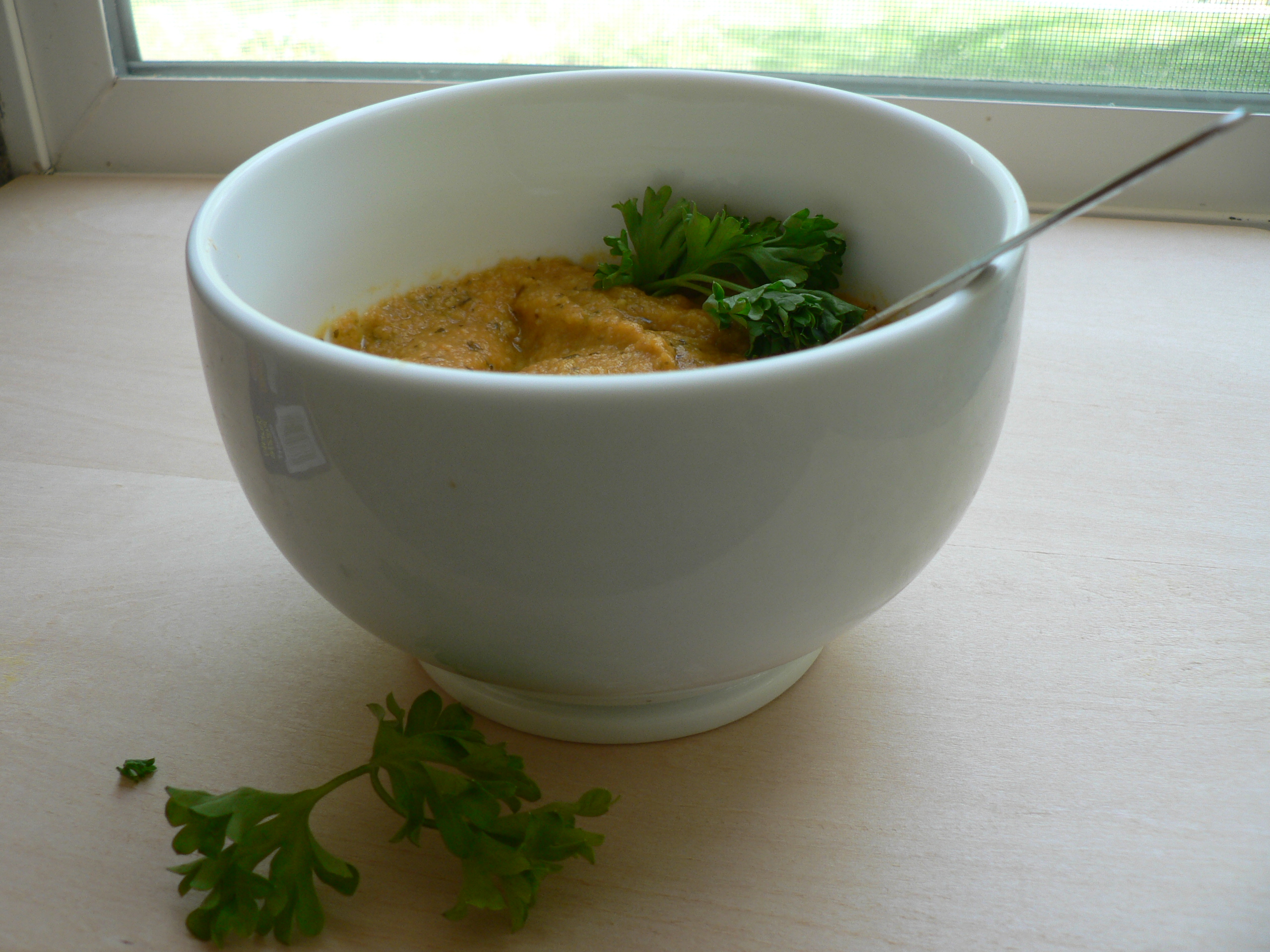 I used Morningstar Farms' soy-protein "chik'n nuggets" for this Italian-inspired meal, but you can use regular nuggets if you prefer.
6-8 baby carrots, diced (or 1 large carrot)
3 nuggets
1 Tbs pesto sauce
Steam the carrots in the Beaba – water level 3.  Meanwhile, prepare the nuggets as directed (I used the microwave) and cut into quarters.  When the carrtos are steamed, puree them with the nuggets (along with the reserve water) to desired consistency.  Transfer to a bowl, stir-in the pesto sauce and serve!